Thursday Folders August 23rd, 2018
Posted August 24, 2018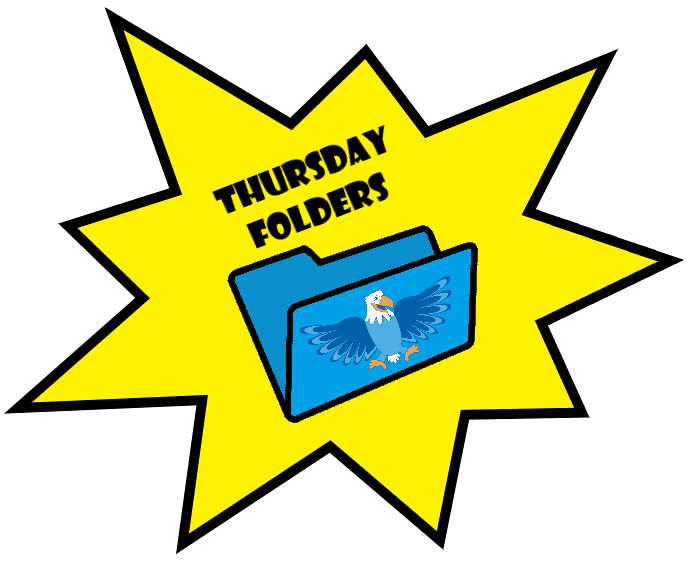 Welcome back to school Asbury Eagles! In Thursday folders, you will find upcoming dates, reminders, and any flyers that come out for after school enrichments, events, and other important things to note. This year, the Principal Files and Time to Shine subsections will come out at the end of each month as a monthly recap to allow families to see more of what they need to know week in and week out. We look forward to a great 2018-2019 school year with you!
Principal Files:
Welcome back to the 18-19 school year. It is great to have all of the students back and ready to learn. We are looking forward to what we know will be an amazing year. A few things to remember about being at Asbury:
Students need to be dropped off and picked up on the blacktop, in the Kiss 'n Go line, or through the bus. If you have a pre-arranged meeting with your teacher, please check in at the front office. Students should be dropped off by 8:15 a.m.  Unless children are coming to breakfast at 8:00, please refrain from dropping students off earlier than this time as there is no outside supervision until 8:15 a.m.
Kiss and Go! If you do not need to come in and sign in your kids, you can drop your student off on the west side of the building on Marion Street. We call this the Kiss and Go! Please follow the no parking signs there, or you will be ticketed by Denver Police and/or a staff member.
Parking lots are reserved for Asbury staff only. There is one spot guaranteed to an auction winner. You will be ticketed if you park in this lot. We have a large number of staff members and a limited number of spots and we request that families strictly adhere to the lot being only accessible to staff. Handicap accessible spots are available to parents who need them and no one else.
Walk on the blacktop! We LOVE families that ride bikes or scooters to Asbury, but we don't allow riding on school property during the busy times in the morning and afternoon. Once you get to the campus, please do not ride on the blacktop.  This will help prevent any potential accidents and keep everyone safe.
Follow all the traffic laws. Please do not run the stop signs, don't make illegal U-turns in the middle of the street after you've dropped off, and please do not park illegally where signs prohibit parking or where you are blocking entry and exit to sidewalks. Â Again, this will help prevent any potential accidents and keep everyone safe. Denver Police will be on site periodically to help maintain safe streets and will issue tickets to those not following traffic laws.
Give a high five to the staff! Our teachers and paras work hard in the morning to ensure the kids get out of their cars and off the bus. Give a shout out or a high five as you walk by.
Wondering what happens if there' bad weather? If it' rainy, snowy, really windy, or exceptionally cold (less than 21 degrees) we have different arrival and dismissal procedures. You can learn more on the inclement weather page of our website.
Morning Breakfast in the school cafeteria is available to all students free of charge. Parents who wish to have breakfast with their student may enter the building at 8:00 a.m. through the main office and must sign in. Students eating without a parent may enter through the lunchroom door next to the auditorium door in the courtyard.
Attendance matters!  Please try to ensure that your student is present for school and in class as much as possible.  We know that there are appointments and events that are unavoidable. However, when students miss school, they are also missing out on valuable instructional time. Â Please know that our main priority is to ensure that all students are learning. For this to happen, we need them to be here every day for the entire day. If your child will be tardy, leaving early or absent from school, please call our attendance line at 720-424-9797. You will need to leave a message and this voice mailbox is checked first thing in the morning and periodically throughout the day. Please do not call the front office main number with attendance alerts as the office is incredibly busy in the morning with impending issues and concerns.
Time to Shine:
We would again like to welcome our new staff-  Ms. Moyer in 3rd Grade, Ms. Helbig in Kindergarten, Robin Walcott and Sara Hogan as paraprofessionals in our MI program and Nik Casey as Dean of Instruction. Â They are fitting right in at Asbury.
Office Reminders: 
Please call our 24 hour attendance line if your child is going to gone for any reason. It is 720-424-9797.
All parents must sign in and put on a visitor badge before entering the school.
Weekly Flyers:
Young Rembrandts Fall session 9-18
Sticky Fingers Session 1 Fall 2018
Yoga Fall 2018 3rd – 5th Session
Science Matters 18-19 Full year schedule
CU – Football – DPS Foundation 2018
Clay Play After school enrichment Fall 2018
Important Dates:
August 30 – Back to School for Parents (No daycare) from 6:00-7:30pm
August 31 – Barry's Bookworm Celebration
September 3 – Labor Day – NO SCHOOL
September 4 – PTSO and CSC Meetings
September 18 – Individual Picture Day – All orders are online.
September 21 – PTSO Carnival
September 28 – Asbury ONLY Planning day –  No school for students
October 2 – PTSO and CSC Meetings
October 15-18 – Parent Teacher Conferences in the evening – At Teacher's discretion
October 19 – No School
October 20 – Fall Festival/Pumpkin Patch
October 22-23 – Teacher Planning Day – No School for Students
October 26 – B.E.S.T. Assembly