Thursday Folders October 11th, 2018
Posted October 11, 2018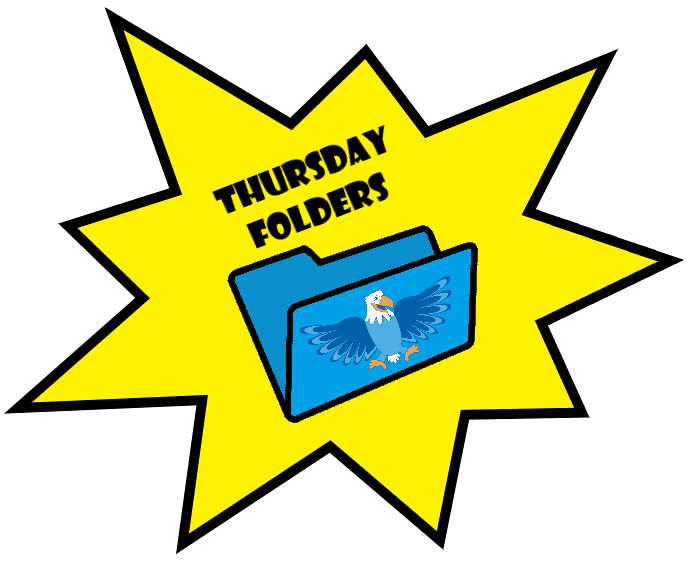 Office Reminders:    
DOGS NO LONGER ALLOWED ON SCHOOL GROUNDS. Due to the large amount of dog waste found daily by our students and staff, dogs are no longer allowed on school grounds. Please help us keep your children safe by not bringing your dog to play on the field and please spread the word to your neighbors.
Check Lost and Found. ALL ITEMS WILL BE DONATED AFTER SCHOOL FRIDAY NOVEMBER 16th.
Please DO NOT park in the Auction Winner parking spot in the parking lot. The lot is reserved for staff with the exception of the handicap spots for families with handicap accessibility needs ONLY and the auction winner spot. Anyone in any spot who is not a staff member, family with need for wheelchair accessibility and/or the auction winner will be ticketed.
Please go to the link below for the Thanksgiving Luncheon reservation form.
English: https://goo.gl/forms/8QyVyR8OV99XfKTj1
Spanish: https://goo.gl/forms/HKQnVTyG5xS9dV5Y2
Digital Citizenship Program  
October 25th, 2018 from 6:00pm to 7:00pm, join us for a parent night entitled "Raising Media Smart Kids : Tips on Managing Family Media Use & Internet Safety."
Learn tips on raising media smart kids, including managing family media use, choosing appropriate media, filtering home internet, limiting exposure on social media, and using safe district homework and research sites.
PTSO Updates
Help Pearl Wine celebrate their third anniversary with an amazing wine tasting event that benefits neighborhood schools. Pearl Wine is a great supporter of Asbury and you won't want to miss this evening! Mark your calendars for Saturday, November 3rd 5:30-8:30pm at Space Gallery (400 Santa Fe Drive). Tickets are $40 and half the money goes straight to Asbury! PTSO's goal is to sell 100+ tickets. A PTSO member will be selling tickets before and after school on our playground on Tuesdays and Wednesdays through October 31st. Pay with check, cash, or Venmo. Make payment to "Asbury PTSO" write "Pearl Wine Event" in the notes. You may also purchase tickets by contacting Shannon Durling directly – shannondurling78@gmail.com. See the attached flyer and spread the word to your friends and neighbors!
Weekly Flyers:
Weather Delay Information 2018-2019
Sticky Fingers Session II Fall-Winter 2018
Science Matters PTSO Wine Tasting Event
NO SCHOOL October 19, 22, and 23 2018
Individual Student Pictures Last Day to Order Information
Hands Up for the Children Halloween Fundraiser
Important Dates:
October 12 – Kona Ice 3:15-4:45pm
October 15-18 – Parent Teacher Conferences – Sign Up with Teacher or Sign up Genius  
October 15 – First Art Gallery Opening 3:15-4:00pm
October 19 – No School
October 20 – Fall Festival/Pumpkin Patch
October 21  – Last day to order Student Pictures
October 22-23 – Teacher Planning Day – No School for Students
October 24 – 5th grade to Shadow at Grant Middle School
October 25 – Digital Citizenship Parent Night
October 26 – B.E.S.T. Assembly 9:00 am
October 27 – Dine Out for Asbury – The Donut House -6:00am-2:30pm on Saturday
November 3 – Pearl Wine Tasting Event 5:30pm-8:30pm
November 5 – Boosterthon Pep Rally – PTSO
November 6 – CSC (3:30) and PTSO (6:00)
November 8 – Thanksgiving Luncheon.  Please RSVP with link above
November 13 – Matinee Performance of 5th Grade Musical: The Jungle Book 2:00pm
November 14 – Boosterthon Fun Run – PTSO
November 15 – Evening Performance of 5th Grade Musical: The Jungle Book 7:00pm
November 19-23 – Thanksgiving Break – No School
November 29 – PBL and Equity Night Potluck (Thankful for Asbury)
November 30 – Digital Citizenship Assembly Grades 3-5
December 4 – CSC (3:30) and PTSO (6:00)
December 11 – Dine Out for Asbury – Chipotle – 20% back to Asbury – 5:00pm-9:00pm
December 13 – Fall Band Concert 4:00pm
December 13 – Expo Night 6:00pm
December 21 – B.E.S.T. Assembly
December 24-January 4 – Winter Break
January 7 – Monday – Students return.
January 8 – CSC (3:30) and PTSO (6:00)
January 17 – Literacy Night
February 1 – Teacher Planning – No School for Students
February 4 – Teacher Planning – No School for Students
February 5 – CSC (3:30) and PTSO (6:00)