Thursday Folders, February 27, 2020
Posted February 27, 2020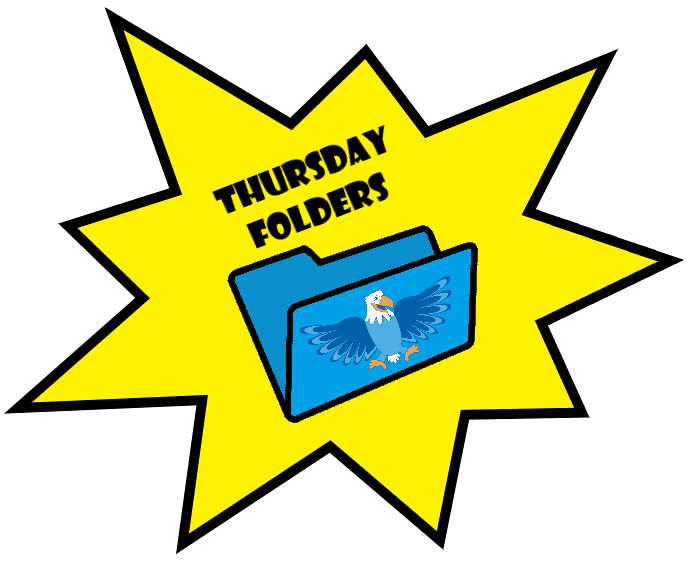 School Notes
PLEASE, PLEASE, PLEASE DO NOT PARK IN THE AUCTION WINNER SPOT IN THE PARKING LOT – THIS SPOT WAS PURCHASED BY A FAMILY AT THE ANNUAL AUCTION FOR THE SCHOOLS YEAR. Want to bid on this spot? Join us on May 2nd for your chance (see below for more details) 

Parents – if you and your students have stayed after school to play and they need a drink or a bathroom break – Please accompany your child into the building to wherever they need to go.  Thanks for your help in this manner.  

Thank you for your continued support around Asbury's

non-student contact days

. Attached is the

calendar for the 2020-2021

school year

. Please review the calendar closely, as it is different from the district calendar. As always, let us know what questions you have.

On

inside mornings

(including late starts), please bring your students directly into the auditorium through Door #9 in the courtyard, not the office.  Parents are welcome to stay with students in the auditorium until the bell rings if they want to, but may not enter the hallway without signing at the office and getting a visitor's badge.

All parents/visitors MUST sign in the office and obtain a visitor's badge before entering the school. This is for the safety of ALL children, thank you for your support! 

It is planning time for the next school year and the office needs to know if your child is not going to attend Asbury next year for whatever reason.   Please let the office know.

CMAS Help Request:
---
PTSO
Spiritwear Store Ordering Deadline is Sunday, March 1st!
Back by popular demand, we have reopened our online store. We'll be taking orders until March 1st and items will be delivered to school on Monday, March 16th.

Check it out

!
Book Swap and Read-A-Thon
Book Swap dates are March 2-4. Have your student(s) bring in books they have read to trade at the Book Swap table. See the attached flyer for more details.

Reading week for our annual Read-A-Thon will be March 5th – 11th. Packets will go home with each student on March 5th. The first reading feather will be returned to school on Friday, March 6th. See the attached flyer for more details.
Book Swap and Read-A-Thon Volunteer Sign Up
Book Swap and Read-A-Thon Volunteer Sign Up
Save the Date for Spring Wing
Get ready to transport yourself to the tropics for our 5th annual adults-only fundraiser. The evening includes food, drinks, entertainment, and an auction.  Mark your calendars and book your sitters for May 2, 2020.

We need your help gathering items for our auction. Please see the Spring Wing flyer about donation request guidelines.
Spring Wing – donation request guidelines (English)
Spring Wing – donation request guideline (Spanish)
Harry Potter Club – Registration
---
Month at a Glance
March/April/May  2019-2020 
February 28 – Student Council – Book Character Day
March 3 – CSC and PTSO Meetings
March 6 – Student Council – Spirit day – Wear Blue or you Asbury T-Shirt
March 8 – DU Women's Gymnastics – Tickets for sale by PTSO (see above link)
March 12 – Kinder WOW Show
March 12 – Dine out for Asbury – Illegal Pete's
March 13 – Student Council – Mustache Day
March 18 – 6:00-7:00 – CMAS Parent Night 
March 20 – Student Council – Sports Jersey Day
March 24 –3rd and 5th Grade Concert  
March 26 – 3rd Grade Wolf Trials at DU (10:00 am-2:30 pm)
March 26 – Student Council – Spirit Day – Wear blue or your Asbury T-Shirt
March 27 – Asbury only Planning Day – No School for Students
March 30 -April 3 – Spring Break
April 6 – District-Wide Planning day – NO SCHOOL FOR STUDENTS
April 7 – Students return to school
April 7 – CSC & PTSO Meetings
April 8 – CMAS TESTING BEGINS FOR 3RD – 5TH GRADE – the schedule is on the website
April 15 –  Parent Night – Gun Storage safety – Discussion
April 17 – Student Council – Asbury Spirit day – Wear Blue or your Asbury T-Shirt
April 17 – Staff vs. student Soccer Game – Carnival Bid winners
April 21 – Dine out for Asbury – BIRD CALL
April 21 – First Grade Music Concert
April 23 – Kindergarten Music Concert
April 24 – Student Council – Look alike day
April 24 – Volunteer Appreciation Breakfast
April 24 – Rain Date Staff vs. Student soccer game
April 28 – Class Picture Day
April 29 – Fifth Grade to the Rockies game – Weather and Science day
May 1 – Student Council – MisMatch Day
May 2  – SPRING WING
May 5 – CSC and PTSO Meetings
May 6  – CMAS Celebration – Skate City –  3rd – 5th Graders
May 7-8 – 5th Graders to Balarat
May 8 – Asbury Only Planning day   No school for students – 5th graders at Balarat
May 14 – 1st – 5th – WOW Show  
May 14 – Spring Expo
May 15 – Dine Out for Asbury – Kona Ice
May 15 – Student Council – 80's Day 
May 15 – Field Day (Rain Date May 22)
May 18 – 5th Grade to Ameritown
May 22 Student Council – Spirit Day
May 22 – Best Assembly
May 22 – "I Mustache you to Dance"  Spring Dance Sponsored by the office
May 25 – Memorial Day – No School
May 28 -9:30 – 11:00 –  5th Grade Continuation 
May 29 – Last day of School – Half day