Thursday Folders – August 29, 2019
Posted August 29, 2019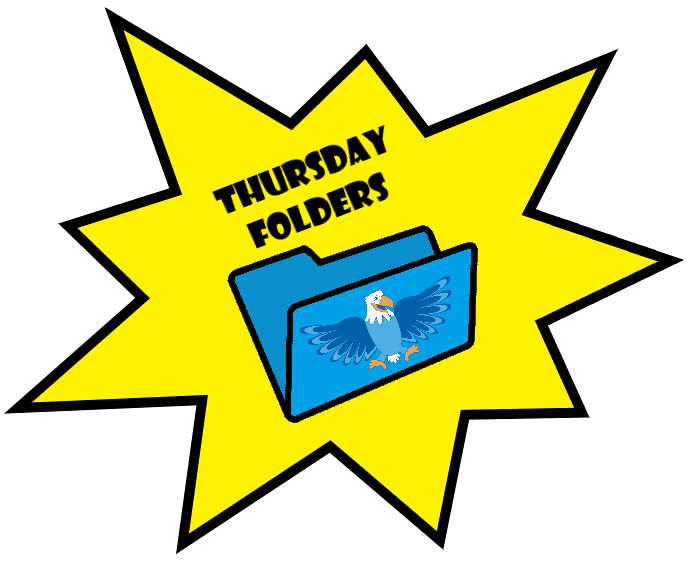 Please use this link to the Thursday Folders to see any and all flyers that came out this week. 08/29/19.   
Principal Message:
We hope you all are settling into the new school year. We are excited to welcome everyone back! We hope to see you all at Back To School Night tonight, Thursday, 8/29 from 6-7:30. We will begin our evening in the auditorium to share an overview of the year and introduce staff. Then, each family will have the chance to engage with their students teachers between 6:30 – 7:30. See you all then.
PTSO Information:
Welcome to the new school year! We hope you will attend the first PTSO meeting on Tuesday, September 3
rd
at 6:00pm in the auditorium.
Becoming a PTSO member is a great way to stay informed and be a part of the decision-making process of our school.
Complete the online PTSO membership form
or
print a PDF
to complete and return to the office. Of course, we could not do what we do without the help of volunteers. Please take a few minutes to complete our
online Volunteer Survey
. Many opportunities are available and are adaptable to your availability. If you prefer to fill out a paper form, please click here for a
printable PDF
. 
Carnival is just around the corner. Mark your calendars for September 20th, and
view the flyer
for more details.
Lastly, there are several easy fundraisers that help earn money for the Asbury PTSO. The programs are simple, and most require a quick and simple sign up.
See a quick list of programs
, or go to the Asbury website for more
detailed descriptions and instructions
.
OFFICE REMINDERS:  
Please begin to drop children off in the office or on the playground. We hope to limit parents walking children to their classroom to promote independence and responsibility.
Please keep your students lunch account current.  Everyday we generate letters that go home with your student if they owe lunch money.   Go to www.myschoolbucks.com  to set up an account and pay online. 
Please remember to send your child with a water bottle and sunscreen on (we are not allowed to apply sunscreen).
 Please make sure to clarify with the teachers and front office your drop off and pick up plan each day. 
Also to ensure the safety of our children, all adults entering the building must sign in at the office and wear a visitor's badge (even if we know you).  
Students must have a pair of over the head earphones to facilitate any kind of computer use.
Students must bring all communication devices to the office in the morning and pick them up in the afternoon.  They are not allowed in the classroom. 
Weekly Flyers:   
Garden Club went hope to all 4th and 5th graders today
PTSO Easy Fund Raiser Flyers
PTSO Carnival is coming Flyer
PTSO Join PTSO Flyer
PTSO Volunteer Opportunities and link to interest survey
Dine out for Asbury – Papa Johns
Individual Picture Day reminder
Important Dates:  This will change and grow as the year goes on
August 29 – Back to School Night for Parents from 6:00-7:30. This will start in the Auditorium and all will proceed to the classroom.
September 2 – Labor Day – No School
September 3 – CSC Meeting 5:00-6:00
September 3 – PTSO Meeting 6:00-7:00
September 13 – Individual Picture Day
September 20 – PTSO Carnival
September 27 – PTSO Carnival Rain Date
September 30 – NO SCHOOL for Students – ASBURY ONLY Teacher planning day
October 1 – CSC Meeting  5:00-6:00
October 1 – PTSO Meeting 6:00-7:00
October 14-17 – Parent Teacher Conferences 
October 18 – 22 – District Wide Teacher Planning Days
November 5 – CSC Meeting 5:00-6:00
November 5 – PTSO Meeting 6:00-7:00
November 22 – NO SCHOOL For Students – ASBURY ONLY – Teacher Planning Day