Thursday (Wednesday) Folders, February 12, 2020
Posted February 12, 2020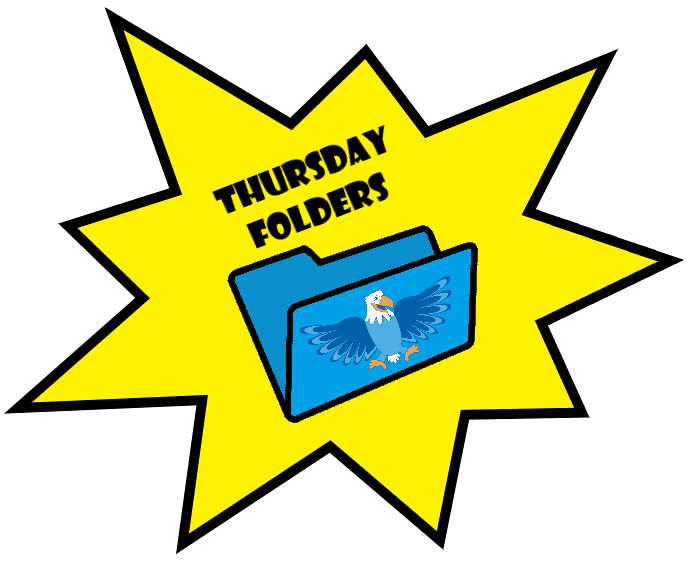 School Notes
Thank you for your continued support around Asbury's

non-student contact days

. Attached is the

calendar for the 2020-2021

school year

. There will be 4 release days built in to support project-based learning, planning and data analysis. These days provide the opportunity for all staff to review student data, including social-emotional and behavioral needs, and plan for engaging, rigorous project-based learning lessons that support ALL students. With the support of these days, Asbury has seen a significant increase in student achievement and student engagement. Please review the calendar closely, as it is different from the district calendar. As always, let us know what questions you have.

On

inside mornings

(including late starts), please bring your students directly into the auditorium through Door #9 in the courtyard, not the office.  Parents are welcome to stay with students in the auditorium until the bell rings if they want to, but may not enter the hallway without signing at the office and getting a visitor's badge.

Please come in and check the

LOST AND FOUND

All will again be

donated

BEFORE President's Day weekend.

Important Reminder: In order to promote independence,

please drop your student off in the office

if they are late. If you decide to accompany them- ALL visitors, parents, etc. MUST sign in at the office.

Kids Heart Challenge

was a huge success.  Thank you to all the friends and families who supported our jump ropers.    You raised approximately $5,000 to benefit The American Heart Association and Asbury Elementary School.  The celebration "SLIME" assembly will be on February 18th.

It is planning time for the next school year and the office needs to know if your child is not going to attend Asbury next year for whatever reason.   Please let either the teacher or the office know.

Our own, Mrs. B is in the running to be Denver's Next Improv Star at the Bovine Metropolis Theatre!

 

The first show is this Saturday, Feb. 15 at 7:30.  You can buy tickets

here

.  She will be continuing for several Saturdays after that!  

Here is the link to watch her

introduction video

.

Here is the link to

VOTE

for her!  You can vote often through noon on Friday, Feb. 14.  Break a Leg, Ms. B!
---
PTSO
Spiritwear Store Reopened!
Back by popular demand, we have reopened our online store. We'll be taking orders until March 1st and items will be delivered to school on Monday, March 16th.

Check it out

!
Read-A-Thon
Our annual Read-A-Thon will begin in March, but we're already getting started on the planning. If you would like to help with this great literacy event, please email

asbury.ptso@gmail.com

. 
DU Men's Basketball Tickets
Ticket purchase includes pre-game court experience which is fun for kids of all ages!
Save the Date for Spring Wing
Get ready to transport yourself to the tropics for our 5th annual adults-only fundraiser. The evening includes food, drinks, entertainment, and an auction.  Mark your calendars and book your sitters for May 2, 2020.
---
Coding for Kids – Spring Session
Parent Night with Ann Kaplan – Parenting Coach
---
Month at a Glance
February/March/April  2019-2020 
February 13 – Asbury only Planning Day – No school for students
February 14 – District-Wide Planning Day – No school for students
February 17 – President's Day – School closed
February 18 – Kids Heart Challenge – Closing Assembly  2:15 – New Date
February 19 – 5:30 – 6:30 -Parent Night  – Parent/Coach Ann Kaplan shares strategies to support behavior
February 20 – Dine out for Asbury – Spanky's
February 20 – 6:30-8:30 pm – Rosedale – Harvard Gulch Neighborhood Association Meeting  – Aud.
February 20 – DU Men's Basketball Game – Tickets for sale by PTSO (see above link)
February 21 – End of 2nd Trimester – Report cards go home
February 21 – Student Council – Spirit Day – Wear Blue or your Asbury T-Shirt
February 26 -9:00 –  BEST Assembly – South High CheerLeaders 
February 28 – Student Council – Book Character Day
March 3 – CSC and PTSO Meetings
March 6 – Student Council – Spirit day – Wear Blue or you Asbury T-Shirt
March 8 – DU Women's Gymnastics – Tickets for sale by PTSO (see above link)
March 12 – Kinder WOW Show
March 12 – Dine out for Asbury – Illegal Pete's
March 13 – Student Council – Mustache Day
March 18 – 6:00-7:00 – CMAS Parent Night 
March 20 – Student Council – Sports Jersey Day
March 24 -3rd and 5th Grade Concert  
March 26 – 3rd Grade Wolf Trials at DU (10:00 am-2:30 pm)
March 26 – Student Council – Spirit Day – Wear blue or your Asbury T-Shirt
March 27 – Asbury only Planning Day – No School for Students
March 30 -April 3 – Spring Break
April 6 – District-Wide Planning day – NO SCHOOL FOR STUDENTS
April 7 – Students return to school
April 7 – CSC & PTSO Meetings
April 8 – CMAS TESTING BEGINS FOR 3RD – 5TH GRADE – the schedule is on the website
April 17 – Student Council – Asbury Spirit day – Wear Blue or your Asbury T-Shirt
April 17 – Staff vs. student Soccer Game – Carnival Bid winners
April 21 – Dine out for Asbury – BIRD CALL
April 21 – First Grade Music Concert
April 23 – Kindergarten Music Concert
April 24 – Volunteer Appreciation Breakfast
April 24 – Rain Date Staff vs. Student soccer game
April 28 – Class Picture Day
April 29 – Fifth Grade to the Rockies game – Weather and Science day
---