Thursday Folders – September 26, 2019
Posted September 26, 2019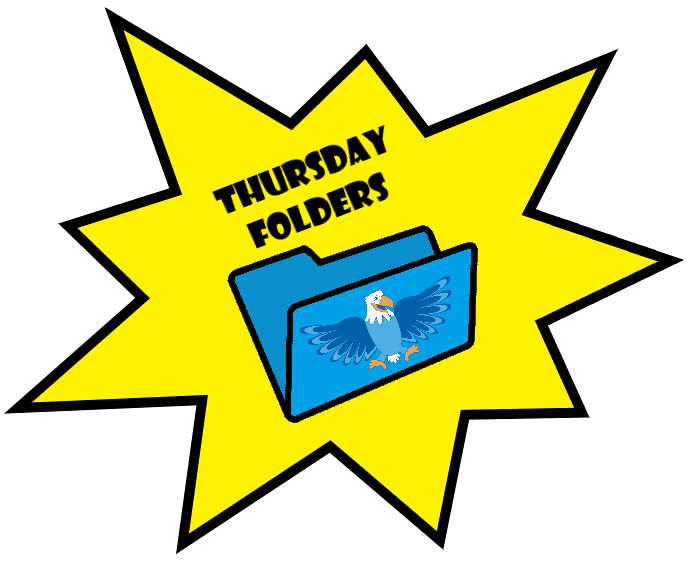 Please use this link to the Thursday Folders to see any and all flyers that came out this week. 09/26/19.  
Principal Note:    A BIG thank you to our PTSO for another wonderful Carnival night. It was a great time to connect with old and new friends.  We appreciate all of the hard work and volunteers who made this event happen! 
PTSO Notes:
CARNIVAL
Thank you to all the volunteers who helped before, during and after the event! The evening was a
wonderful success and a great way to start the year! Thanks to everyone for coming!
DIRECT GIVE
We will be postponing the launch of our Direct Give Campaign by a couple of weeks. More information will go out soon, so stay tuned.
OFFICE REMINDERS:  PLEASE CHECK LOST AND FOUND
The heat is abating and all the donated fans can be picked up from the office at your earliest convenience.  They were such a big help, thank you all so much. 
Free and Reduced lunch Application – Opt Out can be completed at the www.myschoolapps.com  website,  about six steps in is where you can opt out. Please complete this by Oct. 2. 
If at all possible, please do not use glass containers for your child's lunch.  
Please know that children may only be dropped off in the morning on the playground without parent supervision after 8:15 am. Asbury staff is present and monitoring children after 8:15. Children may come to breakfast at 8:00, but need to go directly to the cafeteria. 
Neighborhood news:
4th Annual Pumpkin Patch hosted by What's Up in Platt Park/Ryan Conover.  This year's Pumpkin Patch will be held on Saturday, October 12th from 9am-1:30pm at Platt Park Church. Bring the family for a fun filled day of games, food, drinks, photo area, pumpkins, pumpkin decorating and much more! Pre-order, donate, or request pumpkins at http://www.asburypumpkins.com/. (If you would like to pay by cash or check, please pick up an order form from the main office.)
Weekly Flyers:   
Lunch Menu for September Menu (what's available now)
Avalanche VS the Ducks – DPS Community night
DPS Community Meeting – School Safety
Important Dates:  This will change and grow as the year goes on
September 30 – NO SCHOOL for Students – ASBURY ONLY Teacher planning day
October 1 – PAC Meeting (Parent Advisory Meeting) ELA students – with CSC Meeting
October 1 – CSC Meeting  5:00-6:00
October 1 – PTSO Meeting 6:00-7:00
October 12 – Pumpkin Patch – Platt Park Church 9:00-1:30pm
October 14-17 – Parent Teacher Conferences 
October 17 – PTSO Fun Run – postponed – new date TBD
October 18 – 22 – District Wide Teacher Planning Days
October 25 – Individual Picture Retake Day
October 28 – B.E.S.T Assembly – 2:00pm – Auditorium
October 29 – Fire Prevention Week – Smoke Trailer and Fire safety presentation
November 5 – CSC Meeting 5:00-6:00
November 5 – PTSO Meeting 6:00-7:00
November 14 – Thanksgiving Luncheon.  Adjusted lunch schedule for all students 
November 22 – NO SCHOOL For Students – ASBURY ONLY – Teacher Planning Day
November 25- 29 – Thanksgiving Break
December 3 – CSC Meeting 5:00-6:00pm
December 3 – PTSO Meeting 6:00-7:00pm
December 12 – Fall Expo 6:00-7:00pm
December 23-31 – Winter Break
January 1-3  – Winter Break
January 6 – District Wide Teacher Planning Day – No School for students
January 7 – CSC Meeting 5:00-6:00pm
January 7 – PTSO Meeting 6:00-7:00pm