Thursday Folders – September 1, 2022
Posted September 1, 2022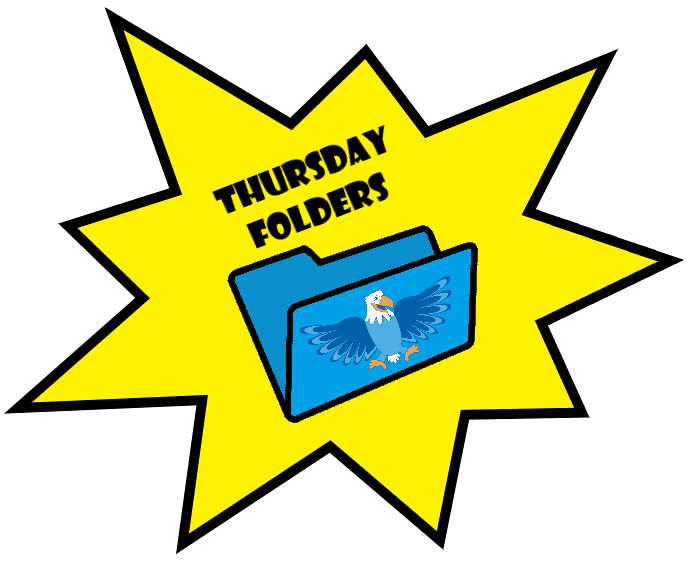 Principal Message:
Eagle Families!
Whether you are a new family or have been here, you know that Asbury is special. We are a school that values community. We foster the connection between home and school, the connection between teachers, students and families. To celebrate that and foster that, we have an amazing event coming up that I want to highlight- Carnival!
Carnival is an Asbury tradition that brings our community together. Just as the name denotes, our carnival will have fun games and booths with activities. It is also a time to connect, catch up and get acquainted with other Asbury families. This year, Carnival will be hosted on 9/23 from 5-7. It will take place outside at the school. Please join us for all the fun and festivities. If you would like to volunteer, feel free to reach out to PTSO!
Another thing that makes Asbury special is our offerings of specials classes, multi-lingual supports and intervention support. We offer art, technology, PE, and music time. To learn a little more about some of these offerings, check out these flyers, brochures and resources.
I also wanted to share with you some bittersweet news. Ms. Barros, our amazing 1st grade Math teacher, is moving and will be transitioning out of her role in October. Though this is sad for Asbury, we wish her all the best.
In Collaboration,
Jeanna Doung
---
Principal Notes:
Know someone who would like to work at Asbury? Here are the open positions. If you or anyone you know is interested, have them reach out to Jeanna Doung:
1st grade Math Teacher Long Term Sub Position
Crossing Guard at Asbury: We are looking for a crossing guard at Asbury. This is a paid position, so if you are interested in learning more about this, reach out to Jeanna!
1:1 Special Education Paraprofessional Position for a Kindergarten Student
1:1 Special Education Paraprofessional Position for a 2nd grade Student
Discovery Link AM Program: Great News- Asbury is looking to bring back the Discovery Link AM program. Before we do that, we are looking for amazing individuals to work the am program. Click here to submit an application today!
PTSO meetings will be the first Tuesday of every month from 6:00-7:00pm. We have our first PTSO meeting September 6 in the auditorium
Upcoming CSC Meeting: The CSC or the Collaborative School Committee meeting is a diverse group of stakeholders that include community members, teachers, staff and parents. We come together monthly to solve different issues, including budget, positions, and curriculum. Our first monthly CSC meeting is from 5-6 on September 6 in the Library.
Save the Date: Carnival is back and in person! Save the date for the evening of Sept. 23rd!
Bus Stop Information Now Available in Parent Portal: If families reach out about their student's bus stop information, please direct them to the Parent Portal. Please use this link that has instructions on how to find bus stop locations and pick up/drop off times.
Message on COVID Decision Tree: With the new school year comes a new COVID Decision Tree and I wanted to send it to you all so you know the current protocol that DPS is using. The main takeaways I want to highlight:
If a student tests positive, they cannot return to school until at least 5 days have passed since symptom onset or the date of the positive test. Upon returning they should continue to wear a mask for 5 days.
New this year is if there is a household exposure: Quarantines are no longer recommended for anyone exposed regardless of vaccination status, but should continue to mask around others for 10 days.
The nursing office are very happy to see maskless smiles this year, but let's continue to keep our community safe and wear a mask if we have mild symptoms or stay home when feeling sick. As always, feel free to reach out with questions or concerns.
Message from the Health Office on Medications, Vaccines, and other Health Info: If your child requires medication at school, please bring the required paperwork and unexpired medications to the health office as soon as possible. Qualified staff members will be available to receive medications during school hours beginning 8/17. Please note that school staff cannot administer medication at school without appropriate documentation signed by both parent and physician (this includes over the counter meds, lotions, etc). Specific medication forms can be found here: Medication Forms

Once complete these can be emailed to the school nurse or faxed to (720)424-9775
If your child has new/specific health care needs, please make the school aware of these prior to the beginning of the school year.
Colorado State law requires that children be fully vaccinated to attend school. If necessary, exemption forms for medical and nonmedical purposes can here.
If your student does not have a health care provider, please contact our school nurse or front office for help with finding available resources.
Questions? Contact Emma Green (Nurse): emma_green@dpsk12.net-Safety- kiss and go expectations
---
PTSO Information:
PTSO is the Parent, Teacher, Student Organization. It is a partnership between the school, families and the community.
Our main goals: Build Community, Support Teachers/Staff and Fundraise!
Join today! Become a PTSO Member! – $15 per member for the academic year
*Pay via Venmo @AsburyPTSO-AsburyPTSO, cash or check
**Financial assistance available
Share your volunteer interests with us – you are not committing to anything…just letting us know a bit more about you 🙂 https://forms.gle/nVS2EtSrS7VWH8EX7
Interested in becoming a business sponsor? Contact Kelly Smith at ksmith@studioshoparchitects.com
First PTSO meeting will be NEXT WEEK on Tuesday, September 6th at 6PM in the Asbury Auditorium. Pizza and childcare provided.
Asbury Swag Store will be opening soon! Details to come!
For more information reach out to Asbury.PTSO@gmail.com
Officers: Lizzie Mussoline, Olivia Jolly, Amy Fitzgerald, Jenny Eno, Amanda O'Neill
---
Weekly Flyers:
"Learn to Play Sports" at the University of Denver
*Scholarships Available*
You can NOW register for our LEARN to PLAY SOCCER and Learn to PLAY BASKETBALL!!!!!
Southwest Community Hub Information
Birdcall – September 21st Dining Out
Papa John's Dining Out – September 9
September 27 – Camp at Lincoln Elementary
Letter about camp relocation from Asbury to Lincoln
Yoga with Ms. Werner – Register here
Sticky Fingers (healthy cooking)
Creative Dance (NEW!) – Wednesdays
Hip Hop
2:40-3:40pm
Cost: $16.50 per class
Creative Dance (NEW!)
Tumbling
2:40-3:40
Cost: $16.50/class
KidStage (theater)
Running Eagles with Mrs. Magoffin and Mrs. Barros
2:45 to 4:15 p.m. in room 112
Class: 7 week session
Dates: beginning 9/9 – 11/11 (no class 9/30, 10/14)
3rd-5th grades
Cost: $135
Register at www.play-well.org
Clay Play (Decker Smith Pottery)
More after school enrichment options to come!
---
Important Dates: This will change and grow as the year goes on
September 5 – No School
September 6 – PTSO meeting – In Person in the Auditorium
September 7 – Sweet Cow dine/dessert out night
September 27 – Birdcall dine out night
September 23 – PTSO Fall Carnival and Auction (PTSO will be sending requests for volunteers!)
October 1 – Colorado Rapids Game Night
October 5 – Back by popular demand….Skate City Family Night!
October 14 & 17- DPS Non-Student Contact Days
November 10 – Chipotle dine out night