Thursday Folders – October 3, 2019
Posted October 3, 2019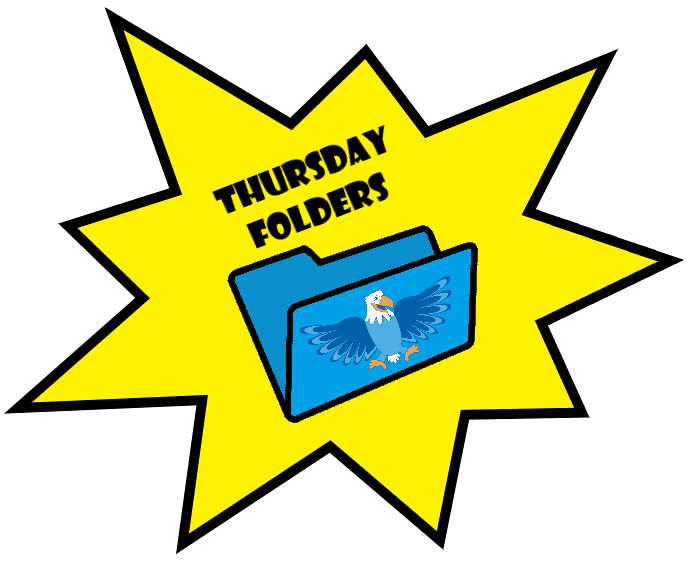 Please use this link to the Thursday Folders to see any and all flyers that came out this week. 10/3/19.  
Principal notes:   Parent Teacher Conferences are critical in keeping the lines of communication open between teachers and parents.   October 14-17 are the dates for Parent Teacher conferences and teachers will be sending out sign ups for you to select the best time for you.   Please make this a priority in your schedule. We hope to have 100% participation.
Culture and Equity Team – Asbury is looking for a few parents to join our Culture and Equity team. This team works to ensure diverse curriculum, celebrations and opportunities for the students and families at our school. If you are interested, please email Mrs. FaJohn at Alicia_fajohn@dpsk12.org. Here is a list of meeting dates and times: 10/21, 12/16, 3/16, 5/18. All meetings run from 7:30 – 8:15 am. 
STUDENT PICTURES WILL BE IN BACKPACKS TODAY.   PLEASE CHECK FOR THEM. 18-19 CMAS TEST RESULTS FOR 4TH AND 5TH GRADERS (3rd and 4th last year) ARE ALSO GOING HOME TODAY.
PTSO Notes:
PEARL WINE TASTING
Save the date for the Annual Pearl Wine tasting. This year's event will be held at the JW Marriott on Saturday, November 9th. PTSO will be selling tickets to this event and a portion of the ticket sales will be donated back to Asbury. More information will be sent out in the coming weeks, so please stay tuned.  
DINING OUT NIGHT : Our next dining out night will be on Tuesday, October 8th at Chipolte. 33% of all sales will go back to Asbury. This is one of our biggest dining out fundraisers, so mark your calendars now. 
DIRECT GIVE 
The Direct Give Campaign kick off party will be Wednesday, October 23rd and the campaign will run through Thursday, November 14th. More details will be sent home soon. If you are available or interested in helping with the campaign, please email asbury.ptso@gmail.com.
OFFICE REMINDERS:  PLEASE CHECK LOST AND FOUND
The heat is abating and all the donated fans can be picked up from the office at your earliest convenience.  They were such a big help, thank you all so much. 
If at all possible, please do not use glass containers for your child's lunch.  
Please know that children may only be dropped off in the morning on the playground without parent supervision after 8:15 am. Asbury staff is present and monitoring children after 8:15. Children may come to breakfast at 8:00, but need to go directly to the cafeteria. 
Neighborhood news:
4th Annual Pumpkin Patch hosted by What's Up in Platt Park/Ryan Conover.  This year's Pumpkin Patch will be held on Saturday, October 12th from 9am-1:30pm at Platt Park Church. Bring the family for a fun filled day of games, food, drinks, photo area, pumpkins, pumpkin decorating and much more! Pre-order, donate, or request pumpkins at http://www.asburypumpkins.com/.
Weekly Flyers:   
Lunch Menu for October 2019 (complete)
4th and 5th Grade – Explanation of Testing Scores
South High – Mini Cheerleading Camp information (Reg. form in the office)
Dine out for Asbury – Chipotle  
Science Matters – New session Beginning 10/25
Important Dates:  This will change and grow as the year goes on
October 8 – Dine out for Asbury – Chipotle
October 12 – Pumpkin Patch – Platt Park Church 9:00-1:30pm
October 14-17 – Parent Teacher Conferences 
October 17 – PTSO Fun Run – postponed – new date TBD
October 18 – 22 – District Wide Teacher Planning Days
October 23 – PTSO – Direct Give Campaign Kick off
October 25 – Individual Picture Retake Day
October 25 – Carnival winners – Staff/Student Basketball  game 
October 28 – B.E.S.T Assembly – 2:00pm – Auditorium
October 29 – Fire Prevention Week – Smoke Trailer and Fire safety presentation
November 5 – CSC Meeting 5:00-6:00
November 5 – PTSO Meeting 6:00-7:00
November 9 – Annual Pearl Wine Tasting. – Information coming in the next few weeks
November 14 – Thanksgiving Luncheon.  Adjusted lunch schedule for all students 
November 22 – NO SCHOOL For Students – ASBURY ONLY – Teacher Planning Day
November 25- 29 – Thanksgiving Break
December 3 – CSC Meeting 5:00-6:00pm
December 3 – PTSO Meeting 6:00-7:00pm
December 12 – Fall Expo 6:00-7:00pm
December 23-31 – Winter Break
January 1-3  – Winter Break
January 6 – District Wide Teacher Planning Day – No School for students
January 7 – CSC Meeting 5:00-6:00pm
January 7 – PTSO Meeting 6:00-7:00pm