Thursday Folders – October 27, 2022
Posted October 27, 2022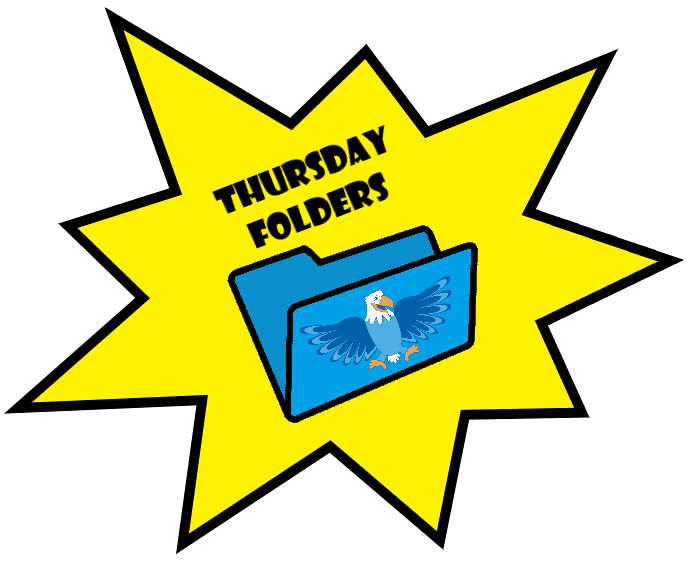 Principal Message:
Eagle Families-
Nearing the end of October means getting close to our Fall Parade! We hope that you all can join us for our Fall Parade on October 31! Students will get to dress up and celebrate fall! We will celebrate on 10/31 starting at 1:45. We are inviting all of you to join us outside for a parade around the perimeter of Asbury. Please mark your calendars and look for additional information about this fun community event!
Schedule:

1:45-2:05 Parade around Asbury (parents please line up around the grassy areas of the perimeter of the school)
2:05-2:15 Thriller Dance on the Field (parents please line up on around the perimeter of the field) Students will line up by grade level starting with kindergarten on the West side of the field and then grade levels will fill in behind them
2:15-2:40 Class parties

Costumes:

Students can come in costumes to school but please no masks or wings or accessories. Also, nothing too scary or uncomfortable for school.
We are looking for community donations of halloween costumes for students who need costumes. Please note that students will want to take the costumes home after use. Please drop any donations off in the front office!

Family Supports:

Teachers will be working with the class parents to support any needs for the party, so please reach out to your room support coordinator to see about opportunities!
In addition to this fun community event, we do have some HR related updates. We are excited to announce that Allison Bouillion will be stepping into the 1st grade LTS position! She will be transitioning into this role on November 1. This will then open up her current position on 1-1 kinder para, so if you know of anyone that would be interested, then that would be great!
In Partnership,
Jeanna Doung
Principal Notes:
PTSO/CSC Meeting: Our Next PTSO and CSC meetings will be held next Tuesday, November 1 from 5-7. CSC will be from 5-6 and PTSO will be from 6-7. We will be hosting these in the library. There will be translators, pizza and child care!
Bundle Up: It is starting to get cold in the morning and there is snow in the forecast. Where we do have inside days during extreme weather and temperatures, on other days, when it might feel brisk, we do have students go outside. We have some extra coats at school, though not enough for everyone. We look at the weather daily to make decisions about if we will be inside or outside.
Reminders about Toys at School: Please remind students that toys, including Pokemon cards, should not be brought to school. We would hate for students to lose their toys!
Report Cards: Report cards will be available online in the Parent Portal (and not printed) after 11/21
Author Visits to Asbury: 3rd-5th grades are having an exciting afternoon tomorrow. Classes will be meeting two authors and have a chance to purchase books and talk to the authors! They will also take questions and have their books for sale! Here are direct ordering links for the books (they are in QR code form on the flier!)
Multilingual Learners and Families Invited to the MLE DAC Meeting on Oct. 26: Schools and families of multilingual learners are invited to attend the Multilingual Education (MLE) Districtwide Advisory Committee (DAC) meeting on Oct. 26 from 5-7 p.m. at Manual High School. See this flier for more information. At this in-person meeting, families and staff will learn more about the resources to advocate for their students on the topics of assessments, On-Track to Graduate and accelerated learning resources. Please register here. For more information, visit the MLE-DAC webpage or call 720-423-2661.
HR Updates:

We are excited to announce that Allison Bouillion will be stepping into the 1st grade LTS position! She will be transitioning into this role on November 1. This will then open up her current position on 1-1 kinder para.
We want to extend a huge thanks to Joanna Tsyitee and Emily Thrope for all the work and service they have both put in at Asbury. They will be moving on from Asbury starting in November. If you see them, wish them well.
Open Positions:

3-5 MI Para Position
Kinder 1-1 Para Position

Fourth Grade Bake Sale – Tomorrow (Friday, 10/28) after school!

Message from Mrs. Harp: In case you haven't seen the posters, I wanted to let you know the 4th graders are doing a fundraiser THIS Friday (tomorrow) to try and raise money for their poetry performance space. This kid-created idea involves hand made crafts and a variety of baked items for sale before and after school (Baked items will only be available AFTER school). Please help support our young poets!!!
Items range from 50 cents to $2. Thank you!!
---
PTSO INFORMATION:
Help Wanted! We need your help to capture pictures of Fall Enrichment for the 2022-2023 Yearbook!
We would love your help to capture a group picture or a fun candid one of our Fall Enrichment Sessions for our 2022-2023 yearbook! Please choose a day/ enrichment & pop in for a picture to help us make this happen. You can sign up here. You'll need to make sure you have completed a background check. Once you sign up, we will share access to a photo folder to upload them or you can email them to us. Reach out to Asbury.PTSO@gmail.com if you have any questions. Thanks so much for your help!
Upcoming Community & Dine Out Events
Morgan's Liquor: 10/29 – Please bring paper copy deet with you
11/1 PTSO Meeting – Library
Pizza & Childcare provided
11/5: Asbury Night @ DU Men's Hockey – Asbury section tix SOLD OUT
11/12: Two Awesome Ways to Have Fun & Raise Funds for Asbury
Silent Disco Asbury Auction Experience tickets still available – reach out to Shannon Durling at ShannonDurling78@gmail.com
Tickets are $50 and include food, drinks, and disco dancing of course!
7th Annual Wine Tasting Event @ History of Colorado Center
100% proceeds benefit Denver Public Schools
Tickets on sale now – get more info and tix here!
Will occur during Specials, more details and volunteer opportunities to come! Be on the lookout – read your DEETS!
For more information, any questions, ideas, and/or concerns, etc. please reach out to Asbury.PTSO@gmail.com. We appreciate you!
---
Weekly Flyers:
Author Visit Order Form (3rd-5th grades)
All After School Enrichment opportunities
Picture Day Picture Information:
Bloom School Photography
Please log onto the link to the dashboard. Then click on the pink rectangle on the left hand side of the screen. When you click there, find your student and you will enter the students ID# to gain access. If you are not satisfied with the pictures you can also schedule a retake on the site as well. They will take place on Friday October 28 but you will need to sign up. If you have any questions please reach out to Amber Baca at abaca@dpsk12.net.
Discovery Link:
A reminder that current families, who are registered, can add or drop programming up to 6 am the day of school.
If you are interested in Discovery link, please visit https://equity.dpsk12.org/extended-learning/discovery-link/school-year-program/
Thank you,
Mr. Harvey
---
Important Dates:
October 29th – Morgan's Liquor
November 8th – Sexy Pizza
November 17th- Thanksgiving Lunch at Asbury
November 18th- No contact day for students
November 21-25- Fall Break
December 5th & 6th: Chook
December 19-January 3- Winter Holiday Break