Thursday Folders – October 20, 2022
Posted October 20, 2022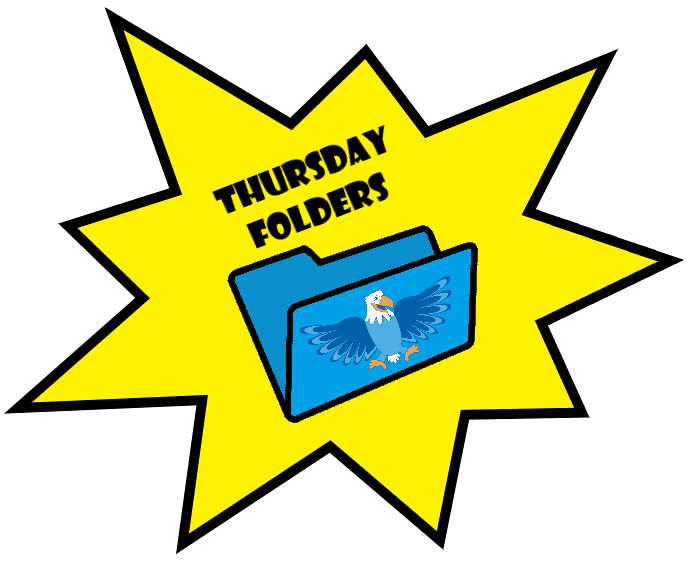 Principal Message:
Eagle Families-
As we continue our journey of Ability Awareness, I wanted to share a few read aloud books that promote inclusion and acceptance!
Circles All Around Us, by Brad Montague: This is the story of a circle. When we are first born, our circle is very small, but as we grow and build relationships, our circle keeps getting bigger and bigger to include family, friends, neighbors, community, and beyond. Brad Montague originally created Circles as an Instagram video adorably narrated by his kids, and now this picture book adaptation is the perfect way to start a conversation about how to expand our worlds with kindness and inclusivity—even if it seems scary or uncomfortable.
Strictly No Elephants, by Lisa Mantchev: Today is Pet Club day. There will be cats and dogs and fish, but strictly no elephants are allowed. The Pet Club doesn't understand that pets come in all shapes and sizes, just like friends. Now it is time for a boy and his tiny pet elephant to show them what it means to be a true friend.Strictly No Elephants is heralded as a pitch-perfect book about inclusion.
Looking for other books? Here is a list of books that promote inclusion.
In addition, I wanted to take a moment to celebrate Lonnie, Deshawn and Tavian, our amazing Facilities Team, who work tirelessly to ensure our building is safe and clean for all staff and students! Thanks to this team, Asbury won the Excellence in Assuring Quality Standards for our building! When you see this team, congratulate them! We are proud of them and our building- great job team!
In Partnership,
Jeanna Doung
Principal Notes:
Asbury Bond dollars Planning: As part of the 2020 bond scope, the Planning and Design Department is working with Asbury and many other schools in the district. The project identifies for each school the type of renovation needed to better the physical environment, address emotional wellbeing and security — just to name a few. DPS has hired an outside architecture firm to facilitate this process of engaging you and providing the assessment and final reports. Site visits have already occurred for Asbury. Asbury has $100,000 to support areas of need. So what are the areas of need identified?

Staff Lounge
Paint in some classrooms
Cafeteria
Outside area
Library
Gym (backboards)

Based on these areas of need, some of these areas have already started to get a face lift thanks to PTSO, who is already supporting with the staff lounge update
In talking to SLT, staff and getting input from parents, we have heard that the following areas are in need of priority updates:

Need to have an outdoor lunch areas/learning areas with cool down spaces outdoors
Our Cafeteria needs an update with seating
Paint is needed in some of our classrooms
Some ceiling tiles need replaced
Our auditorium needs a new lock to ensure student safety

We would love to hear any additional ideas and input from you all about any updates you would like to see. Please give your voice in this survey (https://forms.gle/ExnT2gCCupLGToRu6) if you have any additional ideas!!
No 'One Chip Challenge', Chips at Asbury: If a student brings a 'One Chip Challenge' hot/spicy chip to school this will be confiscated. The office will notify you all that we have this and let you know that this will be disposed of.
HR Updates:

We want to extend a huge thanks to Joanna Tsyitee and Emily Thrope for all the work and service they have both put in at Asbury. They will be moving on from Asbury starting in November. If you see them, wish them well.
Open Positions:

3-5 MI Para Position
1st Grade Long Term Sub Math Teaching Position

Interested in helping Asbury spread the word about who we are (and how amazing we are)? As part of school choice in DPS, schools market what makes them special. We are looking for an action team to come together and determine what we do to showcase Asbury. This could include organizing the structure of tours, creating brochures, working on videos and many other things! If you are interested, please fill this survey out (https://forms.gle/rzeFiwQwiNzHT7M18) !
Fall Parade Information: October means time for the fall parade community event. Students will get to dress up and celebrate fall! We will celebrate on 10/31 starting at 1:45. We are inviting all families to join us outside for a parade around the perimeter of Asbury. Please mark your calendars and look for additional information about this fun community event!

Schedule:

1:45-2:05 Parade around Asbury (parents please line up around the grassy areas of the perimeter of the school)
2:05-2:15 Thriller Dance on the Field (parents please line up on around the perimeter of the field) Students will line up by grade level starting with kindergarten on the West side of the field and then grade levels will fill in behind them
2:15-2:40 Class parties

Costumes:

You can come in costumes to school but please no masks or wings or accessories. Also, nothing too scary or uncomfortable for school
We are looking for community donations of halloween costumes for students who need costumes. Please note that students will want to take the costumes home after use. Please drop any donations off in the front office!

Specials:

We will shorten specials so we can end the day with parade and class parties and specials teachers can join the parade, dance and parties!

Family Supports:

Teachers will be working with the class parents to support any needs for the party, so please reach out to your room support coordinator to see about opportunities!
PTSO INFORMATION:
Did you have a blast at Skate City? Check out their Skate Programs
We hope you had so much fun at our Skate City Family Night! If your kiddos are interested in skating more, there are many programs offered on the weekends for $25/month which also includes tournaments, speed meets, etc.
Programs include Learn to Skate, Learn to Play Inline Hockey, Learn to Speed Skate & Learn to Play Ball Hockey. Bonus: Asbury earns $25 for each registration! Check out www.skatecitysports.com for more information!
Help Wanted! We need your help to capture pictures of Fall Enrichment for the 2022-2023 Yearbook!
We would love your help to capture a group picture or a fun candid one of our Fall Enrichment Sessions for our 2022-2023 yearbook! Please choose a day/ enrichment & pop in for a picture to help us make this happen. You can sign up here. You'll need to make sure you have completed a background check. Once you sign up, we will share access to a photo folder to upload them or you can email them to us. Reach out to Asbury.PTSO@gmail.com if you have any questions. Thanks so much for your help!
Last chance to buy DU Men's hockey tickets, all tickets not sold through the weekend will be released to the general public.
https://urldefense.com/v3/__https:/offer.fevo.com/denver-vs-st-cloud-state-presented-by-freddys-jygdhwh-4d3f95f__;!!NCZxaNi9jForCP_SxBKJCA!RcL-MddRx0ZIF5pWKr6B9HQXaJK01iIz7RwK2m3kOFIS5_SbO76qohG_CM-H4m-rs2eZvrp9e8UEU6bEsqmxolBLAx_dKgOB$
Upcoming Dine Outs
Morgan's Liquor: 10/29
Friday, November 4th: DU Men's Hockey Game!

The PTSO Community Ticketing Committee invites you to the University of Denver #1 ranked Men's Hockey game on Friday, November 4th at 7:00PM against St. Cloud State. (at Magness Arena on DU Campus)
Tickets are $25 each – ($7 of the ticket going back to Asbury PTSO)
Click here to purchase Asbury Night at DU Hockey tickets! There are 40 tickets reserved in the same section. You are not limited to the number of tickets you purchase, we can always add more to our section!

Sexy Pizza: 11/8
Pearl Street Wine – 7th Annual Wine Tasting Event Sat. November 12 @ History of Colorado Center

100% proceeds benefit Denver Public Schools
Tickets on sale now – get more info and tix here!

Chook: 12/5 AND 12/6
For more information, any questions, ideas, and/or concerns, etc. please reach out to Asbury.PTSO@gmail.com. We appreciate you!
Weekly Flyers:
Author Visit Order Form (3rd-5th grades)
All After School Enrichment opportunities
Picture Day Picture Information:
Bloom School Photography
Please log onto the link to the dashboard. Then click on the pink rectangle on the left hand side of the screen. When you click there, find your student and you will enter the students ID# to gain access. If you are not satisfied with the pictures you can also schedule a retake on the site as well. They will take place on Friday October 28 but you will need to sign up. If you have any questions please reach out to Amber Baca at abaca@dpsk12.net.
Discovery Link:
A reminder that current families, who are registered, can add or drop programming up to 6 am the day of school.
If you are interested in Discovery link, please visit https://equity.dpsk12.org/extended-learning/discovery-link/school-year-program/
Thank you,
Mr. Harvey
Important Dates:
October 29th – Morgan's Liquor
November 8th – Sexy Pizza
November 17th- Thanksgiving Lunch at Asbury
November 18th- No contact day for students
November 21-25- Fall Break
December 5th & 6th: Chook
December 19-January 3- Winter Holiday Break