Thursday Folders – May 4, 2023
Posted May 4, 2023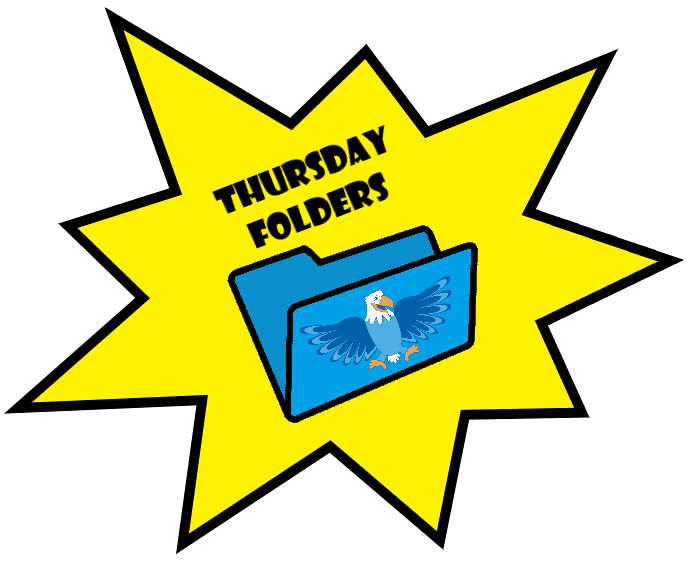 Principal Message:
Asbury Eagle Families-
As we balance finishing this year out and planning for next year, I wanted to take a moment and share updates about staff for the 23/24 school year. We wish everyone the best as they transition to other places!
So what transitions are happening?
Angela Malara: We are so excited to have Angela transitioning to 1st grade. Angela is not new to Asbury and has been on the kindergarten team previously. She has previous experience in 1st grade and we are excited to have her expertise back in a new grade level!
Heather Swarts: Heather is transitioning from 5th grade 1-1 paraprofessional position to a 4th grade 1-1 position! We are excited to have her continued support with our MI students at Asbury!
2nd and 3rd grade updates: Our 2nd and 3rd grades are switching places. Lauryn Arza and Nicole McCoy are currently filling the 2nd grade positions and are looping up to 3rd grade. Nicole Johnsen and Stephanie Vieau are transitioning from 3rd grade back to 2nd grade. We are excited to continue to have both of these amazing teams to support all our 2 and 3rd graders next year!
Elinore Van Sant- We are thrilled to have Elinore Van Sant back in her 4th grade Math position. Elinore took a year off to support her husband while he finished his residency in Minnesota and we are happy to welcome them both back to Denver!
Allison Bouillion- Allison has supported Asbury both as a para and then stepped into the math long term substitute position and we are forever grateful for her support. We wish her well in her next endeavor beyond Asbury.
Jessica Kuhn: Jessica has supported us as a 1-1 para and as the MI K-2 long term sub for Asbury. She has been a wonderful addition to our building.
Drew Gui: We are looking forward to welcoming Drew to a 1st grade 1-1 position starting next year. Drew is new to the world of education, but not new to supporting people in need.
Caroline Vaughn: Please thank Caroline for her support at Asbury over the last 3 years as our School Psychologist. She has been tremendous and supportive of students and families. Caroline has decided to shift from a 5 day a week schedule to a 3 day a week schedule, so we are excited to partner with Lauren Gourgues, our new School Psychologist who comes to us from Baylor University in Texas.
Please reach out with any questions or concerns.
In Partnership,

Jeanna Doung
Principal Notes:
Important Technology Information from Mrs. Ravel
Asbury 2nd – 5th Grade Families,
In the past, each student has kept their chromebook over the summer to use as long as the student was going back to Asbury or heading to a non-charter DPS school the following fall. This year the district is changing how we are doing things. Chromebooks will NOT automatically be taken home at the end of the school year.
In order for your student to take a chromebook home in the summer, families must fill out a survey to Opt-In to have their student bring their chromebook home in the summer.
Two options:
If you are NOT planning on having your student take their chromebook home for the summer, you do not need to do anything.
If you DO want your student to bring home their chromebook for the summer, you must fill out the following survey by May 19th:
Summer Opt-In Survey for Families
All chromebooks AND chargers that are not being taken home for the summer or if the family has not filled in the opt-in survey, must be returned to school on Tuesday, May 30th.
Each device is assigned to a specific student so if the device along with the charger is not returned, you will be charged for a missing device and/or charger to your my school bucks account.
Asbury kindergarten and first grade Families,
Devices (ipads – kinder and chromebooks – first) will be collected at the end of the school year from all kindergarten and first grade students. They will not be taking them home over the summer.
Please reach out if you have any questions to Amy Ravel (Amy_Ravel@dpsk12.net)
Check out the 7 News story about Mr. Rafael and our 5th Grade Muralists!!!
Tomorrow!! Spring Wing!!! I hope you will join us for an evening full of fun entertainment, food and drinks to benefit the school. You can purchase your tickets at https://auctria.events/springwing23
5th grade Continuation: We are excited to celebrate our amazing 5th graders as they move up to middle school! We will be hosting continuation on the morning of 6/1 at 9:30 am. Please look for more details soon
End of Year Picnics: End of Year picnics are May 26-June 1. Please see specific information from your teachers about times and locations.
June 1: 5th grade Continuation at 9:00
June 2- School gets out at 11:00 and is the last day of school
Upcoming Event at Second Star Bookstore on S. Pearl Street:
May 2023 Edition of The Eagles' Flying News – click HERE!
DPS 'Your Voice/Tu Voz' for Survey
Family, Student, and Team DPS Survey – this was sent to your email of choice. It was also sent to your child to fill out.
What is it?

DPS surveys all students, families, and staff
Questions explore themes such as: students' academic experience; their social-emotional health; parent/guardian's experience with school staff; staff views on equity and the Strategic Roadmap priorities.
Why is it important for you and your school?
Stakeholders will have access to an interactive dashboard summary of student, family and staff results for your school by the last week in May.
A higher number of responses will allow the district and your school to have access to demographic breakouts along with a better understanding of what is occurring in your school.
PTSO INFORMATION:
Spring Wing is TOMORROW, May 5th!
Check out the Auction, purchase raffle tix and more, here!
Thank you to all of those that have volunteered to help, we couldn't do this without you!
Special thanks to Erin Anglin & Hillary Laird for chairing this special and important event!
Special thanks to Amy Fitzgerald & Olivia Jolly for chairing the auction
Special thanks to Shannon Durling & Amanda O'Neil for chairing the amazing Auction Experiences
Spring Wing FAQ's
We have gotten a handful of questions related to Spring Wing – hopefully this eases your worries! If you have additional questions please feel free to ask!
Do I have to dress up?
Absolutely not! A lot of people will – a lot of people won't! Feel free to dress in 1920s swag or whatever you feel comfortable in.
What's up with the food?
We realized we scheduled the event on Cinco de Mayo – we didn't want you feel like you were missing your party so we are serving amazing Mexican fare by "Chef Z at Luchador Mexican Food". Is it 20's themed? No. Will it be delicious, YES!
Do I have to dance?
You don't have to – but we have hired a super fun group to sing at the event for a period of time, The Black Iris Collective – and if you feel the beat in your soul you may want to shake a leg!
Anything else fun going on?
Yes! We are going to offer an optional whiskey tasting experience, host a silent auction, have a wine wall and generally there will be good company to hang out with!
Weekly Flyers:
Youth Girls Lacrosse Clinic – May 21
Summer Camp Opportunity at The Waldorf School
Girls Week Pass Camp Summer Information
MSU Denver Junior Roadrunners Camp
All After School Enrichment opportunities
Here is information about an outdoor camp in Englewood!
Here is information about a Rugby camp
Discovery Link:
If you are interested in Discovery link, please visit https://equity.dpsk12.org/extended-learning/discovery-link/school-year-program/
Thank you,
Mr. Ronnie
Important Dates:
May 4 – 5th Grade to the Rockies Game
May 5 – Asbury PD Day – No school for students
May 5 – Spring Wing
May 11-12- 5th grade at Balarat
May 19 – Field Day
May 26 – Field Day Rain Date
June 1 – 5th Grade Continuation @ 9:30am
June 2- Last day of school- school releases at 11am