Thursday Folders – May 19, 2022
Posted May 20, 2022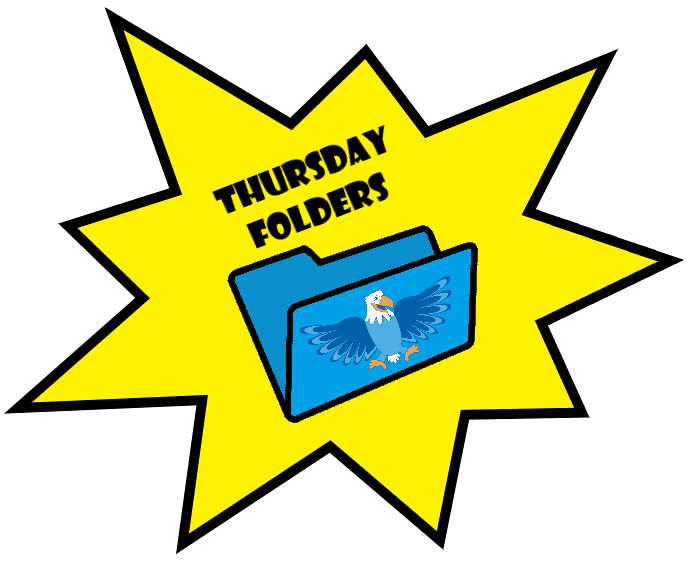 Principal's Corner
End of Year/Beginning of Next Year Info:
Lost & Found
Everything will be donated on June 2nd.
Library Books
Library books are due May 16th
Overdue library books are welcomed back at any time–including books from other DPS libraries. (Books will be sent back to the library from which they were checked out.) There are no fines for overdue books.
Medication at School
Please remember to pick it up by May 29 by 10:00 AM AT THE LATEST. If they are not picked up they will be disposed of by the nurse. – Don't forget you will need new forms for next year. Medication cannot be sent home with students.
Student Chromebooks and/or iPads
The district is having all students keep their chromebooks and charger over the summer unless your student is leaving the district or going to a charter school. Mrs. Ravel will be checking this during the last week of school.
Fifth graders will take their devices with them to middle school unless they are leaving the district or going to a charter school, please take good care of them and use the neoprene cases that they received. Let Mrs. Ravel know if you need a case or if they have lost their charger and need to purchase a new charger.
The kindergarteners and first graders will not be taking home their ipads for the summer.
Soon to be second graders will get a chromebook at the beginning of next year when we receive them from the district.
Please let Ms. Maggie know if your upcoming first grader (current kindergartener) or upcoming second grader (current first grader) is going to be participating in summer school so we will make sure to give you a chromebook.
Last Day of School for all students will be a half-day from 7:40 – 11:15 a.m. – June, 3rd 2022
Have a great summer! NOW ON TO 2022-2023
DPS Online Registration for 2022-2023 School Year – ALL students must register.
The "Early Bird" Registration window is open from May 2nd to May 20th. Visit myportal.dpsk12.org to sign up, or to check that your account is active and ready. For more information on how to complete online registration, contact the front office or visit schoolchoice.dpsk12.org. Returning Students Online Registration Guide —THIS HAS BEEN SUPER HELPFUL TO EXISTING PARENTS.
Online registration is scheduled for July 26th- August 21st. Parents will access online registration via their Parent Portal account.
This requires a Parent Portal account at myportal.dpsk12.org
Walk-in Registration is on August 11th and 12th from 9:00 am – 12:00 pm – a Spanish translator will be available.
School Supply List – There are two options:
OR
Order online at www.edukitinc.com by June 10th for best pricing and free shipping. The last day to order is June 10th. A confirmation will be emailed to you after your order has been placed. Your child's EduKit will be dropped off in your child's classroom. Extended ordering is available June 11 – August 1 for an additional fee and will be delivered to your home shortly before school begins.
Asbury Eagles Nest Welcome – Come meet your student's teacher/bring school supplies
Thursday, August 18th, 2022 – 5:00 – 5:30 p.m. in Classrooms
5:30 – 6:30 pm – Refreshments on the playground.
If you didn't order school supplies from Edukit, please bring your school supplies with you.
First Day of School for 2021-2022
August 22, 2022 – Monday – 7:40 a.m. – 2:40 p.m.
The first Bell rings at 7:35 a.m. – Students are counted tardy beginning at 7:45 am and must be signed in the office.
Kindergarten students will be half-day for the first 3 days of school (lunch will not be served) – Aug.22nd, 23rd, & 24th from 7:40 – 11:00 a.m. – (Kindergarten teachers will contact you to schedule a one-on-one test for your student in the afternoon)
Back to School Night for Parents
Thursday, August 25, 2022 – 5:00 – 6:00 p.m. Meet on the playground!
Warmly,
Jeanna Doung
---
School Notes
Important Information:
Asbury's 22/23 SY Calendar: Here is Asbury's 22/23 school year calendar. As you can see, we have one release day per month and all the release days are backed up to a weekend or a long weekend.
Announcements:
DPS' Library Services will be hosting the second annual SUMMER OF SORA from June 6th – August 12th! Similar to last year, every student who checks out an eBook or audiobook in Sora is eligible to win the random weekly drawing of ten winners. Weekly drawing winners will be announced every Monday, and each winner will receive an Under Armour sackpack and a new book. THAT'S A TOTAL OF 100 WINNERS! Three grand prize winners will also be randomly selected on August 12th, and each grand prize winner will receive a Kindle e-reader! (SO, for those competitive and prize-lovin' types out there, the more eBooks and/or audiobooks students check out each week, the better chance they have to win!) See the attached flyer. SORA Flyer (Spanish)
Health Office Update: We wanted to share that COVID Cases are on the rise once again in CO. We are also seeing an uptick in other viral and bacterial illnesses. These types of illnesses are somewhat expected coming off of a year-plus of wearing masks. We want to continue to encourage you to be mindful of symptoms and be diligent about keeping kids home if there are concerns. Here is a helpful guide to check if you are unsure about whether or not your child should stay home: How Sick Is Too Sick? We do encourage students that are not feeling well to wear a mask while around others.
Read the May Edition of The Eagle Times
---
PTSO
Congratulations to the 2022-23 PTSO Board. An in person vote was held on May 4th and the following individuals were elected.

Co- Presidents – Olivia Jolly and Lizzie Mussoline
Vice President – Amy Fitzgerald
Treasurer – Jenny Eno
Secretary – Amanda O'Neill
Spring Wing was a huge success! Thank you to all the volunteers and attendees for making the event another memorable one! We raised over $40,000 in one night!
Other
---
Important Dates
5/24 – Guinea Pig Race
5/24 – Skate Party – Skate City 6-8pm
5/27 – Asbury Field Day
5/27 – Kona Ice at Asbury Blacktop (20% giveback)
5/30 – No School – Memorial Day
6/2 – 5th Grade Graduation
6/3 – Last Day of School – Half Day
---
Parent Resources
---
Flyers/Links