Thursday Folders – May 18, 2023
Posted May 18, 2023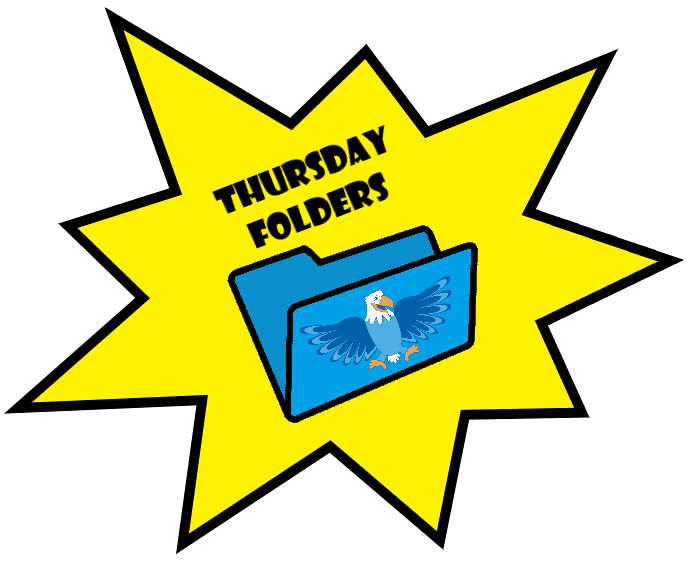 Principal Message:
Asbury Families,
As we gear up for summer, I wanted to take a moment to share the end of year document that also contains some supports for the start of 23/24 SY! In this document, you will find information about library books, technology, school supplies, and important dates for next year!
In addition, I wanted to share some summer resources that include math and literacy activities.
Summer Resources
All Grades
Literacy Suggestions
Finding Books at Your Child's Level–In your child's report card, teachers provided your child's reading level at the end of March. You can reference this correlation chart to better understand the reading levels. Please consider, in the intermediate grades, reading levels become more complex. Based on a variety of factors, students can access a range of levels. At the end of the day, it's most important that students are reading and talking about books that excite and engage them! Levels don't define the child.
Below is a list of resources that your child can access throughout the summer to continue learning.
There are also a few subscription-based programs, some have free trials:
Consider checking into additional resources on Edutopia.
Math Suggestions
Your children have grown so much this year and have become amazing mathematicians. Summer is a critical time for learning and we want to make sure that all children are continuing to practice their skills over the summer. We have listed some fun options for math practice. We appreciate all that you do to help your children grow and learn each day.
Practicing Math Facts
Solve Number Stories

Create models that match the number story.
Explain how they solved the problem and why their answer is reasonable.

Look for real-life math
Have mathematical discussions
IXL will be available all summer. This is great practice because incoming teachers can see students progress.
Bedtime Math (there is also an app for your phone)
Read math books
Brainpop Jr. Math (we do not have an account, but there are many free videos to watch)
Resources:
In Partnership,

Jeanna Doung
---
Principal Notes:
Asbury's Spring Spirit Week – May 22-26
Let's boost up the fun as we head into our final weeks of school!
| | |
| --- | --- |
| Monday, May 22nd | Sports Day (Wear any team or athletic wear, be creative!) |
| Tuesday, May 23rd | Crazy Hair Day |
| Wednesday, May 24th | Character Day (Dress as your favorite book, tv show, movie, or create your own character!) |
| Thursday, May 25th | Decades Day |
| Friday, May 26th | *Class Color Day |
*Class Colors:
Kinder-purple
1st-white
2nd-green
3rd-blue
4th-tie-dye
5th-red
Volunteer Appreciation Breakfast! We want to invite all our amazing volunteers! We could not do what we do without you! Please stop by our appreciation table that will have a small appreciation for what you do and breakfast. This will be hosted May 30 starting at 7:30!
Important Technology Information from Mrs. Ravel – This is due tomorrow!!!
Asbury 2nd – 5th Grade Families,
In the past, each student has kept their chromebook over the summer to use as long as the student was going back to Asbury or heading to a non-charter DPS school the following fall. This year the district is changing how we are doing things. Chromebooks will NOT automatically be taken home at the end of the school year.
In order for your student to take a chromebook home in the summer, families must fill out a survey to Opt-In to have their student bring their chromebook home in the summer.
Two options:
If you are NOT planning on having your student take their chromebook home for the summer, you do not need to do anything.
If you DO want your student to bring home their chromebook for the summer, you must fill out the following survey by May 19th:
Summer Opt-In Survey for Families
This is due by Friday, May 19th!
All chromebooks AND chargers that are not being taken home for the summer or if the family has not filled in the opt-in survey, must be returned to school on Tuesday, May 30th.
Each device is assigned to a specific student so if the device along with the charger is not returned, you will be charged for a missing device and/or charger to your my school bucks account.
Asbury kindergarten and first grade Families,
Devices (ipads – kinder and chromebooks – first) will be collected at the end of the school year from all kindergarten and first grade students. They will not be taking them home over the summer.
Please reach out if you have any questions to Amy Ravel (Amy_Ravel@dpsk12.net)

5th grade Continuation: We are excited to celebrate our amazing 5th graders as they move up to middle school! We will be hosting continuation on the morning of 6/1 at 9:30 am. Please look for more details soon
May 2023 Edition of The Eagles' Flying News – click HERE!
23/24 Asbury School Year Calendar: Please see here for the school calendar for the 23/24 School Year.
1st grade update for the 23/24 School year: Exciting news, the 1st grade team is shifting from platooning to a traditional model, which means that students will have one teacher for all subject areas. There are so many benefits to this model for Kinder and 1st grade students and we are excited students will have a homeroom teacher to support them in math and literacy!
Summer of Sora Reading Activities – Click HERE for more information.

Questions? Please contact the libraryhelpdesk@dpsk12.org.
---
PTSO INFORMATION:
Spring Wing was a GIGANTIC success thanks to YOU! We are so grateful for your support!
To date, we have raised over $43,000!
We still have a handful of "Experiences" spaces left (think Yoga, Kid Olympics, Tacos & Margaritas, Bikes & Brews, Adult Field Day, and Fitness Fun) and just a couple auction items.
Want to Join in on the Fun? Visit the Spring Wing Website and Reserve your Spot Today!
Also, please make sure to check your email and pay your Auction/Experiences invoices ASAP!
Field Day is next Friday, May 26th! Thank you to those that reached out to Mr. Howard to help support some of the fun stations! If you are able and willing to provide snack donations, please volunteer here!
---
Weekly Flyers:
University Hills Farmers Market Information
Youth Girls Lacrosse Clinic – May 21
Summer Camp Opportunity at The Waldorf School
Girls Week Pass Camp Summer Information
MSU Denver Junior Roadrunners Camp
All After School Enrichment opportunities
Here is information about an outdoor camp in Englewood!
Here is information about a Rugby camp
---
Discovery Link:
If you are interested in Discovery link, please visit https://equity.dpsk12.org/extended-learning/discovery-link/school-year-program/
Thank you,
Mr. Ronnie
---
Important Dates:
May 25 – Great Guinea Pig Race 2023 (2:00)
May 25 – Kindergarten picnic (9:00-11:30)
May 26 – Field Day Rescheduled Date
May 31 – 1st grade picnic (8:30-1:00) @ Harvard Gulch
May 31 – 3rd grade picnic (9:30-1:00) @ Harvard Gulch
June 1 – 5th Grade Continuation @ 9:30
June 1 – 2nd grade picnic (TBD) @ Harvard Gulch
June 1 – 4th grade picnic (12:00-2:30) @ Harvard Gulch
June 2- Last Day of School (half day) – dismiss at 11:00