Thursday Folders – March 9, 2023
Posted March 9, 2023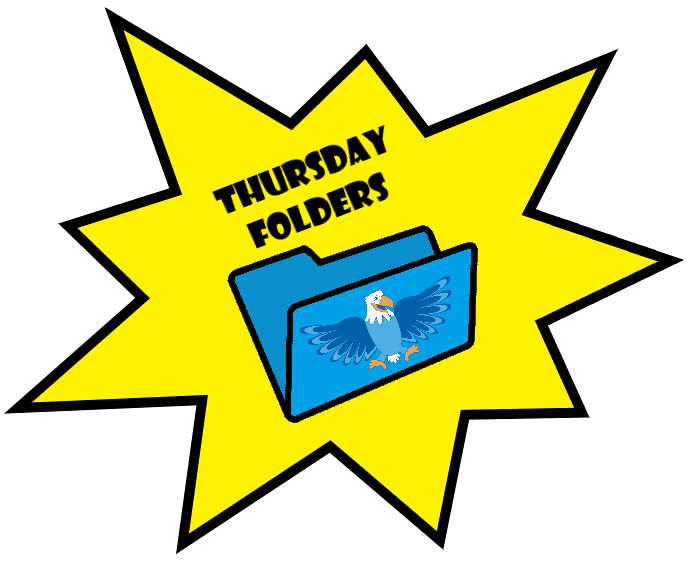 Principal Message:
Asbury Eagle Families-
From March 13-17 the Asbury leadership team will be heading to a learning opportunity! We will be taking the time to go to a couple of PBL schools and learn from them on how we best support Asbury in terms of PBL leadership! During this week, we will have leadership support in our building and ask that everyone is patient! Our theory of action is that this will be a learning opportunity that will benefit our entire school and community!
In other, exciting news, our Asbury School Year Calendar for the 23/24 School Year was approved! Asbury's calendar adds in a few additional days to ensure that we are able to support Project Based Learning and Inclusion. We also have a fall and spring conference day that will be a non-student contact day. We are thankful for our community support so teachers have these additional days in our calendar! Students benefit from teachers being ready! So, check out our calendar here: Asbury 23/24 SY calendar.
In Partnership,

Jeanna Doung
---
Principal Notes:
CMAS/CoAlt Window for Testing – 4/10-4/28 (3rd, 4th, and 5th graders)
March 17th

School Performance @ 1:00
Family Performance @ 4:30

MLL families! Our next district MLE DAC meeting will be on March 22nd at West High School. This meeting will be held in the morning, from 9:30 am – 11 am.
April 19th Wednesday: WOW Art Show: Art Walk and Scavenger Hunt Afterschool starting at 5:30.
March 24- Non Student Contact Day for Asbury
Don't forget: It is still chilly out and students remain outdoors even when it is 30 degrees, so please bundle your kiddos up!
Check out the March Edition of The Eagles' Flying Facts Student Newspaper
5th grade parents- still looking for a Middle School? ASPEN ACADEMY is Now accepting applications from high academic achieving students in grades 6-8 for Fall 2023.Learn more @ aspenacademy.org/visit (this is not a plug, just merely sharing what a school has shared with us)
Discovery Link Families: We will have a sign up for Discovery Link for Spring Break, including March 24. Camp will be hosted at Slavens and if you have any questions, contact Ronnie.
Save the Date: DPS District Science Fair Happening April 29: The DPS District Science Fair — embedded in the New DPS Steam Expo — will be held on April 29. Teachers and parents can help students register their projects here. Please keep an eye out for updates in Schoology for grade-level groups and science email updates. For more information, visit the DPS Science Fair webpage. If you have questions, contact Eva Bridgeforth.
Summer Connections: Denver Public Schools (DPS) is beginning enrollment for Summer Connections for all eligible families currently in kindergarten to fourth grade. The new SEAL program will offer free classes in core subjects to enrolled students, allowing them to get ahead of critical course material and get a head start on the upcoming school year. For more information, please check out the Summer Connections website at https://www.dpsk12.org/academics/summer-connections/ . To enroll your student in the free summer program, go to https://myportal.dpsk12.org/.
YearBook Updates:

Because Asbury chose the customization option everyone that orders a yearbook can customize two pages for their child! Parents must use this link to activate their account, pay for the yearbook, and start customizing. This flier with more info is attached.
Want 10% off your YearBook Purchase? In honor of the season of giving, Treering has an exclusive promo code for a 10% discount for all new customers for the 2022-2023 school year. Setting up your account set up takes less than a minute and there are no minimum orders or contracts required. (The fine print: Coupon code HOLIDAY10 promotion ends at 11:59 pm PST on 12/31/22. Not applicable with referral codes or other discounts.)

Lost and Found is overflowing! Please remind your students to go and check. Parents are welcome to come in and check at drop off or pick up. Just check in at the office. All lost and found items will be donated on Friday, March 23.
Camp Comfort is a summer camp to support children who have experienced the loss of a loved one. Please view this flyer and share it with any family that you think would be interested. The camp is free, only a $25 deposit is required to hold their spot.
HR Updates:

Mari, our amazing K-2 MI Teacher has accepted a leadership position in the district as a Special Education Partner. We are so happy for her, but sad to have her transition to her new role. She will be transitioning at the start of April. Her position will be posted as a Long Term Sub MI K-2 Special Education Teacher. If you have any questions or know anyone that is interested, please reach out to Jeanna!
---
PTSO INFORMATION:
PTSO Officers for 2023-24 school year!! If you have an interest in serving as a PTSO Officer, please reach out so that you can learn more, shadow a current PTSO leader and hear all the exciting ways you can be involved! Email Asbury.PTSO@gmail.com and we will be sure to direct you to the right place!
YEARBOOK SUPPORT! Listy Lehman is leading this effort. Listy has it under control but could use another set of eyes to help her (and Ms. Baca) to finalize the photos, names and to get marketing out to the masses! (please contact: listy.lehman@gmail.com)
Spring Wing Auction EXPERIENCES: Amanda O'Neill and Shannon Durling are leading this effort. (We need 2 more people to help with this effort!)
This is an opportunity to get to know more parents, plan fun gatherings for our community and help organize the experience details for Spring Wing on May 5th. There's no requirement to host an experience or to attend Spring Wing. Most work is done simply by email and phone calls at times that are convenient for you.
Spring Wing Auction Experiences are an Asbury tradition that help us succeed in our goal of community engagement and are an excellent source of fundraising. Hosted "Experiences" are social fundraising events hosted by an Asbury family or group of families who share in the cost of putting together the event. Asbury Experiences are available as part of the Spring Wing Auction. Spring Wing attendees have the opportunity to bid on an experience. All proceeds from the Experiences go directly to Asbury.
Examples include: Pool party, picnics, movie night, ice cream social, pizza in the park, mom's cocktail party, Dad's BBQ, workout classes, adult casino night, family olympics, taco truck night, bikes/brew brewery tour, whiskey tastings, art classes and so much more.
Spring Wing Auction Committee – Amy Fitzgerald and Olivia Jolly are leading this effort. We could use 3-5 more people to help call on local businesses to donate items for our Spring Wing on May 5th. There is already a list generated, a letter created and a script for you. It's a fun way to meet businesses in the area!
4) How else can you help with Spring Wing? We are so glad you asked!
Are you a business owner? Do you know an owner who wants to donate? We would love to include items from your business in the auction and help you reach new patrons! Please contact Amy Fitzgerald or Olivia Jolly to discuss how to include your business. (amy.jo.fitzgerald@gmail.com)
Donate a bottle of wine valued between $20-$100. There will be a "Wine Wall" at the event, where purchasers will pull a mystery bottle and take it home to enjoy! You can bring wine donations to the front office or contact Olivia Jolly (oliviajolly@gmail.com)
Host an experience. Consider hosting a family, kid, or adult experience. The possibilities are endless and we are always looking for new ideas! In the past, families have teamed up to host Bikes & Brews, Adult Field Day, pool parties, wine tastings, taco nights and more! Have an event idea? We can't wait to hear about it! Contact Amanda O'Neill (amandaoneill@gmail.com) to discuss this fun opportunity.
Donate frequent flier airline miles! – contact Olivia Jolly (oliviajolly@gmail.com)
Own a mountain or vacation home?– Would you consider donating a weekend or longer for an Asbury family to bid on and stay there? Contact Olivia Jolly (oliviajolly@gmail.com)
Solicit local businesses for donations. We are looking for people to approach local businesses for donations to the silent auction. Contact Amy Fitzgerald (amy.jo.fitzgerald@gmail.com) to discuss which businesses in the neighborhood still need to be approached.
Event Sponsorship. If you are interested in becoming an event sponsor please contact Oliviajolly@gmail.com for more information about this new opportunity! We are currently seeking beer & wine sponsors, food sponsors, event sponsors and could use your help!
---
Weekly Flyers:
Theatre Improv and Hip Hop Dance
Sticky Fingers – (Spring Session) – Wednesdays April 5-May 24 (2:40-3:40)
Learn to Play Basketball/Lacrosse at DU
Spring Running Club Information
Summer Camp Opportunity at The Waldorf School
MSU Denver Junior Roadrunners Camp
All After School Enrichment opportunities
---
Discovery Link:
If you are interested in Discovery link, please visit https://equity.dpsk12.org/extended-learning/discovery-link/school-year-program/
SUMMER CAMP!!!!! – Registration opens on January 24th!!!!!!
Spring break – There will be camp days on Monday, Mar 27, 2023 Tuesday, March 28, 2023, and Monday, Apr 3, 2023. Wed-Friday (29th-31st) there will NOT be a camp offering. Slavens is the closest location to Asbury.
Thank you,
Mr. Ronnie
---
Important Dates:
March 16 (6-7pm) – CMAS Parent Night
March 17 – Asbury's Got Talent! Shows at 1:00pm and 4:30pm
March 24- Non Student Contact Day for Asbury
March 27-31 – Spring Break
April 3 – No School for Students
April 22nd: Colorado Rapids Asbury Night!
Rapids vs. St. Louis @ 7:30
Tickets can be purchased here
Click HERE to view the flyer.
April 10-28 – CMAS/CoAlt Testing Window
April 27- Dish a Story
May 5 – Spring Wing (more information to follow)
May 11-12- 5th grade at Balarat
May 19 – Field Day
May 26 – Field Day Rain date