Thursday Folders – June 1, 2023
Posted June 1, 2023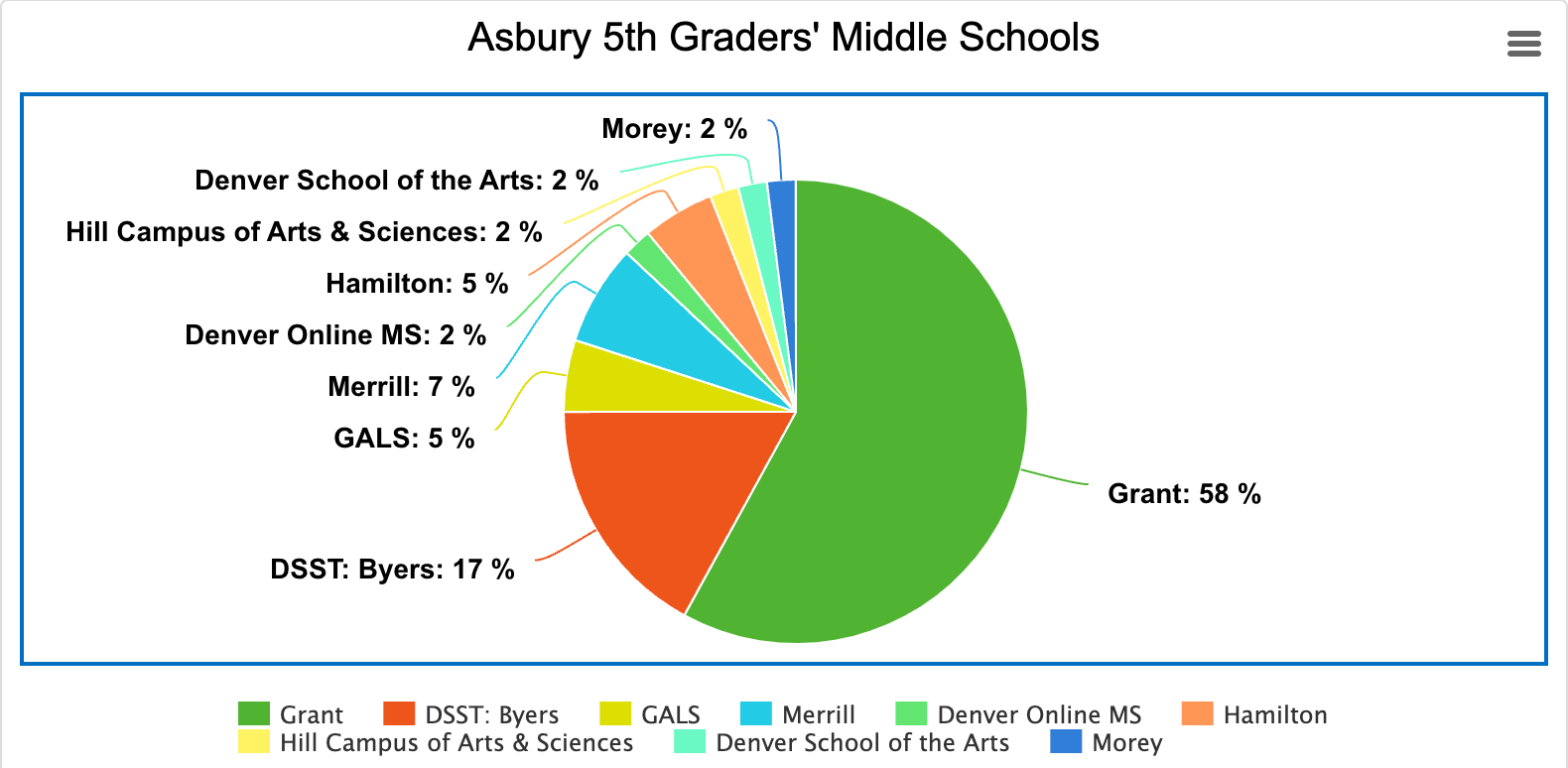 Principal Message:
Asbury Families,
We made it through an amazing school year! This year was really the year to bring back community connections! We had roller skating events, dances, dish a story and student led conferences ( just to name a few). In addition, we focused on inclusion, PBL and acceleration/learner agency. We made gains in all areas and are really proud to continue leading Asbury in these focus areas. This week we have had curiosity projects, picnics and continuation.
PBL has really been at the center of many of the celebrations. To highlight PBL, I want to share this amazing PBL video!
We hope you have a wonderful summer and take time to enjoy the weather and all things that summertime brings! We look forward to seeing everyone back for the 23/24 school year.
Also, it has brought tears to my eyes to see the outpouring of support from you all in regards to my upcoming surgery. My freezer is full and my heart is happy. I will keep everyone posted on how it goes.
In Partnership,

Jeanna Doung
Principal Notes:
Curious about where our 5th graders will be going next year? Check out the pie chart attached.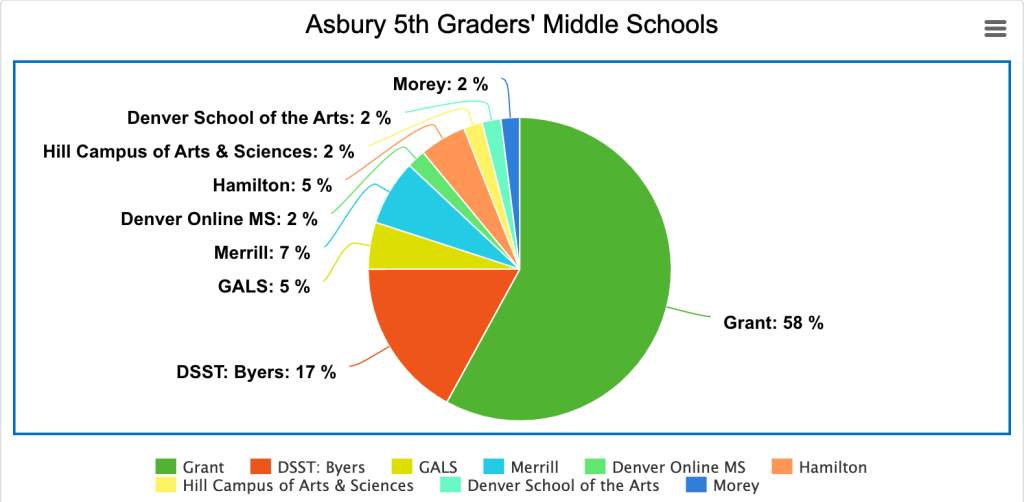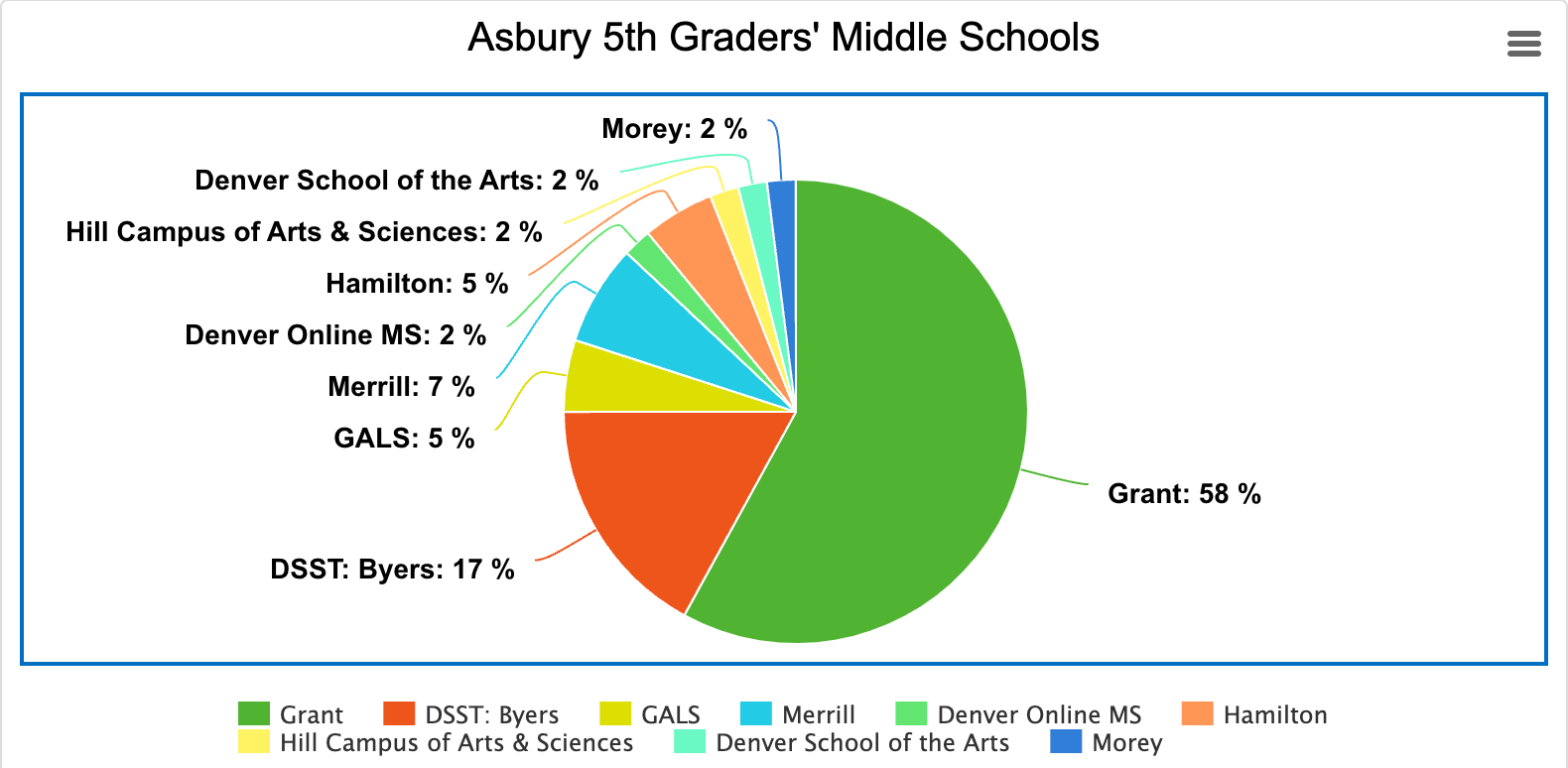 HR Updates: Nicole Bruyere has accepted a position as a 3rd grade teacher at another DPS school. We wish her well and will miss her at Asbury!

Message from Nicole Bruyere:

I have some bittersweet news to share with the Asbury Community. I recently accepted a new position within DPS. Starting next school year, I will be teaching 3rd Grade Science and Social Studies at Carson Elementary. Some of you may know that I have dreams and ambitions about becoming an administrator later in my career. One thing lagging in my career thus far is intermediate teaching experience. I want to pursue my dream and in order to do that I need to step out of my primary teaching comfort zone, and gain some intermediate teaching experience. I want to thank you all for the support that you all have given me these past 6 years. Thank you for the memories, the laughs and the love.

Asbury Safety Town Hall Follow up: We had our Safety Town Hall meeting on Tuesday evening. We had a member from the DPS Safety and Security team join us and answer the pertinent questions that were raised by you all. The full recording of the meeting is here.
Superintendent Safety Update:
Dear Team DPS,
Thank you for your feedback and engagement on Version 1.0 of the Long-Term Operational Safety Plan. We reviewed all the feedback received and made a number of changes that are outlined in the Executive Summary.
We are excited to share Version 2.0 with you today. You can share your feedback on this version through this ThoughtExchange survey and an upcoming telephone town hall. The dates and times of town halls are still being finalized and will be posted on the Safety Plan webpage.
As a reminder, this is in response to the Board Memo from March 23, 2023. The current plan is to share the final safety plan publicly by June 30.
In collaboration,
Dr. Alex Marrero
Superintendent
23/24 Asbury School Year Calendar: Please see here for the school calendar for the 23/24 School Year.
PTSO INFORMATION:
Thank you for all your support this year! We were able to raise roughly $182,000! We couldn't have done it without your support! Have a lovely summer & we'll see you in the fall!
2023-2024 PTSO Board:
Huge thank you to our new PTSO Board members & another HUGE thank you to those current PTSO members staying on board in different roles.
Your PTSO Board for the 2023-2024 School Year:
President – Clare Prickett
VP – Olivia Jolly
Secretary – Tammy Schneider
Treasurer – Amy Fitzgerald
Parliamentarian – Rhonda White-Mitchell
Weekly Flyers:
University Hills Farmers Market Information
Summer Camp Opportunity at The Waldorf School
Girls Week Pass Camp Summer Information (10 Slots left!) – WHY THIS MATTERS
Girls play sports less than boys do, so they miss out on the immense benefits kids get from playing sports — even though girls may need them most.
Here is information about an outdoor camp in Englewood!
Discovery Link:
If you are interested in Discovery link, please visit https://equity.dpsk12.org/extended-learning/discovery-link/school-year-program/
Thank you,
Mr. Ronnie
Important Dates:
June 2- Last Day of School (half day) – dismiss at 11:00