Thursday Folders, January 20, 2022
Posted January 20, 2022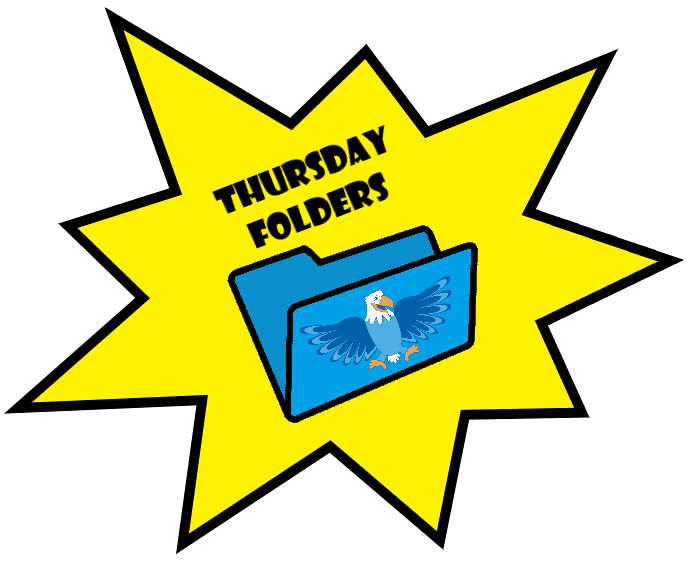 Principal's Corner

Eagle Families,
I wanted to take a moment and celebrate all the great learning in classes! Our focus this week has been on excelling in learning and so much great learning is going on! Project Based Learning is really coming to life in so many different ways around the building! Here are some amazing examples:
Our 4th graders are taking on the important lessons and learning around the power of advocacy! Keep up the good work and the great conversations!
The 1st Grade team put up a sensory path that now 2nd graders designed and created last year- what an amazing gift for all of our students!
In Music-Mrs. B is continuing the learning with 4th grade and talking through the history of rap and connecting to the learning of advocacy!
The 2nd grade is engaging in learning around sustainability- they are ensuring that our food waste is down and that we are being creative and thoughtful as a school to ensure that students have access to food without being wasteful!
There are some many other great learnings going on and so many other things to celebrate- so keep up the great work and keep up the E (Excel in the learning) in our BEST!
Shout out to our amazing community for all of the paper donations we received!! We are truly grateful for how special our community is.
Message from Mrs. Ravel and Mrs. D:
We are looking to upgrade our approximately 6 year old iPads that kindergarten and first grade currently use. The apps are starting to get to the point where they are not working as well on these old iPads and we fear they will be outdated very soon. We are looking to secure some sort of grant or sponsorship to make that happen. We are reaching out to the community for grant writers/enthusiasts who might know of some opportunities to make this happen. Maybe a company or business would like to sponsor the purchase or partial purchase of new iPads for kindergarten and first grade. If anyone has any ideas/connections/thoughts, please email Amy_Ravel@dpsk12.net. Thank you to our community for all that you do for our Asbury students.
Amy and Jeanna
---
School Notes
Important Information:
Health and Safety Update: The decision tree was updated to reflect the new guidance from CDPHE regarding negative COVID tests.
Spread the news: We have two para positions open at Asbury! If you are interested or know someone who is interested, please reach out to Jeanna!
Kinder Tours: We are starting kindergarten tours this month. We are hosting these on Fridays and we will be hosting these virtually now due to DPS recently updating it's visitor policy. Please spread the word and reach Maggie or Jeanna with questions.
Calling all Eagle families and Eagles Staff. We want your opinion! Please fill out this quick survey (2 questions) about our upcoming Spring Fundraiser!
Read-A-Thon is coming up! Please see the following sign up genius for ways you can help!.
Although it is months away, this warm December weather has us thinking about next summer. For Summer 2022, ELCS will offer traditional Discovery Link summer camps, as well as the return of Enrichment Exploration Camps. Discovery Link summer camps will run from 6/13/22 – 8/5/22, Monday – Friday, between the hours of 7:00am – 5:30pm (with no camp on 7/4/22). Enrichment Exploration Camps will run the same dates from 7:30am – 5:30pm. Registration for camp will open in late January/early February – you will receive more information in the following weeks. We can't wait to spend Summer in the City with you! Here is the link to see the weekly summer camp themes!
​​Free COVID Rapid Tests Available for Home Delivery: CDPHE recently announced the Rapid-At-Home program in which they will ship free rapid antigen tests directly to homes. Students, families and educators can enroll in the program here.
Reminder: If students are not feeling well, please keep them home. If you have any questions about if a students should stay home, please refer to Child Illness Policy or reach out to Tanya Banks
Announcements:
DPS Approved Communication to Families
At Home Oral Health Survey 21-22
Nursing and Student Health Services, SEO
Dear Asbury Families:
DPS cares about the health of your child. To support our efforts to identify health issues that may impact your child's success and ability to learn, we are resuming our health screening program with in-person vision and hearing screenings at school.
Due to the impacts of the pandemic, we will be unable to provide in-person oral health screenings this year. Since good oral health is so important for concentration, we are asking that you please complete the Oral Health Screening At Home survey on the Parent Portal. A few minutes and a flashlight or good light source is all you need to complete the screening!
Along with the vision and hearing data, the information collected through the online oral health survey will help us connect you and your students to any health resources you may need.
Please complete the survey electronically within three weeks from today. Although the data is most accessible electronically, if there is a need to complete a paper copy, please contact the school's health or front office, then return the document within 3 weeks of this message.
Click for further instructions on a Smartphone/tablet or further instructions on your laptop/desktop. At this time surveys in Burmese and Arabic languages are only available in a printed format obtainable from your school Nurse or Leadership Office.
Thank you!
---
PTSO
Asbury's Annual Read-a-thon is coming! A Book Swap will occur from Wednesday, January 26th-Friday, January 28th. Bring in your used books and swap it for a new one. The annual Read-a-thon will occur the week of January 31-February 4. Reading feathers will go home with students on Friday, January 28th. We still need volunteers, sign up HERE!
Our next dine out event is next Tuesday, 1/25 (ALL DAY) at Birdcall. Order online at https://www.eatbirdcall.com or visit any Birdcall location using code 'asbury2' and 35% of all sales will go back to Asbury! See flyer below for more details!
CALLING ALL ASBURY COMMUNITY MEMBERS!!! Did you know that our Asbury Eagles find your job VERY interesting? Did you know that they would LOVE to hear all about what you do? Well, they do and they would! Please fill out the directory below and when a particular grade is studying about something that you are the master of, we will contact you to help enlighten our students. We would appreciate your expertise and support. This can occur online (Zoom) or in class once you complete the every easy DPS volunteer process, which is also attached. THANK YOU!!!: Asbury Elementary Community Profession Directory (2021-2022 PBL) Volunteer Services | Equity & Engagement
Would you like to make a Donation? Please visit CheddarUp to make a 100% tax deductible donation.
Other
---
Important Dates
1/25 – Birdcall Dine Out (30% give back)
1/26-1/28 – Book Swap
1/29-2/4 – Read-A-Thon
2/1 – CSC and PTSO meetings
2/9 – Uno Mas Dine Out (25% give back)
---
Parent Resources
---
Flyers/Links
Discovery Link Summer Camp Info
---
Upcoming Dates
2/21 No School – Presidents Day
2/22 Non-Student Contact Day
3/25 Asbury Non-Student Contact Day
3/28-4/1 Spring Break
4/4 Non-Student Contact Day
5/6 Asbury Non-Student Contact Day