Thursday Folders – January 19, 2023
Posted January 20, 2023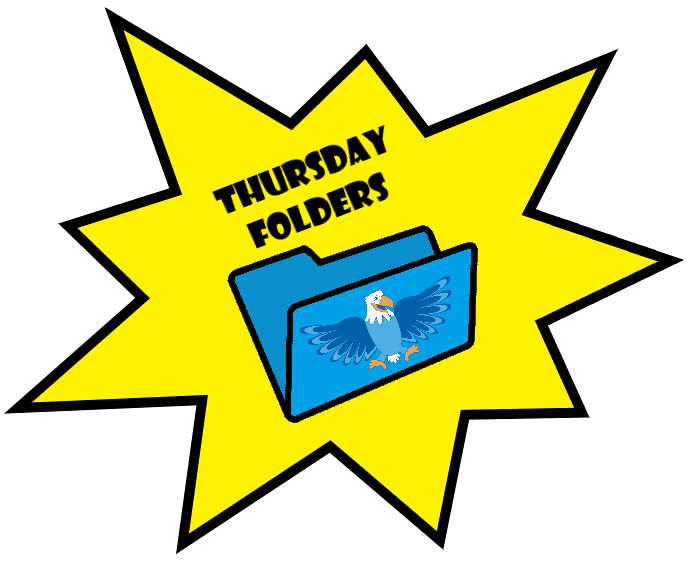 Principal Message:
Asbury Eagle Families-
I hope everyone stayed warm and enjoyed their snow day!
Being a small school is amazing- our connection to learning, the students and community is powerful. We also have strong student relationships and the ability to make connections with each student and family in the building! I love it! That said, it also poses challenges and being able to keep the things we love for our students is made possible through the support you all provide. Throughout the years, the community has supported Asbury with Project Based Learning, Gifted and Talented, Para supports, and many other supports! We are thankful for such a supportive community!
February is coming up and with that, we have lots of amazing community events! We are looking forward to hosting a dance, Read-A-Thon, Valentines Day, Grandfriends Day, and Direct Give. Please look forward to more information and fun to come!!!!!
In Partnership,

Jeanna Doung
---
Principal Notes:
CMAS/CoAlt Window for Testing – 4/10-4/28 (3rd, 4th, and 5th graders)
February 10- Hold for Asbury Dance

K-2 3:30-4:30
3-5 5:00-6:00

February 14 – Grandfriends Day – More information to follow!
March 17th – Asbury's Got Talent! More information to follow!
January 31st Community Art Jam in art studio 2:40-5:00- More information to come!
If your child has to miss school due to illness of any kind, they should not attend any after school activities, including Discovery Link or enrichment activities.
Asbury Dance Information – Friday, February 10th

Registration Form – please fill this out
Grades K- 2 3:30 – 4:30 and Grades 3-5 5:00-6:00
Located in the Asbury Gymnasium
Wear white to stand out at the glow party! Glow sticks will be provided.
Pizza and juice will be available in the lunchroom
Activities for adults will be in the auditorium
A $5 donation is suggested to fund the Asbury Staff Fund and can be donated via Venmo @AsburyPTSO-AsburyPTSO

Yearbook Cover Contest

Any student from any grade can enter their best submissions. They must be turned into the office with their name and classroom on the back to Ms. Baca in the office by January 27.

Spelling Bee Information is coming soon! In the meantime, if your student is interested in joining, have them come to Ms. Baca in the office to submit their name.
Family Support Process: In some cases a family shares a situation that is occuring at home with teachers. In order to best support any family at any given time, teachers will initiate the Family Support Process. Below is the process:
Family brings the situation to teachers
Teachers would ask the family if it would be ok to share this information with the room support parent in order to create a plan of support. During this conversation, teachers will ask what type of help is needed and how the family would like information shared (and what information should be shared)
3.Teacher communicates with room supporter and the room supporter coordinator to come up with a system and plan for support using the information shared from the family (nothing more shared than what the family is comfortable with). Types of support may look like:
Care package
A meal train
Playdates to support with family need
Child Care support
UPDATE ON VISION AND HEARING SCREENINGS: Vision and hearing screenings were completed for students in K, 1st, 2nd, 3rd, and 5th grade this past week. If your student was absent on both of these days I will complete their screening next week on Wednesday the 18th. If your student did not pass their screening a referral will be sent home in your child's backpack this Friday the 13th. If your student passed their screenings you will not receive a letter. If you have questions or need support scheduling an exam please reach out to me in the health office: (720)424-9755 or by email at emma_green@dpsk12.net
Anyone willing/able to help move a piano? A generous sub has donated a new piano to Asbury! Contact Ms. Baca in the office or Amber_Baca@dpsk12.net.
Want 10% off your YearBook Purchase? In honor of the season of giving, Treering has an exclusive promo code for a 10% discount for all new customers for the 2022-2023 school year. Setting up your account set up takes less than a minute and there are no minimum orders or contracts required. (The fine print: Coupon code HOLIDAY10 promotion ends at 11:59 pm PST on 12/31/22. Not applicable with referral codes or other discounts.)
Open Positions:

3-5 MI Para Position
3rd Grade 1-1 Para Position
2nd Grade 1-1 Para Position
---
PTSO INFORMATION:
READ A THON IS COMING: February 4th-10th
Get ready for another EPIC Read-A-Thon!
Book Swap: February 1-3rd: Students can bring their gently used books and swap them for a "new" one to gear up for all the amazing reading they will do for the Read-A-Thon!
Read-A-Thon: February 4th – 10th students will track their reading minutes on a feather and they will turn it in the following day for the chance to win a daily prize, and much more. Be on the lookout for more details!
ARTISTS WANTED: Want to see your awesome design on the official Read-A-Thon Bookmark of 2023? Please submit your designs to Ms. Baca on a 2×7 piece of paper that includes your name and homeroom by Tuesday, January 24th.
Want to help out & volunteer? Check out tons of opportunities here!
Questions? Reach out to Leah Borsheim or Lizzie Mussoline at Asbury.PTSO@gmail.com
Save the date; DU Gymnastics meet vs. George Washington & Pittsburgh!
Date Correction: Sunday, February 5th, 2023 at 1:45 pm. To purchase tickets and for more information go here.
Gymnastics Flyer for more information
Feb. 1st: Online Parent Education Night Opportunity:
Title: Nurturing Connection in a Disconnected World: Upping Social and Emotional Intelligence at Home
Speaker: Jenn Wert, professional Parent Coach, Educator and Speaker.
Date/Time: Wednesday, February 1st 8:00-9:00 pm
Format: VIrtual; Tickets and more information can be found here.
Key Topics:
Practicing Presence
Creating Intentional Exhales
Allowing for Prosocial Choices
Description:
Lincoln Elementary will be hosting professional Parent Coach, Educator and Speaker Jenn Wert. Her talk is entitled Nurturing Connection in a Disconnected World – Upping Social and Emotional Intelligence at Home.
Jenn works with parents of young children around the globe in bringing more mindfulness and connection to their parenting. As we come out of the worst of COVID, in this fast-paced, media-infiltrated world of ours, Jenn will guide you in having a look at yourself as a role-model, and how to slow down to support your children in being more grounded and balanced. As such, they'll have the tools they need to navigate their emotions, relationships and well-being. Understanding what serves real connection will also bring more clarity and authenticity to your commitments and rhythms at home. For more on Jenn, please visit www.jennwert.com/.
Next Virtual PTSO meeting will be Tuesday, Feb. 7th
PLEASE SAVE THESE NEW DATES:
Upcoming Community Night with the Rapids!
4/22 Rapids vs. St. Louis @ 7:30 (more details and purchase info to come)
Spring Wing! Please hold May 5th for a super fun evening to gather with the community & support Asbury – standby for more details.
Upcoming Community & Dine Out Events
1/17-1/19 Maria Empanadas – All 3 Locations
1/31 Park Burger (S. Pearl Street Location)
Feb. 1 – Feb. 3 – Read-A-Thon Book Swap
2/1 Virtual Parent Education Opportunity: Nurturing Connection in a Disconnected World: Upping Social and Emotional Intelligence at Home
2/7: VIRTUAL PTSO meeting @ 6:00
2/4 – 2/10 Read-A-Thon!
2/5 – DU Gymnastics Meet
2/10 – Asbury DANCE!

K-2 3:30-4:30
3-5 5:00-6:00

2/12 – Beauty & The Beast
4/22 – Colorado Rapids vs. St. Louis @ 7:30 pm (more details to come!)
5/5 – SPRING WING!
---
Weekly Flyers:
Asbury Mosaic Workshop with Ms. Werner
Winter/Spring Yoga with Ms. Werner
Learn to Play Basketball at DU
Clay Play (Winter Session) – still openings!
Sticky Fingers (Winter Session)
Young Rembrandts (Winter Session)
Hip Hop & Tumbling (Winter Session)
Lego Play Well (Winter Session) – still openings!
Chess Wizards (Winter Session)
Learn to Play Basketball (School Days Off at DU)
All After School Enrichment opportunities
Discovery Link:
If you are interested in Discovery link, please visit https://equity.dpsk12.org/extended-learning/discovery-link/school-year-program/
SUMMER CAMP!!!!! – Registration opens on January 24th!!!!!!
Spring break – There will be camp days on Monday, Mar 27, 2023 Tuesday, March 28, 2023, and Monday, Apr 3, 2023. Wed-Friday (29th-31st) there will NOT be a camp offering. Slavens is the closest location to Asbury,
February 21st – There will NOT be a camp offered as it is an all-staff professional development day.
Thank you,
Mr. Harvey
---
Important Dates:
Balarat for 5th graders: May 11-12