Thursday Folders – Friday, January 7, 2022
Posted January 7, 2022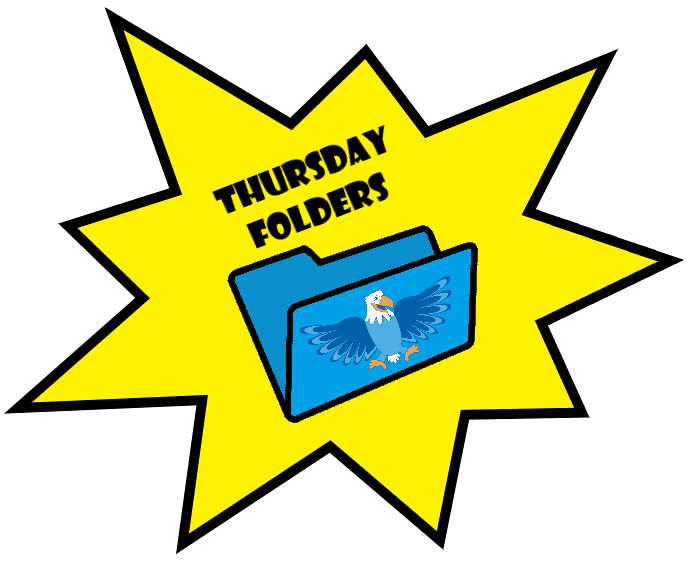 Principal's Corner
Asbury Eagle Families-
What a first week into 2022! As a staff, we are focused on bringing joy into instruction- we are committed to engagement and sparking joy (thanks Marie Kondo) into learning. With that said, we continue to focus on health and safety as our priority. Between my communication on Monday and today, we have had some updates to our Health and Safety guidelines that I wanted to share.
Health and Safety Updates: DPS updated information on how schools will implement the CDC's new isolation and quarantine guidance. The Metro Denver Partnership for Health (MDPH) has provided the following guidance, which applies to students, staff, and volunteers. Please note, DPS is currently in the process of updating our DPS guidance documents with this new information.
K-12 schools with universal masking can use CDC's isolation and quarantine guidance for the general population with any student, staff, or volunteer in the schools who tests positive for COVID-19 (isolation) or is exposed to COVID-19 (quarantine).
One thing to highlight is that you are not considered FULLY vaccinated unless you have received a booster vaccine or you have received your primary series of Pfizer/Moderna in the past 6 months (J&J in the past 2 months).
Here is our COVID Decision Tree– it has been updated to reflect this new guidance- we use this in any questions that come up regarding quarantines or case to help in decision making.
This means anyone who tests positive must be isolated at home for at least 5 days before returning to school or work (and resuming mask wearing), as long as symptoms are greatly improving and there is no fever (without the use of fever-reducing medication) for 24 hours.
Please reach out to Tanya Banks, our COVID Coordinator, or Emma Green, our School Nurse, with any and all questions or positive cases.
As a reminder, if kiddos are sick, please keep them home and thanks, as always, for your patience and understanding as navigate these times together,

Jeanna Doung
Principal
---
School Notes
Important Information:
​​Community circle: We will be hosting a community circle event on Thursday, 1/13. This will be from 7:50-8:20 for the entire school! It will be a virtual event and any and all are welcome to attend. We will come together, share BEST awards, and have some fun! So get ready and let me know if you have any questions! See below for the link to join:
CSC: We will be holding a 2nd CSC meeting on 1/11 starting at 5:15. All are welcome to attend. Budget for the 22/23 school year will be an agenda item. This meeting will be over Join Zoom Meeting https://us02web.zoom.us/j/86010196049?pwd=ODN0YSszdVlwYmRNQS9CT2llb3g5dz09
Kinder Tours: We are starting kindergarten tours this month. We are hosting these on Fridays and we will be hosting these virtually now due to DPS recently updating it's visitor policy. Please spread the word and reach Maggie or Jeanna with questions.
Read-A-Thon is coming up! Please see the following sign up genius for ways you can help! Please remind your kiddos to submit bookmark designs by tomorrow, January 7th.
Reminder: 1/14 No School- Additional Asbury Release Day
Asbury Priority Area for the 22/23 School Year Input & Thoughts: As we move to the 2022 year, it is time to start thinking ahead to the next school year. We would love your thoughts on building and staff priorities for the 22/23 school year. Your thoughts and priorities selected will be leveraged during our budget conversations and in planning for the next school year. Asbury is a community school that values stakeholder input from parents, teachers, staff and students! Please take 5-7 minutes to fill this out. If you have any questions, feel free to reach out to Jeanna Doung. Link to the survey: https://forms.gle/SfLaMNHiTgm5X6ve6
When dropping off students in the morning and picking up in the afternoon, please drive with caution to keep our students and community safe!!! We are still looking for a crossing guard for this year, please contact the office if you are interested.
Although it is months away, this warm December weather has us thinking about next summer. For Summer 2022, ELCS will offer traditional Discovery Link summer camps, as well as the return of Enrichment Exploration Camps. Discovery Link summer camps will run from 6/13/22 – 8/5/22, Monday – Friday, between the hours of 7:00am – 5:30pm (with no camp on 7/4/22). Enrichment Exploration Camps will run the same dates from 7:30am – 5:30pm. Registration for camp will open in late January/early February – you will receive more information in the following weeks. We can't wait to spend Summer in the City with you!
​​Free COVID Rapid Tests Available for Home Delivery: CDPHE recently announced the Rapid-At-Home program in which they will ship free rapid antigen tests directly to homes. Students, families and educators can enroll in the program here.
Reminder: If students are not feeling well, please keep them home. If you have any questions about if a students should stay home, please refer to Child Illness Policy or reach out to Tanya Banks
Calling all Asbury Students!
Would you like to see your artwork on the
Official Bookmark for the upcoming
2022 Read-A-Thon?
We are having a contest for our students to create the official Read-A-Thon bookmark design!
What do you need to do? We would like to see something reflective of our Asbury school and all its amazing readers! Please include Read-A-Thon 2022 somewhere on your design.
All submissions should be on 8.5 by 11 inch white paper (no lines), with a portrait (vertical) orientation. Please use markers so that the colors can be as vibrant as possible. Name of the artist and homeroom teacher should be on the back of the paper.
Please turn in all submissions to the front office by Friday, January 7th for consideration.
We can't wait to see what you come up with!
Leah Borsheim & Lizzie Mussoline
(Read-A-Thon Committee)
Announcements:
Theatre Lovers! There is a cool event tomorrow for 3rd-6th graders at Denver School of the Arts. It is called Drama Day. Mrs. Ravel's son will be one of the student teachers teaching theatre workshops at Drama Day. It is $40 per student, but please reach out to Mrs. Ravel (Amy_Ravel@dpsk12.net) if you would be interested in a scholarship. Here is the link for more information or scan the QR code below to sign up:
Drama Day @ Denver School of the Arts – Saturday, January 8 from 8:00am-1:00pm.
---
PTSO
Asbury's Annual Read-a-thon is coming! A Book Swap will occur from Wednesday, January 26th-Friday, January 28th. Bring in your used books and swap it for a new one. The annual Read-a-thon will occur the week of January 31-February 4. Reading feathers will go home with students on Friday, January 28th.
CALLING ALL ASBURY COMMUNITY MEMBERS!!! Did you know that our Asbury Eagles find your job VERY interesting? Did you know that they would LOVE to hear all about what you do? Well, they do and they would! Please fill out the directory below and when a particular grade is studying about something that you are the master of, we will contact you to help enlighten our students. We would appreciate your expertise and support. This can occur online (Zoom) or in class once you complete the every easy DPS volunteer process, which is also attached. THANK YOU!!!: Asbury Elementary Community Profession Directory (2021-2022 PBL) Volunteer Services | Equity & Engagement
Would you like to make a Donation? Please visit CheddarUp to make a 100% tax deductible donation.
Other
National Flag football is coming back to Denver! Registration is currently open for Spring Football until 2/27/22. Use code 69588 for a $10 discount. Register HERE
---
Important Dates
1/11 CSC Meeting 5:15-6:15
1/13 Papa Johns Dine Out (20% give back)
1/14 No School- Additional Asbury Release Day
1/17 No School- MLK, Jr. Celebration Day
1/25 Birdcall Dine Out (30% give back)
1/26-1/28 – Book Swap
1/29-2/4 – Read-A-Thon
2/9 Uno Mas Dine Out (20% give back)
---
Parent Resources
---
Flyers/Links
SchoolChoice 2022-23 Information (Spanish)
Discovery Link Summer Camp Info
Drama Day @ Denver School of the Arts – tomorrow – Saturday, January 8 (8:00am-1:00pm)
---
Upcoming Dates
1/14 Non-Student Contact Day
1/17 No School – Martin Luther King Jr. Day
1/21 No School – Presidents Day
1/22 Non-Student Contact Day
3/25 Asbury Non-Student Contact Day
3/28-4/1 Spring Break
4/4 Non-Student Contact Day
5/6 Asbury Non-Student Contact Day
5/30 No School – Memorial Day
6/3 Last Day of School – Half Day