Thursday Folders February 4th, 2021   
Posted February 4, 2021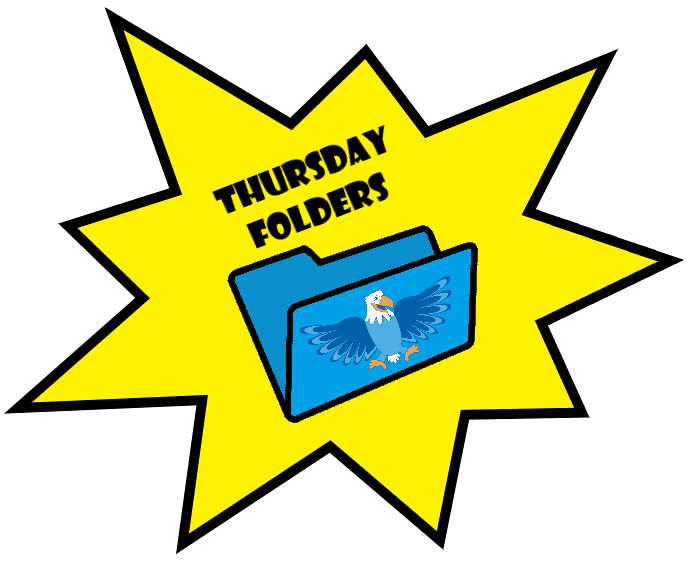 Principal's Corner
We are excited to kick off our first Eaglet Community Circle this Friday, 2/5, from 8:20-8:40 and we want you there! This time is all about celebrating Asbury's B.E.S.T.- we are going to come together, celebrate students, and have fun!  At Asbury, we encourage children to excel in all they do by being their BEST. What does Asbury's B.E.S.T. stand for?  
B- Be Kind and Caring

E- Excel in Learning

S- Show Respect

T- Take Responsibility
Please join us using this link! 
---
School Notes
We have finally rescheduled picture day! February 9th will be K-2nd grade and February 10th will be 3rd-5th. We have them scheduled outside to ensure everyone's safety due to COVID-19. For remote students, there are two options for picture day. You can email Ms. Maggie a picture of your choice,  or we will have a designated 30-minute window from 11:30 am-12 pm on the 9th and 10th for remote students to get their pictures taken.
Discovery Link Summer Camp Registration Opens Feb. 8:

Discovery Link has been running safe in-person programming since last July, leading DPS in developing safe COVID protocols and practices. We can't wait to host camps in Summer 2021. Please share this opportunity with your students and families: Registration for summer programming opens on Feb. 8. Families who are new to Discovery link can register

here

, and returning families can register

here

. To learn more about summer program offerings, COVID-19 precautions, and registration changes,

click here

.
Students will be doing this in their classes next week in Seesaw, but to help PTSO with their "Magical Evening with Asbury" planning, we are hoping to collect videos about why we love the people who work at Asbury – teachers, support staff, administration, office staff, custodians, everyone!  Here is a flipgrid link if you would like to make one with your kids  The video can be about one person or multiple people.  We are hoping to have these videos by Thursday, February 11 at the end of the day.  Here's the link: 

https://flipgrid.com/b8fbb65d

.  
Also Ms, Maggie will be taking pictures at recess and other times of our kids at school with their friends.  If families have great pictures of Asbury kids from home, please email them to Amy Ravel at

Amy_Ravel@dpsk12.org

by Thursday, Feb. 11.  In the subject line, please let me know this is for the magical evening.  Thanks in advance.
---
PTSO  
***NEW***  PTSO Board elections

are coming up in May and we have 4 open positions! President, Vice President, Treasurer, and Parliamentarian are all available.  Please consider running-we need you!  No prior experience is required,  just a desire to be involved in helping the Asbury community thrive!  See the flyer below for position descriptions and duties.  Please email

Asbury.PTSO@gmail.com

or call Kristi Leech (303) 548-1289 to discuss the different roles or for any further questions.  
The Asbury Direct Give Campaign will begin on February 22nd and culminate on March 6th with our "A Magical Evening with Asbury" Virtual Fundraiser event taking place from 5 pm – 6:30 pm. 

Mark the date on your calendar and be sure to share with family, friends, neighbors, and alumni.  Invite coming soon!
PTSO Needs You!!

Do you have access to a mountain house that would be perfect for Asbury's Direct Give Silent Auction?  We are looking to auction off 2-7 night mountain home stays, so the Asbury community can have opportunities to have safe Covid vacations while raising money for our school.  If you are interested in donating your place, please contact Meaghan McCabe @

meaghanomccabe@yahoo.com

.  Thank you!!!
Also….
In the past, our buy a share events (aka "experiences") that were sold at the Asbury auctions were great successes!  Who wouldn't want to socialize, get to know other community members better, and have a great time!  Well, we can still do it, albeit following Covid regulations.  We are looking for families to host virtual get-togethers for our buy a share events for the Asbury Direct Give campaign!  You can host a game night, a murder mystery night, a wine tasting event, and more!  The ideas are endless and so much fun!  If you are interested in hosting an event, please contact Meaghan McCabe @ meaghanomccabe@yahoo.com.  Thanks for your support. 
Advocacy update!

– Great Education Colorado works hard to ensure our public schools are equitably funded by working with state legislators, communities, and students.  They have a newly revamped website and they are gearing up for the new legislative season!  Learn about how public schools are funded here in Colorado and get involved!   Click

HERE

to link to their website.
Receive a Backpack     Recibir una mochilia de comida
The Backpack program is run by volunteers. If you would like to help by filling and delivering backpacks Sign Up HERE.
If you would like to provide a monetary donation to support families in our community you can send your donation via Venmo to @AsburyPTSO (in the comments put a note that it's for the backpack program).
If you have questions please contact the co-Chairs of the program:
Amy Fitzgerald          amy.jo.fitzgerald@gmail.com
Courtney Cauthon   cauthon.courtney@gmail.com
John Bradley           daytona21@hotmail.com
---
Important Dates:
2/9/21 – Dine Out event with Bird Call

2/12/21 – No School

2/15/21 – President's Day No School

2/16/21 – No School

2/22/21 – 3/6/21 – Direct Give Campaign

3/2/21 – PTSO Meeting via Zoom at 6pm

3/6/21 – A Magical Evening with Asbury Virtual Event

3/6/21 – Dine Out event with Papa John's
---
Parent Resources:
Technology Resources from Mrs. Ravel (updated) 
Important Information from Previous Thursday Folders
---
Flyers/Links
Spring 2021 National Flag Football Flyer
Picture Day Order Form Information
PTSO Board Duties and Position Descriptions