Thursday Folders – February 28, 2019
Posted February 28, 2019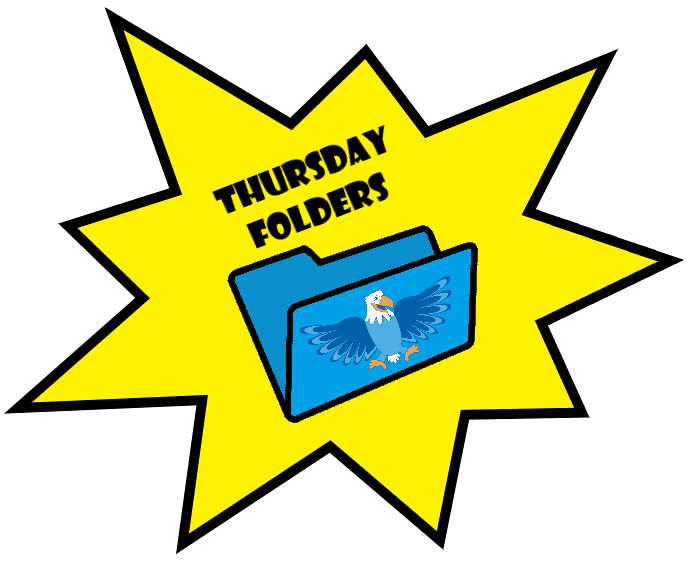 Please use this link to the Thursday Folders to see any and all flyers that came out this week.02/28/19
OFFICE REMINDERS:  The office is out of headphones for sale.   If your child needs a new pair they will have to be purchased elsewhere.   
PLEASE CHECK THE LOST AND FOUND.   IT WILL ALL BE DONATED BY MONDAY, MARCH 18th.  
All Visitors who have not yet been verified in Infinite Campus will be asked to produced a photo ID at sign in and a picture will be taken of that ID.  Please be prepared and know that the safety of our children come first.
PTSO News
Join us for a special PTSO meeting next Tuesday, March 5th, at 6pm, when a representative from Great Education Colorado will be coming to speak about public school funding in Colorado.  Click here to learn more about Great Education Colorado.
Direct Give
Our campaign has raised over $30,000 thus far and we are at 64% of our goal. We hope that families will support this campaign through a donation.
If you are unable to attend one of our events, but would still like to support Asbury, you can make a donation in the following ways:
• Online at crowdrise.com/asburyelementary
• Check made out to Asbury PTSO
• Monthly Donations via Zelle
• Venmo to AsburyPTSO-AsburyPTSO
Spring Wing
We are gearing up for our 4th annual Spring Wing event. Save the date of May 4th for an evening of fun, food and auction. View the flyer for more details. Our immediate need is auction donations. Please click here to view the sign up to see how you can help.

Weekly Flyers:
Summer Academy Invitations –  Select students
Running club – Spring session
Spring Wing – Save the Date
Great Education Colorado comes to PTSO
Important Dates:
February 28 – PAC (Parent Advisory Committee) ELA Students 6:00-7:00pm room 208
March 4 – Teacher Planning – No School for students
March 5 – 4th Grade to CU Boulder – 8:30am – 3:00pm
March 5 – CSC (3:30) and PTSO (6:00)
March 6 – Art Gallery Opening – New Date.  (Judged Show- selected Students) 3:15-4:00
March 8 – Student Council Spirit Day – Hat Day
March 8 – 3rd Grade to WildLife Sanctuary – Keenesburg – Wolf Unit
March 13 – 5th grade to Denver Museum of Nature and Science
March 14 – 9:25- 2:00 Third Grade to DU Law School – Mock Trial – Wolf Unit
March 14 – 6:00-7:00 – CMAS Family night (3rd, 4th & 5th)
March 22 – Student Council Spirit Day – Asbury T-Shirt Day
March 22 – 9:00 – 10:?? – Spelling Bee – Auditorium
March 25-29 – Spring Break – No School
April 2 – CSC (3:30) and PTSO (6:00)
April 2-18 – CMAS and PARCC – Testing
April 18 – Family Night – Dish a Story
April 22-26 Student Council Spirit Week – Rainbow week-  Monday wear red, Tuesday wear orange, Wed. wear Green, Thurs. Wear Blue, Friday wear a rainbow
April 23 – 3rd and 4th Grade – Music Concert ASBURY AUDITORIUM 7:00pm
April 29 – No school for Students
April 30 – MI Classrooms  – Adapted Field Day – GW
May 1-10 – Student Council Spirit days – Story Contest
May 2 – PAC Meeting (Parent Advisory Meeting) 6:00-7:00
May 3 – Student Council – Crazy Hair Day
May 3 – Spring Band Concert – 6:00pm – Time Change
May 3 – WOW Music and Art Show – 5:30-7:30PM
May 4 – PTSO Spring Wing – 6:30-11:00pm
May 6 – CMAS/PARCC Celebration for 3rd-5th Grade at Skate City
May 7 – Talent Show Auditions – All Day  (New Date) Library
May 7 – Class Picture Day
May 7 – CSC (3:30) and PTSO (6:00)
May 9 – 2nd grade to Dinosaur Ridge
May 9 – Kinder and 1st grade Music Concert NEW DATE – (time and location TBD)
May 10 – Volunteer Appreciation Breakfast 8:00-9:00am – Library
May 13 – 5th Grade to Ameritown
May 14 – Second Grade Music Concert – Auditorium 7:00pm
May 16 – EXPO Night 6:00 pm
May 17 – Field Day
May 24 – Field Day Rain Date
May 27 – Memorial Day  – School Closed
May 28 – Talent Show Dress Rehearsal
May 29 – Talent show – 2:00- Auditorium
May 30 – 5th Grade Continuation – 9:30am – 11:00am
May 31 – Last day of school – HALF DAY DISMISSAL TBD