Thursday Folders February 24th, 2022
Posted March 3, 2022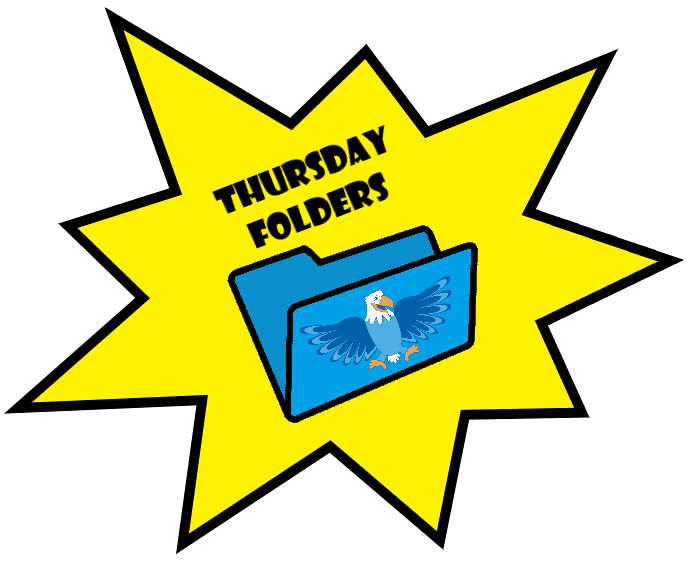 Principal's Corner
Eagle Families-
As we gear up for the sunsetting of the mask mandate that takes effect on Monday, Feb. 28 in which masks will no longer be required, I wanted to take a moment to reiterate some things. Each person and family will be making their own decisions in regards to wearing masks. We all as a staff will be supporting everyone and their choices-We are Team Asbury and we support one another! We will continue to represent the B in BEST by Being Kind and Caring and supporting everyone whether they elect to wear a mask or not.
Last week, there was a question about the use of the survey that teachers may choose to send out. I want to be very clear that this survey, if teachers do send it out, will not be used to update schedules, shift seats or for other classroom related purposes. Students will remain in their same classrooms, in their same seats.
If you have questions about the sunsetting mask mandate, please refer to this email from Dr. Marrero, our new Superintendent, about the update to mask mandates or reach out to me.
Please remember that masks are still required in all indoor school settings through Feb. 25. Please keep up the healthy habits that have seen us through the pandemic thus far: stay home when you're sick; wash your hands frequently and cover coughs and sneezes with an elbow; meet in locations with good ventilation; and try to keep physical distance whenever possible.
Warmly,
Jeanna Doung
School Notes
Important Information:
Isolation and quarantine guidelines: The Colorado Department of Public Health and Environment (CDPHE) shared new school guidelines that will go into effect on Monday, Feb. 28:
Isolate for 5 days: If you test positive for COVID-19, if you have symptoms and are waiting for test results, or if you have symptoms and have not yet been tested. If at the end of 5 days you are feeling better and have no fever (without fever-reducing medicine) for 24 hours, you should take extra precautions for 5 more days, such as wearing a mask at all times and avoiding travel.
Isolate for 10 days: If you have tested positive for COVID-19 and are unable to wear a mask while in school during days 6-10 (such as people with disabilities who are unable to wear a mask or children under age 2) you should isolate for 10 days after an exposure, even if your symptoms have resolved before day 10.
Quarantine for 5 days: If you have been directly exposed to a COVID-19 positive individual AND you are not vaccinated or have not received a booster dose of the vaccine, you should quarantine for 5 days.
No quarantine required: If you are fully vaccinated and boosted but have been exposed to someone with COVID-19, you do not need to quarantine, but should wear a mask for 10 days after the date of your exposure, and get tested on day 5.
Free COVID Rapid Tests Available for Home Delivery: CDPHE recently announced the Rapid-At-Home program in which they will ship free rapid antigen tests directly to homes. Students, families and educators can enroll in the program here.
Reminder: If students are not feeling well, please keep them home. If you have any questions about if a students should stay home, please refer to Child Illness Policy or reach out to Tanya Banks
Announcements:
Grades 3-5 – CMAS is coming! If you have any questions or concerns, please reach out to Mrs. Ravel at Amy_Ravel@dpsk12.net
PTSO
SPRING WING is taking place on May 14, 2022 (see attached flyer for details)! If you would like to help plan the event or the auction, we will be having our first committee meeting at Devour on 3/3 at 7pm. Come have a drink and learn about various volunteer opportunities. Please reach out to Kim Nyhus @ kimpnyhus@gmail.com or Kristi Leech @ kristileech@gmail.com if you have any questions.
Our next dine out event is at Torchy's Tacos (Hampden and I-25 location) next Tuesday, 3/1 – ALL DAY LONG (10am – 10pm)! Bring the attached flyer or mention Asbury when ordering or picking up and Torchy's will donate 15% of your order total back to our school!
Like Soccer? The Colorado Rapids are offering Asbury Elementary (and friends) tickets to a game on 4/30 at group pricing and Asbury receives a portion of the ticket sales. Click Here to buy tickets for you, your neighbors, your friends, or your teammates!
CALLING ALL ASBURY COMMUNITY MEMBERS!!! Did you know that our Asbury Eagles find your job VERY interesting? Did you know that they would LOVE to hear all about what you do? Well, they do and they would! Please fill out the directory below and when a particular grade is studying about something that you are the master of, we will contact you to help enlighten our students. We would appreciate your expertise and support. This can occur online (Zoom) or in class once you complete the every easy DPS volunteer process, which is also attached. THANK YOU!!!: Asbury Elementary Community Profession Directory (2021-2022 PBL) Volunteer Services | Equity & Engagement
Other
Summer Tennis with Mr. Howard!!!
I'll be providing beginning/intermediate tennis instruction for current Asbury Eagles (and former) this summer on Mondays & Wednesdays starting June 6th-July 27th!
Why??? I absolutely LOVE this game and really enjoy sharing the love with our students!!!!
Session I 9:00a-10:00a
Session II 10:00a-11:00a
Cost: $20/session or $10 each sibling/session
If interested, please email me at:
More info to come!
-Mr. Howard
The Spring season of running club will "run" from March 8th-May 3rd on Tuesdays from 2:40-3:30pm.
If your child is interested in participating, please email Mrs. Magoffin at kimberly_magoffin@dpsk12.org.
The cost is $30 and you can pay by cash, check or Venmo to @Kimberly-Magoffin.
Ms. Barros, Ms. Smith and I look forward to running with you!
Healthy Foods for Denver's Kids – Food and Snack Boxes at specified Denver Libraries

The Denver Public Library has once again received the Healthy Food for Denver's Kids (HFDK) grant for 2021-2022. The grant, launched by the Denver Department of Public Health & Environment (DDPHE), aims to support healthy food access and food based education for youth.
We are distributing healthy food boxes full of fresh produce and pantry items for households with youth 18 and under. Boxes are available Wednesdays and until supplies last. Contact your favorite location below for availability and delivery time.For more information about the grant visit the HFDK site.
Important Dates:
3/1 – Dine Out event with Torchy's Tacos (Hampden and I-25 location only – 15% giveback)
3/1 – CSC & PTSO Meetings
4/5 – CSC & PTSO Meetings
4/26 – Dine Out event with Birdcall (35% giveback)
5/10 – Dine Out event with Chipotle (Evans location only – 33% giveback)
5/14 – SPRING WING EVENT (Adults Only) – Save the Date!
Parent Resources:
Flyers/Links
Colorado Rapids Fundraising Night
Parks & Rec Outdoor Adventure Spanish
Spring Chess Wizards Enrichment
Grades 3-5 – CMAS Spring Assessment Calendar for Parents (English)
Grades 3-5 – CMAS Spring Assessment Calendar for Parents (Spanish)
Upcoming Dates:
3/25 Asbury Non-Student Contact Day
3/28-4/1 Spring Break
4/4 Non-Student Contact Day
5/6 Asbury Non-Student Contact Day
5/20 Asbury Field Day
5/30 No School – Memorial Day
6/3 Last Day of School – Half Day