Thursday Folders – February 23, 2023
Posted February 24, 2023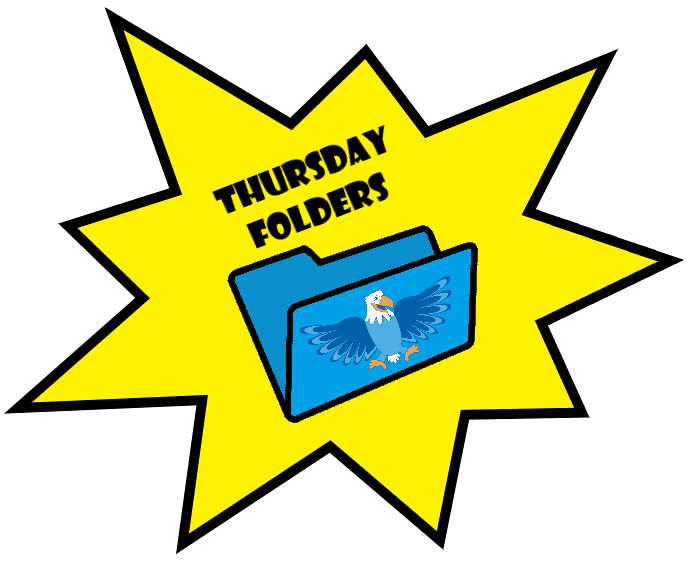 Principal Message:
Asbury Eagle Families-
We are thrilled to share with you the fantastic news that we have
secured the match of $5000! This would not have been possible without
the generous support of our community, and we are incredibly grateful
for each and every one of you who contributed to this achievement.
However, our work is not done yet, and we still have one week left to
reach our goal of raising $150,000 for next year's budget. We need
your help to make this happen, and we are asking everyone to consider
donating $500 per student to help us meet the need Asbury has for the
upcoming year.
If you haven't donated yet, we encourage you to please consider making
a contribution. No amount is too small, and every dollar counts
towards making a difference in the lives of our students. Your
donation will help provide resources and opportunities for our
students to excel and succeed in their education.
If you have already given, but you continue to be inspired by the
amazing community we have at Asbury Elementary, we ask that you please
help us spread the word by sharing our fundraising campaign with
family and friends who may also want to contribute and support our
school.
We are so proud of our Eagles, and we know that with your support, we
can reach our goal and continue to provide the best education possible
for our students. Thank you for your dedication and commitment to
Asbury Elementary School.
*We did it! But our work is not done yet, and we still have one week
left to reach our goal of raising $150,000 for next year's budget. We
need your help to make this happen, and we are asking everyone to
consider donating $500 per student to help us meet the need Asbury has
for the upcoming year. If you are inspired by our school, please
consider sharing our campaign with family and friends.
In Partnership,

Jeanna Doung
Principal Notes:
Friday, 2/24 BEST Video
Save the Dates!

CMAS/CoAlt Window for Testing – 4/10-4/28 (3rd, 4th, and 5th graders)
March 17th – Asbury's Got Talent! More information to follow!
Save the Date: DPS District Science Fair Happening April 29: The DPS District Science Fair — embedded in the New DPS Steam Expo — will be held on April 29. Teachers and parents can help students register their projects here. Please keep an eye out for updates in Schoology for grade-level groups and science email updates. For more information, visit the DPS Science Fair webpage. If you have questions, contact Eva Bridgeforth.
Spelling Bee – Friday, March 3 after school!
Want 10% off your YearBook Purchase? In honor of the season of giving, Treering has an exclusive promo code for a 10% discount for all new customers for the 2022-2023 school year. Setting up your account set up takes less than a minute and there are no minimum orders or contracts required. (The fine print: Coupon code HOLIDAY10 promotion ends at 11:59 pm PST on 12/31/22. Not applicable with referral codes or other discounts.)
PTSO INFORMATION:
DIRECT GIVE IS COMING TO AN END and WE NEED YOU!
We are aiming to have 100% participation – ANY amount helps! Please spread the word!
Please spread the world & donate! Visit the Cheddar Up site for safe online giving or a personal check to the front office, Zelle or PayPal are accepted as well! Visit Asbury's Donation Page for all the info!
*We are not able to accept Venmo for Direct Give this year.
Sustainability Acts of Kindess- Coming Soon!
Asbury Elementary is launching a challenge to grow kindness for our Earth and community. Part of the project includes planting trees for current and future learners and pollinators to enjoy.
Why trees?
Adding trees to Asbury will have so many benefits!
Help students learn and care about their planet
Reduce noise and air pollution from extremely busy street
Help expand Denver's tree canopy and reduce the heat dome effect
Additional shaded outdoor learning space
Bob needs friends!
Trees bring joy and improve quality of life for humans and nature
We need help!
Planning and picking the best trees for our habitat and environment
Purcuring and planting
Trees are not only beautiful, but they provide economic, wellness, and environment benefits that only increase over time. A healthy tree canopy provides improved air quality, safer streets, reduced stress, and shade. Putting in roots now can help connect our current community to the future and make it much brighter and greener.
Can you help? If so, please contact Kelly Bryant at kellybryantsemail@gmail.com
Next PTSO Meeting: Tuesday, March 7th (in person)
Weekly Flyers:
Spring Running Club Information
Summer Camp Opportunity at The Waldorf School
MSU Denver Junior Roadrunners Camp
All After School Enrichment opportunities
Discovery Link:
If you are interested in Discovery link, please visit https://equity.dpsk12.org/extended-learning/discovery-link/school-year-program/
SUMMER CAMP!!!!! – Registration opens on January 24th!!!!!!
Spring break – There will be camp days on Monday, Mar 27, 2023 Tuesday, March 28, 2023, and Monday, Apr 3, 2023. Wed-Friday (29th-31st) there will NOT be a camp offering. Slavens is the closest location to Asbury.
Thank you,
Mr. Ronnie
Important Dates:
February 24 – Talent Show Auditions Due!
February 28: Birdcall Dine Out!
March 3 – Spelling Bee – after school
March 7th – Next PTSO Meeting (in person)
March 8 – Perdida Dine Out!
March 15 (6-7pm) – CMAS Parent Night
March 17 – Asbury's Got Talent! Shows at 1:00pm and 4:30pm
March 27-31 – Spring Break
April 3 – No School for Students
April 22nd: Colorado Rapids Asbury Night!
April 10-28 – CMAS/CoAlt Testing Window
April 27- Dish a Story
May 5 – Spring Wing (more information to follow)
May 11-12- 5th grade at Balarat
May 19 – Field Day
May 26 – Field Day Rain date