Thursday Folders – December 2, 2021
Posted December 2, 2021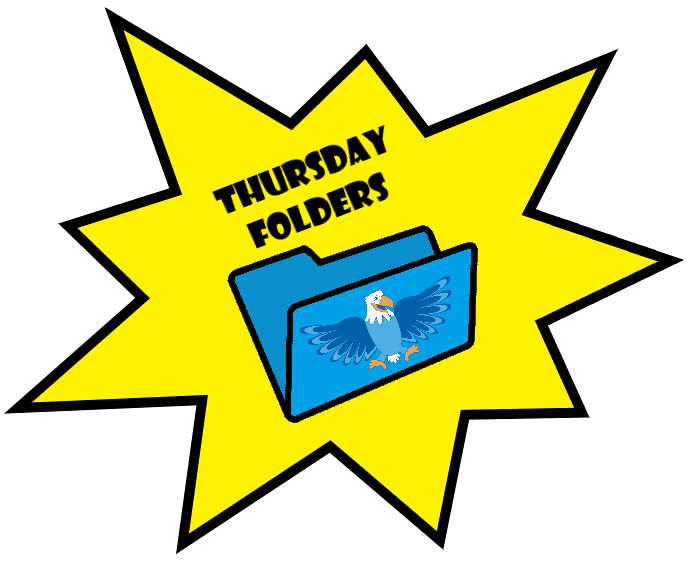 Principal's Corner
Eagle Families-

Welcome back, I hope you had a restful fall break! We are excited to have such beautiful weather as we come back to school (I just can't believe it is December and it is feeling like early fall)! There are two things that I wanted to share with you:
​​Community circle: We will be hosting a community circle event on Friday, 12/10. This will be from 7:50-8:20 for the entire school! It will be a virtual event and any and all are welcome to attend. We will come together, share BEST awards, celebrate all our hard work this year so far and have some fun! So get ready and let me know if you have any questions! See below for the link to join:

Meeting ID: 758 797 3597
Rescheduling the Canceled Release Day Poll : 64% of folks indicated that they would prefer our rescheduled release day on 1/14. We will communicate with families and you can plan for 1/14 to be an Asbury release day for paras and teachers. We will still host the release day on 1/3 as well.
---
School Notes
Important Information:
CSC Meeting on 12/7- We will be hosting our monthly CSC meeting on 12/7 from 5-6. Any are welcome to attend. Below is the link to join:
We are running VERY low on child size masks- we have ordered these, but they are on backorder. We will be taking donations if you have some to spare!
Asbury had multiple boxes of reams of paper go missing, we would really appreciate paper ream donations as well!
Rescheduling the Canceled Release Day Poll :
Do you want to be the featured artist on the cover of the 2021-2022 Asbury yearbook?! Check out more information here!
Here is a list of updated enrichments for winter sessions.
​​Free COVID Rapid Tests Available for Home Delivery: CDPHE recently announced the Rapid-At-Home program in which they will ship free rapid antigen tests directly to homes. Students, families and educators can enroll in the program here.
Reminder: If students are not feeling well, please keep them home. If you have any questions about if a students should stay home, please refer to Child Illness Policy or reach out to Tanya Banks
Glendale Rugby's Winter Indoor and Spring After School rugby programs will be starting up in February and March, respectively. The following links provide registration information for those programs, should there be any interest from your student body:
---
PTSO
Our next dine out event is this Monday, December 6th ALL DAY LONG at Maria Empanada (Broadway and Louisiana). 25% of your order total will go back to Asbury. Enjoy artisan handcrafted empanadas for lunch and dinner…and skip the cooking during this busy holiday season! Use code ASBURY2021 when placing your in-person or online orders. Flyer is below.
CALLING ALL ASBURY COMMUNITY MEMBERS!!! Did you know that our Asbury Eagles find your job VERY interesting? Did you know that they would LOVE to hear all about what you do? Well, they do and they would! Please fill out the directory below and when a particular grade is studying about something that you are the master of, we will contact you to help enlighten our students. We would appreciate your expertise and support. This can occur online (Zoom) or in class once you complete the every easy DPS volunteer process, which is also attached. THANK YOU!!!: Asbury Elementary Community Profession Directory (2021-2022 PBL) Volunteer Services | Equity & Engagement
The Asbury Giving Tree Sign Up Genius is live. If you would like to donate a gift please visit the website HERE. If you would like to make a cash donation please Venmo @AsburyPTSO and in the notes section state "giving tree".
Would you like to make a Year End Donation? Please visit CheddarUp to make a 100% tax deductible donation.
---
Important Dates
12/6 – Dine out with Maria Empanada
12/7 CSC & PTSO meetings
12/20-12/31 Winter Break
1/3 No School – District Planning Day
1/14 No School- Additional Asbury Release Day
---
Parent Resources
---
Flyers/Links
SchoolChoice 2022-23 Information (Spanish)
Holiday Makerspace with Ms. Werner – All Grades Flyer
Holiday Makerspace with Ms. Werner Sign Up Form – All Grades
Winter Yoga Flyer with Ms. Werner – Grades 3-5
Winter Yoga Form with Ms. Werner – Grades 3-5 Sign Up Form
---
Upcoming Dates
12/20-12/31 Winter Break
1/3 Non-Student Contact Day
1/17 No School – Martin Luther King Jr. Day
1/21 No School – Presidents Day
1/22 Non-Student Contact Day
3/25 Asbury Non-Student Contact Day
3/28-4/1 Spring Break
4/4 Non-Student Contact Day
5/6 Asbury Non-Student Contact Day
5/30 No School – Memorial Day
6/3 Last Day of School – Half Day