Thursday Folders – August 22, 2019
Posted August 22, 2019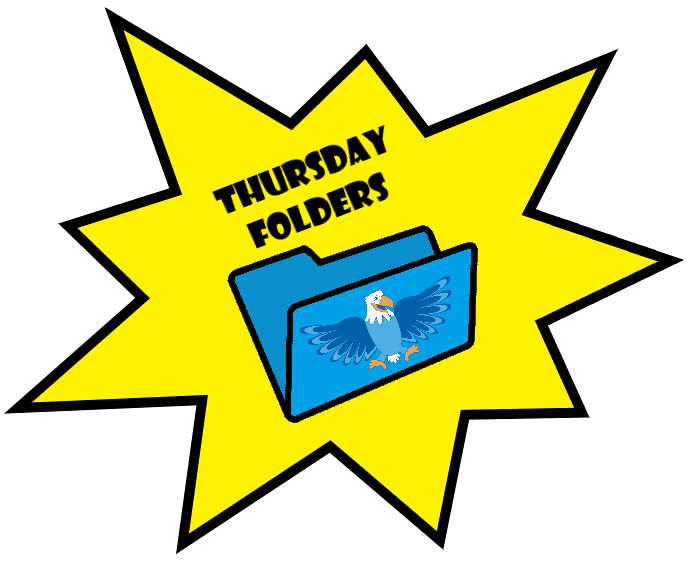 Please use this link to the Thursday Folders to see any and all flyers that came out this week. 08/22/19.   
Families! We hope you had a wonderful, first week back to school. 
It has filled our buckets to see everyone again after a summer of fun and growth. 
A few reminders as the year begins:
Please remember to send your child with a water bottle and sunscreen on (we are not allowed to apply sunscreen).
 Please make sure to clarify with the teachers and front office your drop off and pick up plan each day. 
Please begin to drop children off in the office or on the playground. Starting next week we will limit parents walking children to their classroom to promote independence and responsibility.
Also to ensure the safety of our children, all adults entering the building must sign in at the office and wear a visitor's badge (even if we know you).  
Students must have a pair of over the head earphones to facilitate any kind of computer use.
All after school enrichment flyers going home today are listed below.  Please mark the start and end dates on your calendar as they all have different ones. 
Students must bring all communication devices to the office in the morning and pick them up in the afternoon.  They are not allowed in the classroom. 
OFFICE REMINDERS:  Please keep your student's lunch account current.  Every day we generate letters that go home with your student if they owe lunch money.   Go to www.myschoolbucks.com  to set up an account and pay online. 
Weekly Flyers:   We do not have Garden club yet
Welcome Back letter from Ms. FaJohn
Denver Public Health Measles letter 
Denver Public School Community Events
Chess Wizards Young Rembrandts
Art Fun Science Matters
Bricks '4' kids Yoga
SkateStart Sticky Fingers
KidsState Clay Play
Running Club Club Amigos
Coding for Kids
Rocky Mountain Showdown/ DPS information
Important Dates:  This will change and grow as the year goes on
August 29 – Back to School Night for Parents 6:00-7:30 Starts in the Auditorium then proceeds to your student's classroom.
September 2 – Labor Day – No School
September 3 – CSC Meeting 5:00-6:00
September 3 – PTSO Meeting 6:00-7:00
September 13 – Individual Picture Day
September 20 – PTSO Carnival
September 27 – PTSO Carnival Rain Date
September 30 – NO SCHOOL for Students – ASBURY ONLY Teacher planning day
October 1 – CSC Meeting  5:00-6:00
October 1 – PTSO Meeting 6:00-7:00
October 14-17 – Parent-Teacher Conferences 
October 18 – 22 – District-Wide Teacher Planning Days
November 5 – CSC Meeting 5:00-6:00
November 5 – PTSO Meeting 6:00-7:00
November 22 – NO SCHOOL For Students – ASBURY ONLY – Teacher Planning Day