Thursday Folders – April 6, 2023
Posted April 6, 2023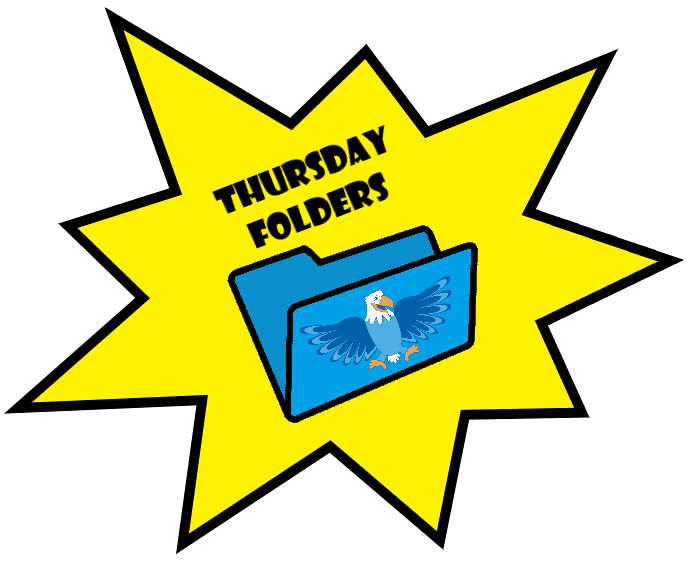 Principal Message:
Asbury Eagle Families-
At the end of April, we will be re-introducing our Dish a Story event. Families, students and staff have all expressed interest in bringing back a community based event that celebrates and shares recipes, stories and food!
Asbury students will be completing a project that tells a story about a favorite family recipe. The Dish A Story potluck is an opportunity for families to share that dish, their story and the company of other Asbury families. Whether you are able to bring a dish or not, we hope that you will join us in celebrating our Asbury community and everything we all "bring to the table." With your family, have a conversation and answer some questions. The answers to these questions will help guide the story that will be completed at school. We understand that not all families may be able to attend the Dish A Story potluck, but we ask that you take the opportunity to complete this assignment as a family. This assignment is due April 14, 2023. The Dish a story event will take place from 5:00-7:00 on April 27!
Below are the assignment sheets to complete and turn into your teacher. Make a copy of the sheet below and email it. You can also print this out and turn it into your teachers.
Dish a Story Recipe Request/Assignment:
Please reach out with any questions or concerns.
In Partnership,

Jeanna Doung
---
Principal Notes:
NEW: CMAS Lunch/Recess Support – Please help!!!
We are in need of just TWO more volunteers to help with lunch and recess duties during CMAS testing 4/10-4/20. If you are interested, please click this sign up genius link…
CMAS/CoAlt Window for Testing – 4/10-4/28 (3rd, 4th, and 5th graders)
Skate City Party: Wednesday, April 12th from 6:00-8:00

*see attached flyer for more details!

Wow Art Show: Wednesday, April 19th 2:40-5:30 pm

Please join us and look at the amazing art that Asbury artists have created!
April 27-Open House (Student Led Conferences) & Dish a Story
Message from Second Star Book Store
We are hosting two authors, Jerry Craft and Betty C. Tang, for author visits this Friday, 4/7. They have separate author events and we expect a big crowd for Jerry, so that event is at Grant Beacon Middle School while Betty's is at the store. There is an hour in between the events, and we are partnering with local restaurants on Pearl Street to offer a discount to any families that grab dinner during that time!
Here are the links to the Eventbrite pages!
NEW: Check out the April Edition of The Eagles' Flying Facts Student Newspaper
Summer Connections: Denver Public Schools (DPS) is beginning enrollment for Summer Connections for all eligible families currently in kindergarten to fourth grade. The new SEAL program will offer free classes in core subjects to enrolled students, allowing them to get ahead of critical course material and get a head start on the upcoming school year. For more information, please check out the Summer Connections website at https://www.dpsk12.org/academics/summer-connections/ . To enroll your student in the free summer program, go to https://myportal.dpsk12.org/.
Because Asbury chose the customization option, everyone that orders a yearbook can customize two pages for free for their child! Parents must use this link to activate their account, pay for the yearbook, and start customizing. This flier with more info is attached.
---
PTSO INFORMATION:
Skate City Party: Wednesday, April 12th from 6-8
We understand this conflicts with CMAS for 3rd, 4th & 5th graders and making sure the kiddos are well rested and at school on time! However, if you can join us for a bit, we would love it! Come blow off some steam, relax, and of course have fun! Please see this flyer for more details.
The Backpack Program Pantry is Almost Empty!
If you would like to bring in some nonperishable foods after spring break it would be greatly appreciated! Proteins, breakfast foods, canned fruits, pasta and sauce and easy to make meals are all needed! Thanks for supporting the Community Assistance Program!
PTSO Officers for 2023-24 school year!! If you have an interest in serving as a PTSO Officer, please reach out so that you can learn more, shadow a current PTSO leader and hear all the exciting ways you can be involved! Email Asbury.PTSO@gmail.com and we will be sure to direct you to the right place!
Spring Wing Auction EXPERIENCES: Amanda O'Neill and Shannon Durling are leading this effort. (We need 2 more people to help with this effort!)
This is an opportunity to get to know more parents, plan fun gatherings for our community and help organize the experience details for Spring Wing on May 5th. There's no requirement to host an experience or to attend Spring Wing. Most work is done simply by email and phone calls at times that are convenient for you.
Spring Wing Auction Experiences are an Asbury tradition that help us succeed in our goal of community engagement and are an excellent source of fundraising. Hosted "Experiences" are social fundraising events hosted by an Asbury family or group of families who share in the cost of putting together the event. Asbury Experiences are available as part of the Spring Wing Auction. Spring Wing attendees have the opportunity to bid on an experience. All proceeds from the Experiences go directly to Asbury.
Examples include: Pool party, picnics, movie night, ice cream social, pizza in the park, mom's cocktail party, Dad's BBQ, workout classes, adult casino night, family olympics, taco truck night, bikes/brew brewery tour, whiskey tastings, art classes and so much more.
4) How else can you help with Spring Wing? We are so glad you asked!
Donate a bottle of wine valued between $20-$100. There will be a "Wine Wall" at the event, where purchasers will pull a mystery bottle and take it home to enjoy! You can bring wine donations to the front office or contact Olivia Jolly (oliviajolly@gmail.com)
Host an experience. Consider hosting a family, kid, or adult experience. The possibilities are endless and we are always looking for new ideas! In the past, families have teamed up to host Bikes & Brews, Adult Field Day, pool parties, wine tastings, taco nights and more! Have an event idea? We can't wait to hear about it! Contact Amanda O'Neill (amandaoneill@gmail.com) to discuss this fun opportunity.
Donate frequent flier airline miles! – contact Olivia Jolly (oliviajolly@gmail.com)
Own a mountain or vacation home?– Would you consider donating a weekend or longer for an Asbury family to bid on and stay there? Contact Olivia Jolly (oliviajolly@gmail.com)
Event Sponsorship. If you are interested in becoming an event sponsor please contact Oliviajolly@gmail.com for more information about this new opportunity! We are currently seeking beer & wine sponsors, food sponsors, event sponsors and could use your help!
---
Weekly Flyers:
Theatre Improv and Hip Hop Dance
Sticky Fingers – (Spring Session) – Wednesdays April 5-May 24 (2:40-3:40)
Learn to Play Basketball/Lacrosse at DU
Spring Running Club Information
Summer Camp Opportunity at The Waldorf School
MSU Denver Junior Roadrunners Camp
All After School Enrichment opportunities
---
Discovery Link:
If you are interested in Discovery link, please visit https://equity.dpsk12.org/extended-learning/discovery-link/school-year-program/
Thank you,
Mr. Ronnie
---
Important Dates:
April 10-28 – CMAS/CoAlt Testing Window
April 12 – Crazy Hat Roller Skating Party at Skate City (6-8pm)
April 19 – WOW Art Show: Art Walk and Scavenger Hunt @2:40-5:30pm
April 27- Open House (Student Led Conferences)/ Dish a Story
Date Correction – April 22: Colorado Rapids Asbury Night!
Rapids vs. St. Louis @ 7:30
Tickets can be purchased here
May 5 – Spring Wing (more information to follow)
May 11-12- 5th grade at Balarat
May 19 – Field Day
May 26 – Field Day Rain Date