Thursday Folders – April 4, 2019
Posted April 4, 2019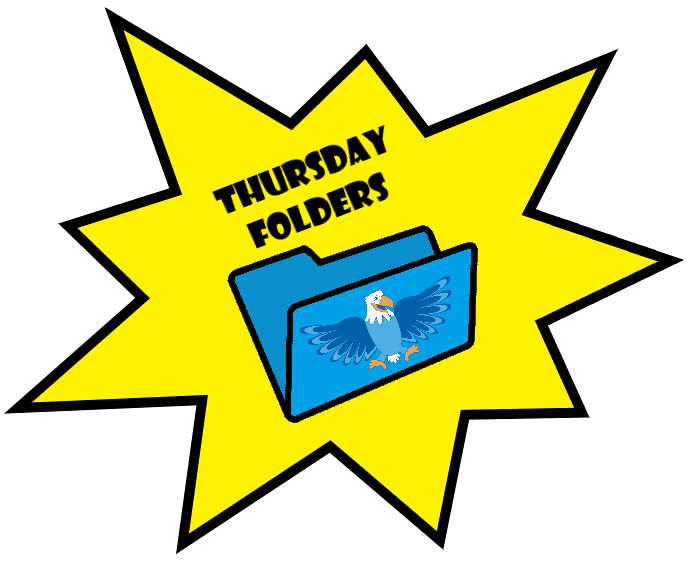 Please use this link to the Thursday Folders to see any and all flyers that came out this week.04/04/19  
WELCOME BACK – We hope everyone had a great Spring Break.  CMAS testing is in full swing. We have a celebration planned for May 6 to Skate City for all 3rd-5th grades.  Parents must fill out a permission slip , which is going home today,and return it with the appropriate funds.
Principal Notes:  We hope you will join us for our annual family potluck- Dish-A-Story. This event is such an amazing way to share stories and food with your community! Please see the attached flyer for all the details and RSVP!
Next year Asbury will have additional planning days built into the calendar. (Calendar is attached)  Discovery Link will be offering all day camps for Asbury-only dismissal days! Camp will be from 6:30am-6:00pm on 9/30, 11/22, 2/13, 3/27, and 5/8 **.We will be doing arts, crafts, sports, games, and more! Our policy is to have a minimum of 15 students signed up one week prior in order to have camp run. If you participate in Discovery Link, Please respond to this survey about your interest in child care on our off days. Please contact Kate Schwartz at kate_schwartz@dpsk12.org  with any questions!
**These dates are Asbury-only non-contact days; for district wide non-contact days, Asbury families are welcome to register at regional Discovery Link camps.
OFFICE REMINDERS: If you are not planning on your student attending Asbury next school year, please let the office know ASAP.  We are need for know for planning purposes. Please keep your students lunch account current.  Everyday we generate letters that go home with your student if they owe lunch money.   Go to www.myschoolbucks.com     to set up an account and pay online.
PTSO News – Spring Wing
Get ready to relive the 80's because Spring Wing 2019 is here and it's sure to be a tubular time!!!  Check your child's backpack today as your invite to the event of the year is ready and waiting to be opened.  Tickets for this adults-only evening are officially on sale starting today, with special early bird pricing being offered until 4/25.  You can go directly to the Spring Wing website to purchase tickets at: https://charityauction.bid/asburysw2019.  Be there or be square!
Our immediate need is auction donations. Please click here to view the sign up to see how you can help.  There are just a few businesses left to contact.
Weekly Flyers:
Dish-a-Story  – homework assignment
Talent Show Permission slip and information
Spring Wing Invitations
2nd Grade Music Performance Information
Kinder and 1st Grade Concert Information
3rd – 5th Skate City permission slip
Skateboarding – half session sign up
Colorado Rapids-DPS Community Night
Important Dates:
April 12 – Kindergarten to the Zoo
April 2-18 – CMAS and PARCC – Testing
April 18 – Family Night – Dish a Story
April 22-26 Student Council Spirit Week – Rainbow week-  Monday wear red, Tuesday wear orange, Wed. wear Green, Thurs. Wear Blue, Friday wear a rainbow
April 23 – 3rd and 4th Grade – Music Concert ASBURY AUDITORIUM 7:00pm
April 24 – 5th Grade to Rockies Game
April 25 – Special Olympics – All City Stadium by South High School
April 29 – No school for Students
April 30 – MI Classrooms  – Adapted Field Day – GW
May 1-10 – Student Council Spirit days – Story Contest
May 2 – PAC Meeting (Parent Advisory Meeting) 6:00-7:00
May 3 – 5th Grade to Museum of Nature and Science
May 3 – Student Council – Crazy Hair Day
May 3 – Spring Band Concert – 6:00pm – Time Change
May 3 – WOW Music and Art Show – 5:30-7:30PM
May 4 – PTSO Spring Wing – 6:30-11:00pm
May 6 – CMAS/PARCC Celebration for 3rd-5th Grade at Skate City
May 6 – 1st  grade Field Trip – Butterfly Pavilion
May 7 – Talent Show Auditions – All Day  (New Date) Library
May 7 – Class Picture Day
May 7 – CSC (3:30) and PTSO (6:00)
May 9 – 2nd grade to Dinosaur Ridge
May 9 – Science Fair – Grades 4 & 5 – Upstairs Hallway
May 9 – Kinder and 1st grade Music Concert NEW DATE -7:00 – Auditorium
May 10 – Volunteer Appreciation Breakfast 8:00-9:00am – Library
May 13 – 5th Grade to Ameritown
May 15 – 1st Grade Field Trip -ZOO
May 14 – 2nd grade walking to the Newman Center
May 15 – Kindergarten open house 3:30-4:00
May 16 – EXPO Night 6:00 pm – Second Grade Music Performance (Time TBD)
May 17 – Field Day
May 24 – Field Day Rain Date
May 27 – Memorial Day  – School Closed
May 28 – Talent Show Dress Rehearsal
May 29 – Talent show – 2:00- Auditorium
May 30 – 5th Grade Continuation – 9:30am – 11:00am
May 31 – Last day of school – HALF DAY DISMISSAL TBD