Thursday Folders April 29th, 2021  
Posted April 30, 2021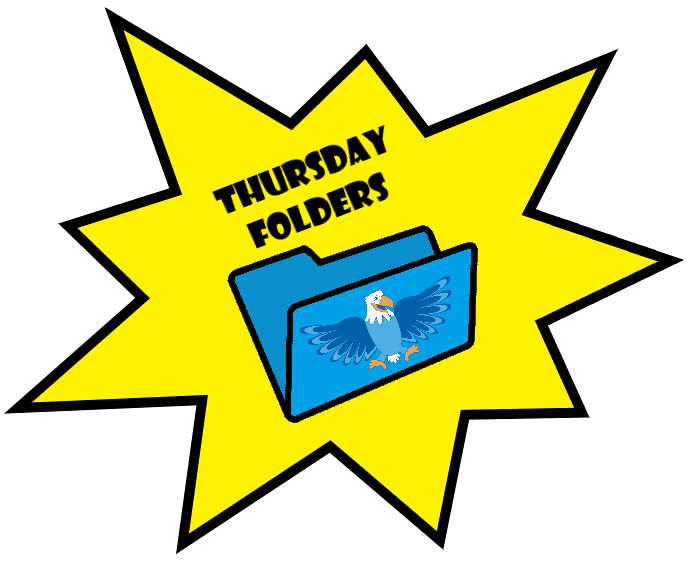 Thursday Folders April 29th, 2021 
Principal's Corner
I know that for many of our grade levels, this has been a week of unexpected changes, with some grades returning to remote learning due to the need to quarantine. This is never easy, though necessary to ensure the health and safety of our students and staff. It is during these times that I see the true commitment. A commitment to work to get our students back in the building as quickly and safely as possible and I am also thankful that this is not a common occurrence (and don't want to jinx anything)- I am also thankful for your flexibility and understanding.
After learning about our recent quarantine, I am proud to say that we were one of the first schools in our area to implement the new, updated 7-day quarantine guidelines (see below for the updated state guidelines).
State guidance has changed the quarantine guidelines, depending on certain factors:
14-day quarantine: if your child is considered to be high risk, consult with your doctor as to whether your child should observe a 14-day quarantine period.
10-day quarantine: this is the standard quarantine period.
7-day quarantine: if your child tests negative (PCR test only) for COVID-19 on or after the fifth day of the quarantine start date, your child may be able to return to school based on staffing and other factors. Your school leader will determine if your child may return to school after seven days.
As we continue to move forward I will strive to ensure that we can get students back in the building as quickly and safely as possible while also having minimal impact on instruction.  
In thinking about balancing both this year and next, please check out our end of the year/beginning of next school year document HERE 
Warmly,
Jeanna Doung
---
School Notes
Mask Reminders: Please remember to send students to school with properly fitting masks. 
Field Day Information Update to Visitors: We are excited about the upcoming field day. We had a recent update to our visitor policy- each student can have up to 2 visitors (whether they are vaccinated or not). We will be taking attendance and following the DPS Five to ensure health and safety guidelines are being followed.
WHEN: May 27th, 2021 @5pm

WHERE: At Asbury on the Blacktop

Treats and punch will be offered after the ceremony

Only 4 family members can attend
FRIDAY, APRIL 30th is the final day to submit recordings to audition for the talent show.
We will be having an outdoor, in-person Field Day this year! This will be taking place Monday, May 17th through Wednesday, May 19th (Thursday, May 20th & Friday, May 21st are rain dates). Details are as follows:

WHAT: Asbury Field Day 2021

WHEN: May 17th-19th (Monday-Wednesday)

AM Session-9:00-11:00

PM Session-12:30-2:30

Monday: Kinder AM/1st grade PM

* 8:45 am All-school Opening Ceremony/Pledge (outside fire drill format)

Tuesday: 4th grade AM/2nd grade PM

Wednesday: 5th grade AM/3rd grade PM

Please see this

DEET

for more information
CSC Committee for 21/22 School Year
Online Registration for 2021-2022
 Returning Students Online Registration Guide —THIS HAS BEEN SUPER HELPFUL TO PARENTS!

Current DPS families – save time during fall registration by updating your student's information online! By completing this process using your Parent Portal account, you can avoid paper forms and save time at the school during the fall return. There are two windows during which current students can register online for 2021-22:

The "Early Bird" window, April 26-May 21
Current year, July 26-late August

To register online, primary legal guardians of current DPS students must have an active DPS Parent Portal account. Visit

myportal.dpsk12.org

to sign up, or to check that your account is active and ready.

For more information on how to complete online registration, contact the front office or visit

schoolchoice.dpsk12.org

. 
Reminder about students who are on quarantine

:

Any student or staff diagnosed with COVID-19 or who is a close contact of a COVID-19 case should not go to school and should isolate or quarantine according to public health recommendations.

Summer Learning Opportunities:

Here is a

Summer Program Toolkit

guide with ready-made resources to understand what summer learning opportunities are available. The programs listed in this toolkit are free or may be offered at reduced rates, and provide students with opportunities to grow and thrive this summer.  
Staff Appreciation Week 5/3-5/6! This year's theme is…OUR SUPERHERO STAFF!
Kudos to Ms. Peralta for organizing

ADWOH: Asbury is excited to celebrate a day known as "A Day Without Hate" this Friday, April 30th! This day was started by students at Standley Lake High School (a school here in Colorado) due to the mass shootings at Virginia Tech University in 2007. These local high school students wanted to bring awareness, unity, love, and acceptance to schools during a rather hard, sad, and horrific time. Now, this day is celebrated annually by students across the nation! With that being said, we will celebrate this Friday by engaging in activities that foster a caring, kind, and accepting community. We are asking that all students wear WHITE on Friday to show unity in spreading kindness! We look forward to celebrating with your students on Friday!

It's time to order your 20-21 yearbook!

Here is the

Yearbook Order Form

. The deadline to order has been extended until Friday, April 30th. They are $15 each and you can pay by check to the office made out to Asbury PTSO or Venmo @AsburyPTSO-AsburyPTSO. All the information is in the form.
Asbury's Soles4Souls shoe drive has started!  Bring in your old shoes to help the environment!
Please have your students bring in your old shoes and drop them off in the boxes that are placed around the inside of school.
This drive will go through the end of April.  
Please tie the shoes together with the laces or rubber band them together if you can.
ASBURY'S EDUKIT WEBSITE IS NOW OPEN! ORDER BY JUNE 10, 2021 FOR BEST PRICING AND FREE SHIPPING. www.edukitinc.com
Asbury Elementary offers the EduKit program as a convenient option for busy families to order school supplies for the upcoming school year. EduKits include the supplies approved by your school. Your student's order will be ready at the school before the first day.  
Please consider making a donation to help support deserving students in our school community.  If you would like to donate a complete kit, please use "Donate Kit" as the first and last name. 
Extended ordering is available from June 11 – August 04 for an additional fee and will be delivered to your home shortly before school begins.
The Asbury Talent Show

will be Wednesday, May 12th at 7 pm! See

this flyer

for details about how to enter, changes for this year, and other important information.

5th Grader Cerey Carter is selling no-sew fleece blankets for her 5th-grade business project and $5-$10 of every purchase is going to support local animal shelters/rescues. Kitten and puppy season is upon us and the rescues need donations, fosters, and adopters so please help out! Please see our flyer below for information.
---
PTSO 
Receive a Backpack     Recibir una mochilia de comida
The Backpack program is run by volunteers. If you would like to help by filling and delivering backpacks Sign Up HERE.
If you would like to provide a monetary donation to support families in our community you can send your donation via Venmo to @AsburyPTSO (in the comments put a note that it's for the backpack program).
If you have questions please contact the co-Chairs of the program:
Amy Fitzgerald          amy.jo.fitzgerald@gmail.com
Courtney Cauthon  cauthon.courtney@gmail.com
John Bradley           daytona21@hotmail.com
---
Important Dates:
4/26 /21 – 4/30/21 – Read-A-Thon

5/3-5/6 Staff Appreciation Week

5/3/21 – Dine Out event with Chipotle

5/7/21 –  NO SCHOOL

5/12/21 – Asbury Talent Show

5/13/21 – 5th Grade Balarat

5/13/21 – Dine Out event with Papa John's
---
Parent Resources:
Technology Resources from Mrs. Ravel (updated)NEW Info.
Important Information from Previous Thursday Folders
---
Flyers/Links:
21-22 Proposed ASBURY Calendar
21-22 DPS School Year Calendar
May Lunch Menu —For those last 2 weeks, Ms. Maggie will send out a Deet for what lunch will be for those days.
Dine Out with Chipotle     (Spanish)
Returning Students Online Registration Guide —THIS WAS SUPER HELPFUL TO PARENTS
Asbury 2021 Talent Show Audition Information
10th Annual Asbury Elementary Read-A-Thon!