Thursday Folders – April 27, 2023
Posted April 27, 2023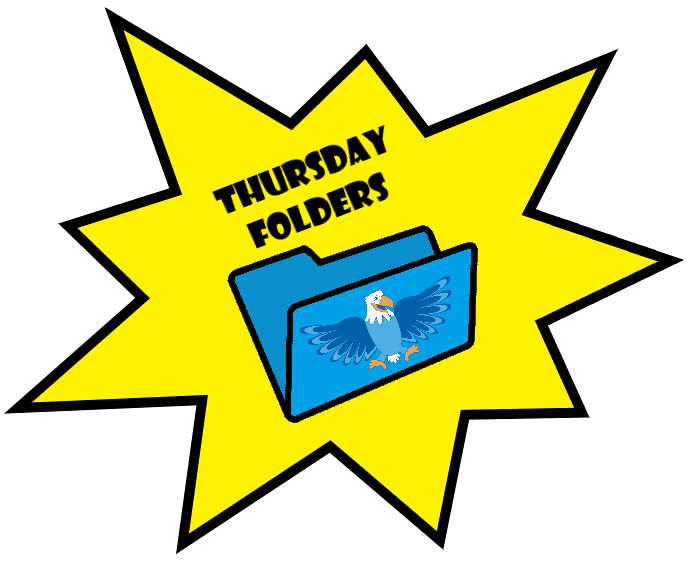 Principal Message:
Asbury Eagle Families-
As a school, we have a Collaborative School Committee, or CSC, that allows us to have a balanced stakeholder voice in strategic school decisions like budget, hiring and curriculum. As part of the process, we have those interested turn in their bios and you put in your vote for them on the committee. Please take time to read through the bios, get to know the members, and vote here. Thanks in advance!
In addition, Dr. Marrero has sent a message about school safety that I thought was critical to share with you all:
School safety has been on many of our minds as tragic events have unfolded in our district and across our country. As you may be aware, on March 23, the Board of Education tasked me with developing a districtwide long-term operational safety plan. During the April 17th Board of Education meeting, I provided a high level overview regarding the timeline and opportunities for engagement with our stakeholders. I know your voices as parents/guardians are critical to the development of the long-term operational safety plan.
With that in mind, today we launched a written survey to gather initial perspectives on your feelings of safety and security as well as your thoughts on what should be the safety priorities for our long-term operational safety plan. This survey is open now through Friday, April 28 at 5 p.m.
Please complete this survey to share your thoughts and ask your student to do the same:
Parent link – https://survey.k12insight.com/r/TjCV0v
Student link – https://survey.k12insight.com/r/rFDTgj
All links are also live at www.dpsk12.org
In collaboration,
DR. ALEX MARRERO
Superintendent
dps_superintendent@dpsk12.org
In Partnership,

Jeanna Doung
---
Principal Notes:
CMAS is finished! Great job 3rd, 4th, and 5th graders!!
April 27-Open House (Student Led Conferences & Dish a Story) is tonight from 4-6! Hope to see you there.
Community Circle: We would love for you to join us during our next Community Circle tomorrow! The Community Circle time is where we come together as an Eagle Community and celebrate students doing their B.E.S.T., have fun, dance, and focus on celebrating learning! Our next Community Circle is on 4/28 from 7:50-8:20. This will be held virtually so that as many of you all can join! Please see the Zoom link below to join: https://us02web.zoom.us/j/7587973597?pwd=aDFmcXFIdVJ4bmdXbmoyQ29jdE1odz09 Meeting ID: 758 797 3597 Passcode: um6si1
Spring Wing: We are so close to Spring Wing – I hope you will join us for an evening full of fun entertainment, food and drinks to benefit the school. You can purchase your tickets at https://auctria.events/springwing23
Tonight! Student Led Conferences: At the end of April, we will engage in Student Led Conferences. These will be scheduled prior to Dish a Story. Please be on the lookout for signups for times from your teachers. Remember that these SLCs, or Student Led Conferences will be a time in which your student will be showcasing their learning, so students will come and lead these conferences! Teachers will be there to support the process, but students will be owning and showing off their learning! We look forward to this time, as in PBL, our goal is that students are independent and have ownership of their learning! This is our first year doing these types of conferences, so we expect to learn a lot, so please share your feedback!
Tonight!! Dish a Story: We are also excited to have you all for the Dish a Story evening on 4/27 from 5-6! Asbury students will be completing a project that tells the story about a favorite family recipe. The Dish A Story potluck is an opportunity for families to share that dish, their story and the company of other Asbury families. Whether you are able to bring a dish or not, we hope that you will join us in celebrating our Asbury community and everything we all "bring to the table." In order to help us plan for the event, please complete the information here (https://forms.gle/9EW6tZmB6K8ZXxKc7 ) if you plan to attend. The potluck is optional and not a part of the assignment that students will complete.
5th grade Continuation: We are excited to celebrate our amazing 5th graders as they move up to middle school! We will be hosting continuation on the morning of 6/1 at 9:30 am. Please look for more details soon!
EOY Picnics: Please be on the lookout for information about the end of year picnics from your grade level teams!
The DPS "Your Voice/Tu Voz" survey opens on Monday, May 1. The survey will be sent to your DPS email address, so please keep an eye out for this important email from Superintendent Alex Marrero and use the unique link to complete the survey by Sunday, May 14. All members of Team DPS are encouraged to take this confidential survey, as your responses will help inform decisions on how we can better support all members of DPS. Surveys are also one of the strongest tools you can use to help shape the future of your team and DPS as a whole. Thank you for sharing your voice!
Bell Times Toolkit: In May 2021, the DPS Board of Education passed a resolution to have all middle and high schools (district-managed and charters) start no earlier than 8:20 a.m. each school day to support healthy sleep habits in adolescents. The new Healthy Start bell times will go into effect for the 2023-24 school year. For more information please visit the Healthy Start Times page. Here is the New Bell Times Toolkit that you all have access to as a resource.
Update to the School Choice Timeline: Thank you for your patience as we work to share the 2023-24 Round 1 SchoolChoice results with families. As you know, Round 1 of SchoolChoice was extended in order to offer families impacted by school closures an opportunity to participate. As a result, the timeline for sharing results was pushed from March to April.
Reminder: Parking in the mornings can be crowded! Please make sure to be patient, go slow and be kind!
Safety Team: If you are interested in joining a group of parents looking to support Asbury and DPS in ensuring school safety is prioritized, please reach out to Autumn Shraiberg at (303)704-1037 to learn more about this opportunity.
Youth Summer Camp Opportunity:
Here is information about an outdoor camp in Englewood!
Here is information about a Rugby camp
Summer Connections: Denver Public Schools (DPS) is beginning enrollment for Summer Connections for all eligible families currently in kindergarten to fourth grade. The new SEAL program will offer free classes in core subjects to enrolled students, allowing them to get ahead of critical course material and get a head start on the upcoming school year. For more information, please check out the Summer Connections website at https://www.dpsk12.org/academics/summer-connections/ . To enroll your student in the free summer program, go to https://myportal.dpsk12.org/.
Upcoming Events at Second Star Bookstore on S. Pearl Street:
---
PTSO INFORMATION:
Thank you for all your donations to the Backpack Program Pantry!
PTSO Officers for 2023-24 school year!! If you have an interest in serving as a PTSO Officer, please reach out so that you can learn more, shadow a current PTSO leader and hear all the exciting ways you can be involved! Email Asbury.PTSO@gmail.com and we will be sure to direct you to the right place!
Spring Wing Volunteers Needed!
*Read below AND check out this sign up genius!
Spring Wing Auction EXPERIENCES: Amanda O'Neill and Shannon Durling are leading this effort. (We need 2 more people to help with this effort!)
This is an opportunity to get to know more parents, plan fun gatherings for our community and help organize the experience details for Spring Wing on May 5th. There's no requirement to host an experience or to attend Spring Wing. Most work is done simply by email and phone calls at times that are convenient for you.
Spring Wing Auction Experiences are an Asbury tradition that help us succeed in our goal of community engagement and are an excellent source of fundraising. Hosted "Experiences" are social fundraising events hosted by an Asbury family or group of families who share in the cost of putting together the event. Asbury Experiences are available as part of the Spring Wing Auction. Spring Wing attendees have the opportunity to bid on an experience. All proceeds from the Experiences go directly to Asbury. Please email Shanon Durling at: Shannondurling78@gmail.com and Amanda O'Neill at amandamoneill@gmail.com
Examples include: Pool party, picnics, movie night, ice cream social, pizza in the park, mom's cocktail party, Dad's BBQ, workout classes, adult casino night, family olympics, taco truck night, bikes/brew brewery tour, whiskey tastings, art classes and so much more.
4) How else can you help with Spring Wing? We are so glad you asked!
Donate a bottle of wine valued between $20-$100. There will be a "Wine Wall" at the event, where purchasers will pull a mystery bottle and take it home to enjoy! You can bring wine donations to the front office or contact Olivia Jolly (oliviajolly@gmail.com)
---
Weekly Flyers:
Summer Camp Opportunity at The Waldorf School
MSU Denver Junior Roadrunners Camp
All After School Enrichment opportunities
---
Discovery Link:
If you are interested in Discovery link, please visit https://equity.dpsk12.org/extended-learning/discovery-link/school-year-program/
Thank you,
Mr. Ronnie
---
Important Dates:
April 27- Open House (Student Led Conferences)/ Dish a Story
May 5 – Spring Wing (more information to follow)
May 11-12- 5th grade at Balarat
May 19 – Field Day
May 26 – Field Day Rain Date
June 1 – 5th Grade Continuation @ 9:30am
June 2- Last day of school- school releases at 11am