Thursday Folders April 14th, 2022
Posted April 15, 2022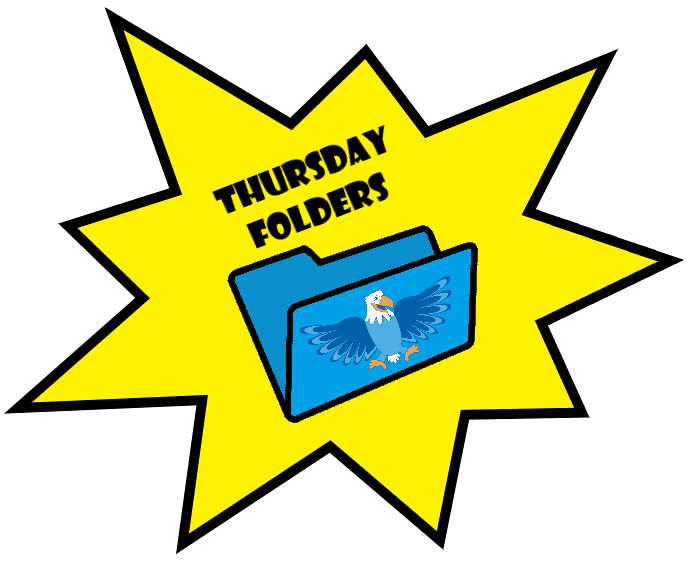 Principal's Corner
Eagle Families,
This is the time of the year that we begin to live in two years. We continue to support and be present in this school year, while also reflecting on this year and planning for next school year. As we gear up to do that, there have been two main areas that we are looking for input and would like your support with. One of those areas is around social-emotional learning and the other is around our enrollment process.
Our first focus group is around Social-emotional learning or SEL is a value of our staff and community. This year we received the whole-child distinguished award and we want to continue to highlight and prioritize SEL. We want to have a clear vision and goals around SEL moving forward.
Our other focus group is around enrollment. As we learned earlier this year, budget and enrollment go hand in hand. To ensure that we have a process that really showcases the strengths of our school and community, we are looking for community members to join a focus group to plan out an enrollment process that makes our school shine!
If you are interested in being part of one of these focus groups, please fill out this survey to share your name and times that work best for you!
In addition to focus groups, we are also going to kick off a 'coffee talk' (think the SNL skits) time. During this time, our goal is to re-open the building up to parents and also have time to talk with me on topics of note.
Recently, I learned that we have some parents that have not been able to be in the building at all, so we want to connect and welcome everyone into the Asbury building! We want to change that and allow for time to connect with the school and myself! During this time we will tour the school and connect in the library for the 'coffee talk'. If you are interested in signing up, please call the front office and talk to Ms. Maggie about RSVPing.
May 6, 2022 from 8:30-9:30
May 16, 2022 from 8:30- 9:30
In Partnership,

Jeanna Doung
School Notes
Important Information:
Open positions at Asbury for the 22/23 School Year: We are kicking off our hiring process. With that I wanted to share the positions that are open for the 22/23 school year. We will start the interview process next week. These are posted at Asbury right now. We will be opening this opportunity up to internal candidates first. If you are interested in any of these positions, please apply for the position and reach out to Jeanna. If you know of anyone who is interested, please reach out to Jeanna. We have had some internal shifts in our team, please expect an email from the 3rd and 2nd grade teams in their weekly letters home.

2nd grade Math- 1 year position
2nd grade Literacy- 1 year position
Office Support II
1 on 1 Para Position
Announcements:
It's time for our annual Asbury Talent Show! Please see the flier below for more information!
Spring Art Newsletter from Ms. Werner

Art Studio Needs/Wants – Sanded Grout (any color), Old Picture/Art Frames, scrap wood for surfaces to paint and mosaic
Virtual Art Show 2022 – click to view the virtual show!!!! Great job Ms. Werner and 4th and 5th grade students.
CMAS Testing continues on Tuesday, April 19th.

CMAS Testing continues on Tuesday, April 19th.

Math (3rd, 4th, and 5th grades)

Tuesday, 4/19 Unit 1 Math AM
Wednesday, 4/20 Unit 2 Math AM
Thursday 4/21 Unit 3 Math AM

Make Ups (throughout and during week of 4/25-4/29 (all testing completed by 4/29)
PTSO
SPRING WING is taking place on May 14, 2022 (see attached flyer for details)! Spring Wing needs YOU! To make our event successful we are relying on our Asbury community to participate. Please see the attached flyer to find out how you can help!
Want to be a part of PTSO next school year? We are looking for a President, Vice President, and Secretary for the 2022-23 school year. Please reach out to Asbury.PTSO@gmail.com for more information on those roles and if you are interested.
Other
Interested in a summer bike or trail camp for your kiddo? Pedalheads is open for registration! There is also a scholarship program you can apply for HERE!
Teacher Appreciation Week is May 2-6: Seeking Student Submissions: National Teacher Appreciation Week is just around the corner, taking place May 2-6! In celebration, DPS invites our students to recognize their favorite teachers by sharing what makes them so great. Please share this opportunity with students and ask them to share why they love their teachers by completing this short form by April 29. Please note that submissions may be featured on the DPS website and DPS Facebook page. We look forward to sharing these perspectives and thanking YOU — our amazing educators — for ensuring Every Child Succeeds!
Healthy Foods for Denver's Kids – Food and Snack Boxes at specified Denver Libraries

The Denver Public Library has once again received the Healthy Food for Denver's Kids (HFDK) grant for 2021-2022. The grant, launched by the Denver Department of Public Health & Environment (DDPHE), aims to support healthy food access and food based education for youth.
We are distributing healthy food boxes full of fresh produce and pantry items for households with youth 18 and under. Boxes are available Wednesdays and until supplies last. Contact your favorite location below for availability and delivery time.For more information about the grant visit the HFDK site.
Important Dates
Parent Resources
Flyers/Links
Spring Wing – How Can You Help!
Cherry Creek Fall Sports Registration
DPS Appreciation Rockies Games!
Grades 3-5 – CMAS Spring Assessment Calendar for Parents (English)
Grades 3-5 – CMAS Spring Assessment Calendar for Parents (Spanish)