Illegal Pete's Dining Out for Asbury – Tuesday, 2/12
Posted February 8, 2019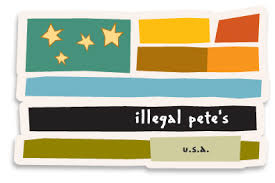 Eat Burritos & Give Back to Asbury!
What's not to love about burritos? Visit Illegal
Pete's DU Location on Tuesday, 2/12 from 4-
9pm and they will donate a whopping 50% of
your purchase back to our school! If there was
any dine out event to attend, it's this one! And
the upside? You don't have to make dinner!
WHEN:
Tuesday, 2/12/19 from 4pm – 9pm
WHERE:
DU LOCATION – 1744 E Evans Ave, Denver
http://www.illegalpetes.com
(720) 974-2198