Early Dismissal Today at 2:00pm – Tuesday, October 29, 2019
Posted October 29, 2019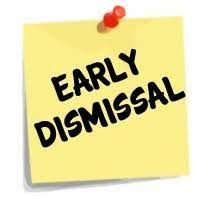 DPS has issued an early dismissal at 2:00 pm today.
All students who go to Blacktop, Discovery Link and Enrichments need to be picked up in the gym.
Kiss-N-Go and Bus Riders will dismiss as normal at 2:00 pm.
Please call the office with any questions at 720-424-9750.
Be safe!