Asbury's Fall Project-Based Learning Expo – Thursday, December 12 @ 6:00pm
Posted December 5, 2019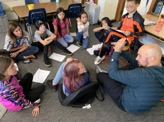 Asbury's Fall Project-Based Learning Expo Is Here!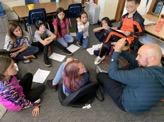 Date: Thursday, December 12, 2019
Time: 6:00 pm – 7:15 pm
6:00-6:15 overview in the auditorium
(students can report to their classroom to set up, 4th stays in the auditorium)
These student-led presentations of the process and projects are not to be missed! Participating grades will share all they have learned in a very meaningful and authentic way. If your child's grade is not participating in this fall EXPO, you are still welcome to join, it's a great way to learn more about project-based learning (PBL). Every grade participates in at least one of the two EXPO's we host! Can't wait to see you there!
Presenting Grades:
Recycle Bin Instruments
The Power of Reading + Dude Let's Make a Podcast
How Do People Express Their Identity Through Art and Feel Safe Doing So?
4th Grade Poetry & Music

*In the auditorium
How Does Weather Impact Our Community and What Role Do We Play?
Mini WOW Show: 2nd-5th Grade Mural, Student Work & Art Wings Photo Op