Asbury Thursday Folders – September 28, 2023
Posted September 28, 2023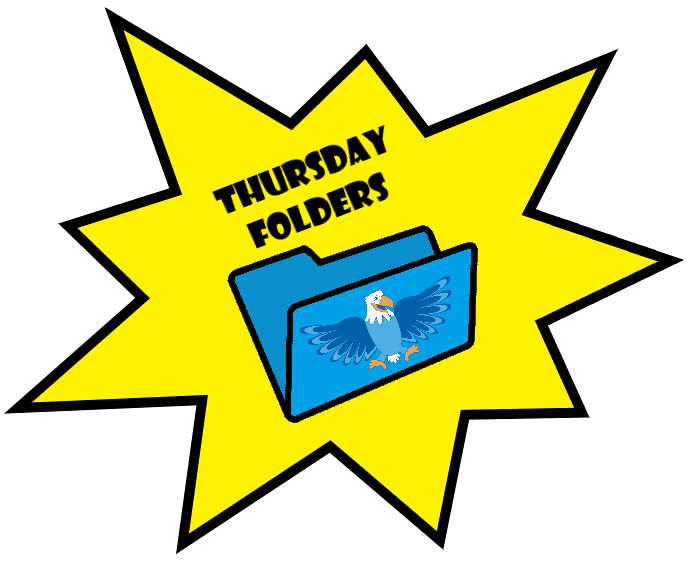 Substitute Interim Principal Message:
I feel so fortunate to have worked with your students and this staff for these past two weeks. Our older students have been focused on Interim tests and engaged learning and our younger friends have had many fun learning experiences this week as well. Ms Mendoza is back on Monday; I thank you for this opportunity.
Lynn Heintzman (Substitute Interim Principal)
What's top of Mind?
Fall Conferences
Asbury's Fall Conference evenings will be October 18th and October 19th unless you hear otherwise from your grade level teachers. Teachers will be sharing out sign-up geniuses to choose a slot for your conference for your student over the next week. Other dates may be offered in addition to the 18th and the 19th depending on the grade level. Watch the upcoming Deets from your teachers for more information.
There will NOT be school on Monday, October 16th for students. Enjoy your long weekend from October 12-16.
Pokemon Cards at Asbury
Please have your students keep their Pokemon cards at home. They are not allowed at Asbury during the day or during Discovery Link. Students should not have them in their lunchbox or in their pockets during lunch or recess. There is a Pokemon Enrichment class on Wednesdays after school. If your student is in that enrichment, they should turn their cards into Ms. Baca at the start of the day and pick them up after school for class. Families, thanks so much for helping with this!
Mental Health Minute
Building Resiliency
While it's not possible to protect children from the ups and downs of life, we can provide them with opportunities to build resiliency and successfully navigate through childhood and adolescence. Research tells us that it's not self-reliance, determination, or inner strength that leads kids through adversity. Let's take a look at 5 ways that families can help kids develop resilience:
Teach them how to "reframe" a disappointing moment or experience. The goal is to acknowledge the disappointing thing and then turn it into something positive.
Allow children to express all emotions so that they feel comfortable asking for help in difficult times. The easiest way to do this is modeling expressing emotions in appropriate ways in day to day life. 
Embed choices into your child's day-to-day activities. This allows children to have a feeling of control and develops self-efficacy
Encourage a growth mindset. There is power in the word "yet". 
Praise effort over perfection and progress over mastery. 
What's Still Relevant?
The window for the Fall BESS closes October 13th.
You are encouraged to complete a short form to provide valuable input on your student's mental health and social emotional well being. The form can be completed in less than 5 minutes!
DIRECTIONS to complete the BESS for your student(s):
1. Follow the link below:
2. Enter your student's DPS ID and date of birth (MM/DD/YYYY).
3. Complete the screening form.
To learn more, view Frequently Asked Questions at tinyurl.com/bessfaq2324 or contact Lauren Gourgues, School Psychologist, atLauren_Gourgues@dpsk12.net
Click HERE to fill out the Parent version of the Technology Responsibility Contract. Thanks so much. – Mrs. Ravel
Important Information from the Office:
Please make sure to complete your You Benefit! Form previously known as your lunch application form. Remember all students will receive a full tray for lunch and breakfast, free of charge. Deadline for this is Oct 2.
Make sure all of your contact information is up to date on your parent portal . See Ms. Baca if you have any questions.
What's new from PTSO?
Carnival is Tomorrow! 9/29/23, 5-7 at Asbury – Invite your neighbors with kids, it's a great way to get to know the school!
Next PTSO meeting: Mark your calendars for October 3, 6 pm, via Zoom. It's not too late to join us!
Walk to School Day!

Wednesday, October 4th is National Walk to School day! Meet up with your friends, neighbors, and classmates on the walk to school
There will be doughnuts, stickers, coffee, and a Celebrity Crossing Guard for this fun and festive day!

Dine Out Event at Chook – October 4th and 5th. You read that right, TWO DAYS of delicious Chicken and more! 

Here is the FLYER for more information
Mention "Asbury" or use the code "SCHOOLS20" when ordering.

Curious about the upcoming School Board Election?

Get to know the candidates at a forum open to the public
Hamilton Middle School, District 1, forum on October 24th.   
5:00-6:00 will be the at-large candidates and 6:15-7:00 will be district 1 & 5 candidates. 
Childcare provided by Montessori on Wheels, translation services, and food/refreshments.
Flyer for more information
What's going on with Enrichments?
Please visit the Asbury Website for more information and details about enrichments offered during this session: Asbury Enrichments Schedule
---
Flyers:
School Board Candidate Forum Information
Colorado Rapids Night Flyer – 10/21
Enrichment Flyers
Learn to Play Pokemon Flyer (they will prorate if you sign up now)
---
Upcoming Dates:
9/29 – Asbury Carnival (5:00-7:00 pm)
10/4 – Walk to School Day
10/4 AND 10/5 – Chook Dine Out – use code SCHOOLS20
10/12 – No School for Students (Teacher Planning Day)
10/13 – No School for Students and Staff
10/16 – No School for Students and Staff
10/21 – 7pm – CO Rapids Night